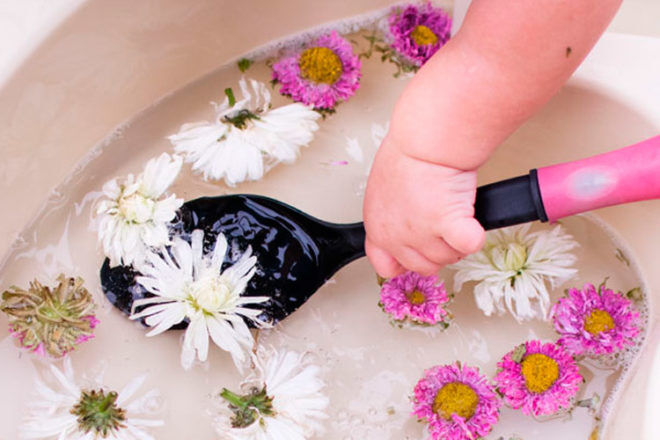 Water play is a wet and wildly fun activity for toddlers, so head outside and make a splash.
Toddlers love – make that, LOVE – to play with H2O. It's cooling for little bodies, interesting for developing brains and is a feel-good way to make a mess.
Dive into the action with 18 water play activities for toddlers. Hooray for sunny days!
1. Sprinkler fun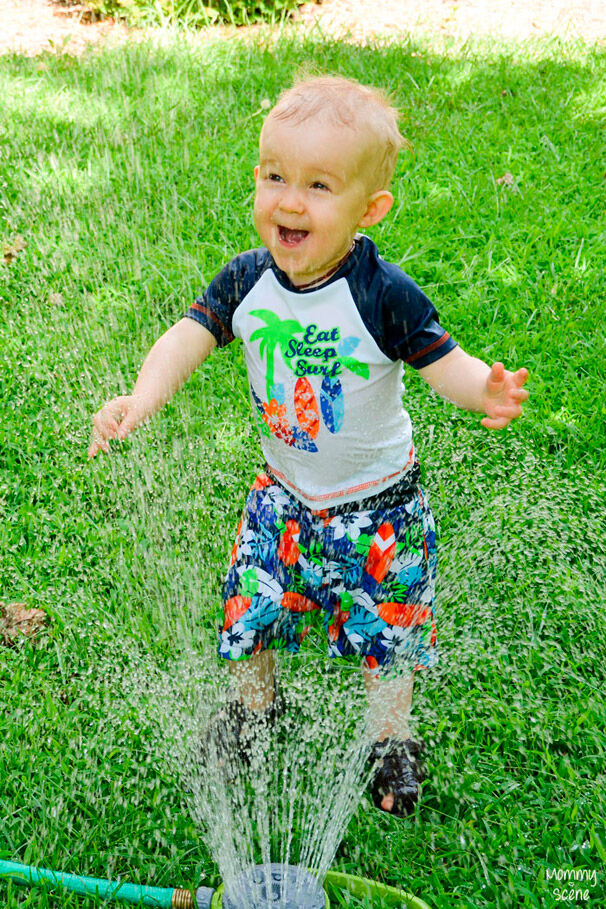 Running under a hose or sprinkler is a classic cool down on a hot day. And for some sprinkler DIY, poke holes in a water bottle and attach it to a hose for a homemade spray park! (image via Mommy Scene)
2. Erupting ice chalk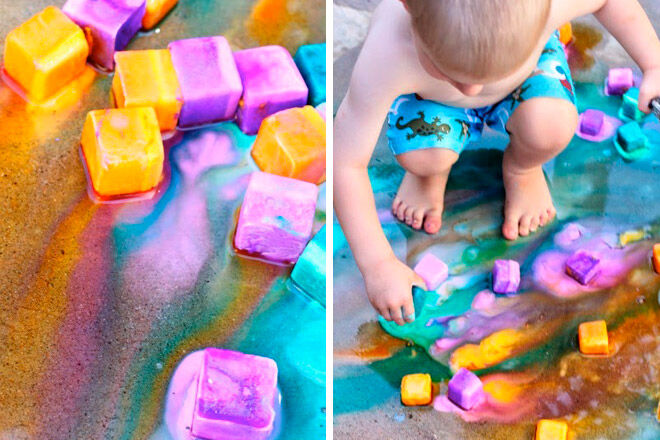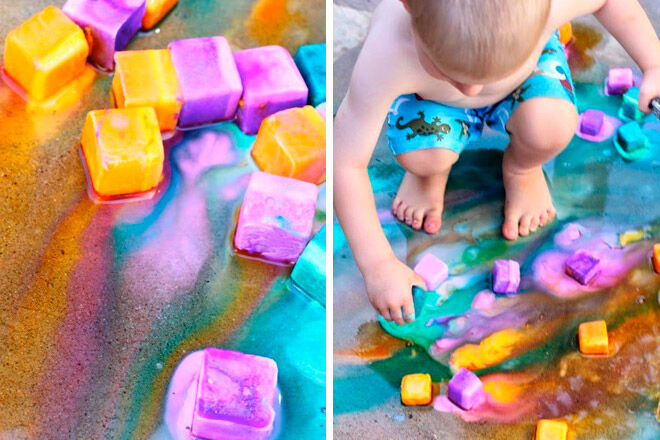 Painting with water is good, painting with chalk and water is great, and painting with erupting ice chalk is AWESOME. It's easily made and brings fizzy fun to concrete. (image via Learn Play Imagine)
3. Toy boat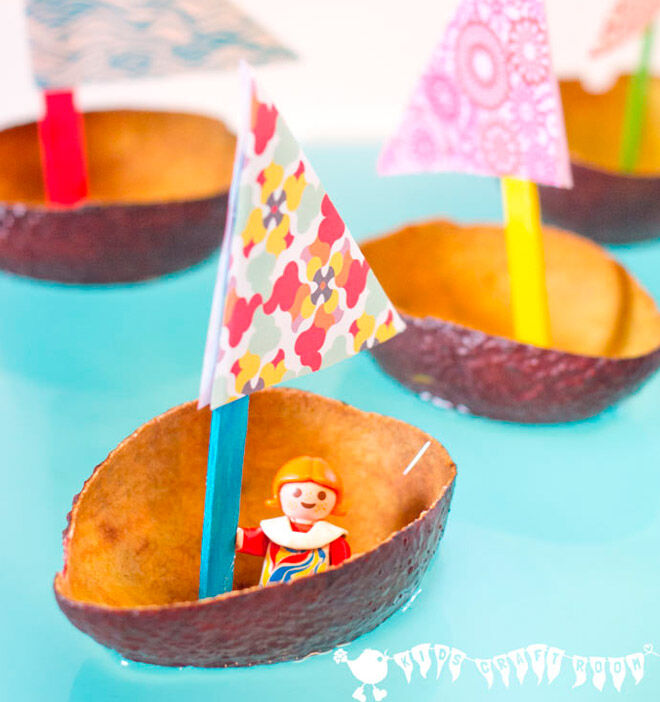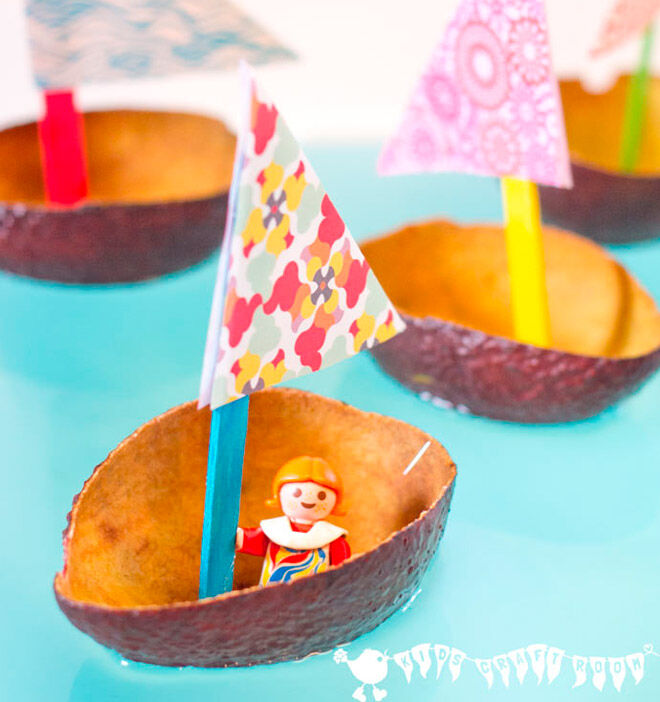 Whether they're built with corks, water bottles, sponges or avocado shells, there is nothing so much fun as messy about with toy boats. Fill up a paddling pool and set sail. (image via Kids Craft Room)
4. Window art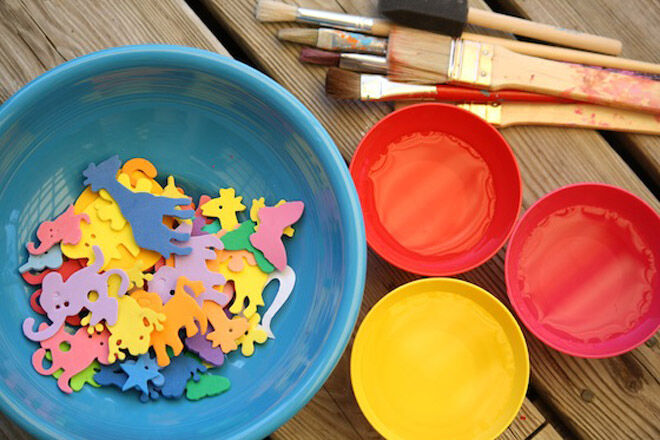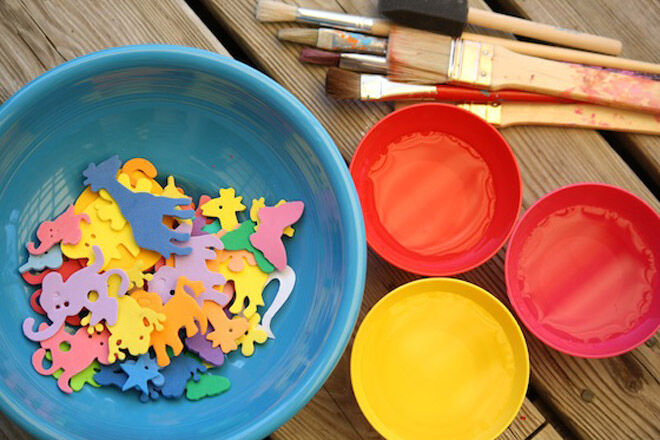 Foam shapes + water + window = happy toddler! Little people won't believe their luck when they get to paint the window and stick colourful critters on. (via Happy Hooligans)
5. Water wall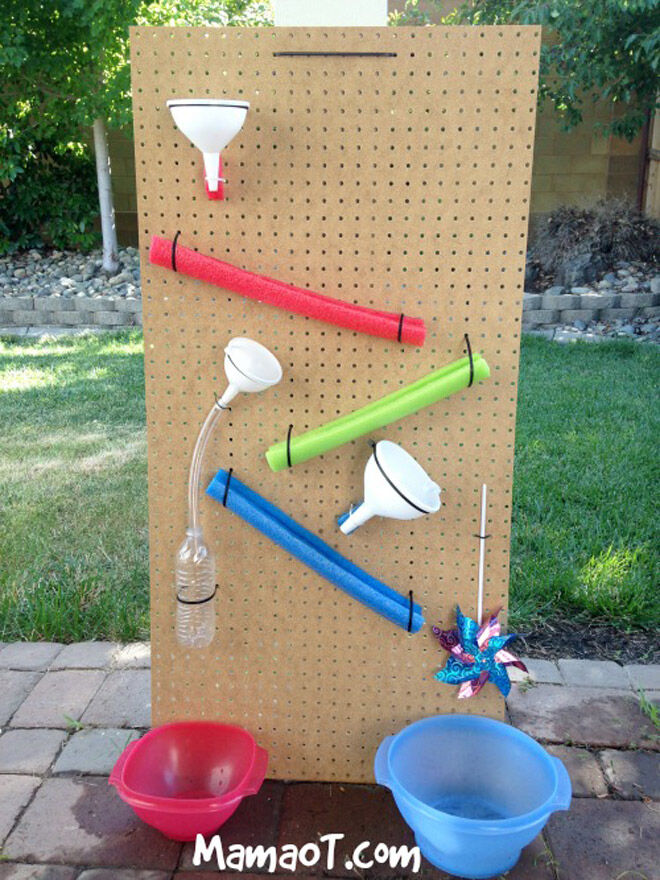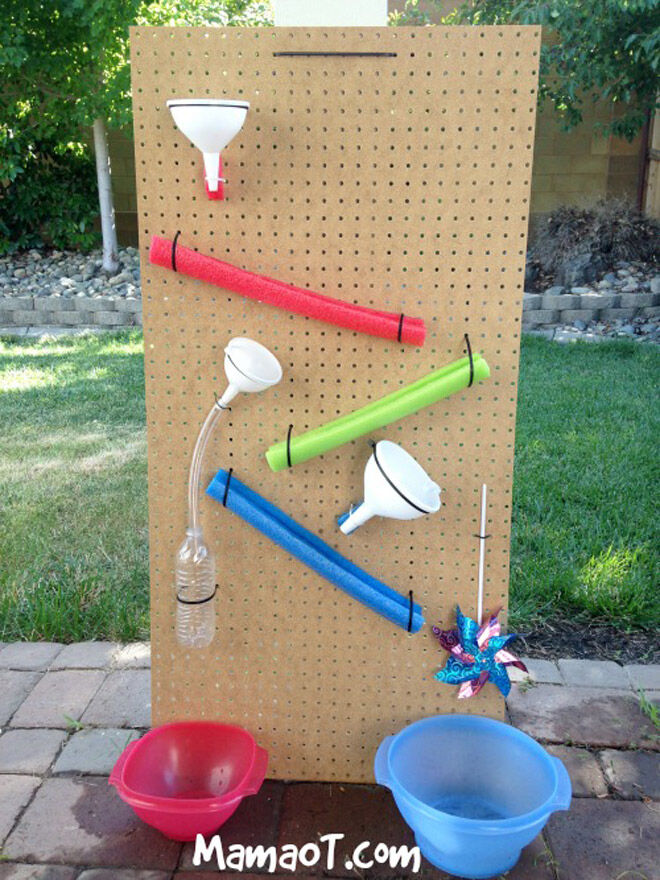 A water wall provides an endless summer of entertainment. Customise the design to suit the sprog or copy this peg board/pool noodle/funnel/bottle/pinwheel combo. (via Mama OT)
6. Sponge balls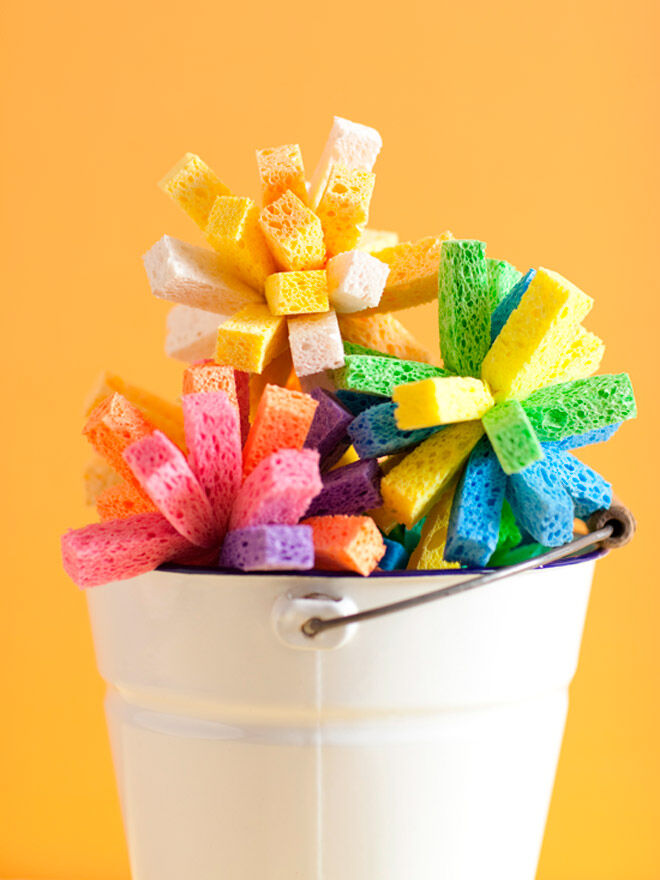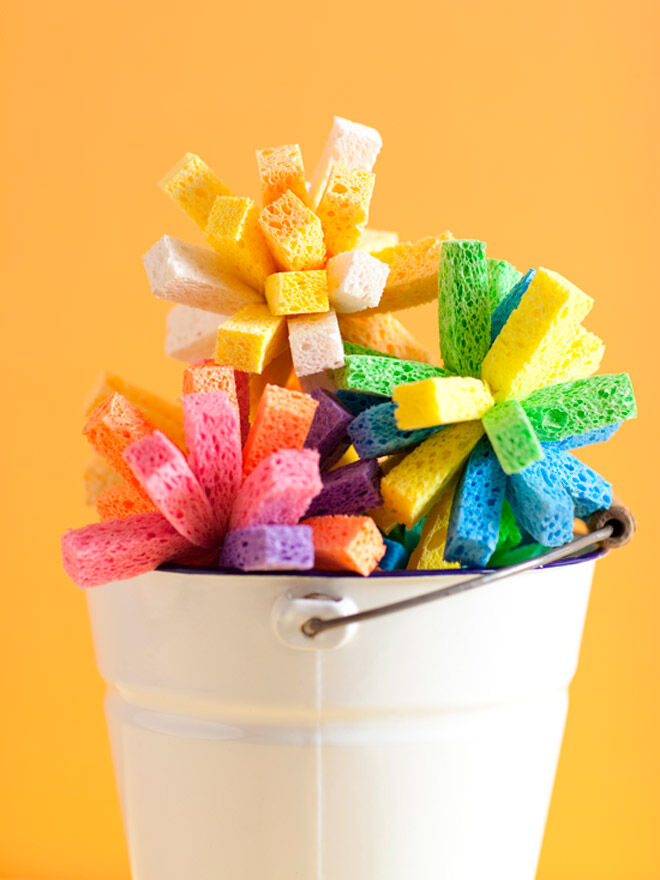 Get set for a soaking with homemade sponge balls. They're simple to make, then dunk them in a bucket or paddling pool and squeeeeeeeze! (via One Charming Party)
7. Tricycle car wash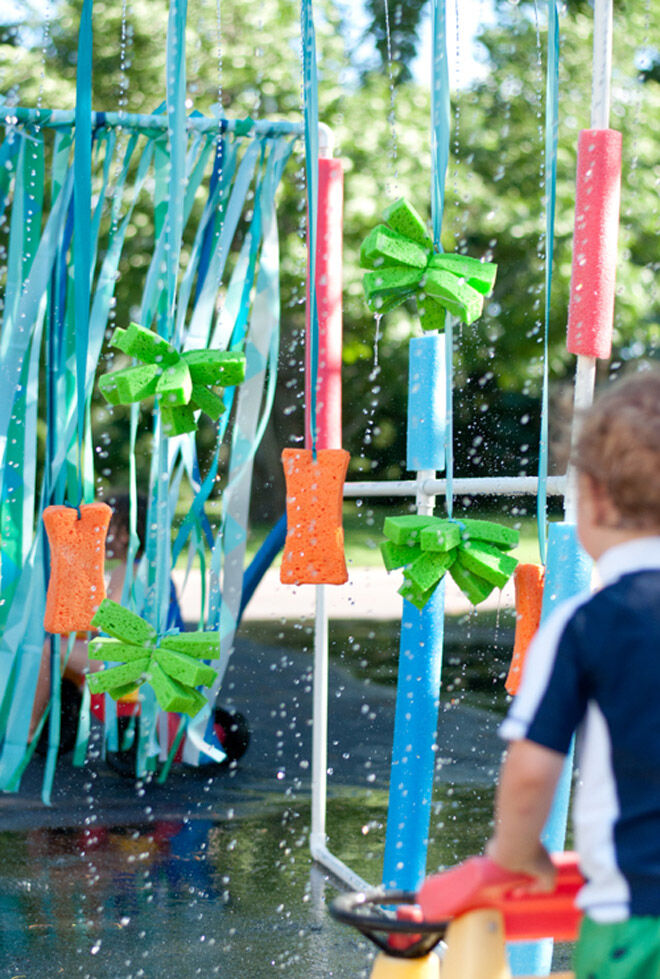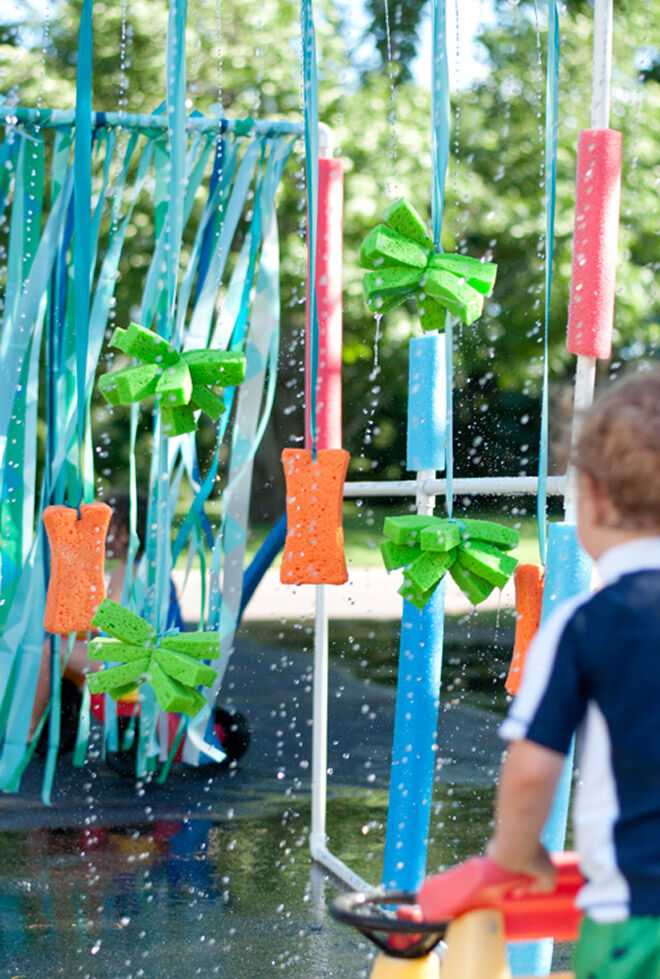 All hail the kiddie car wash. Made with PVC piping, pool noodles, sponge balls and lots of water, mini-riders (or walkers) will be squeaky clean and squeaking with excitement! (via Design Mom)
8. Washing station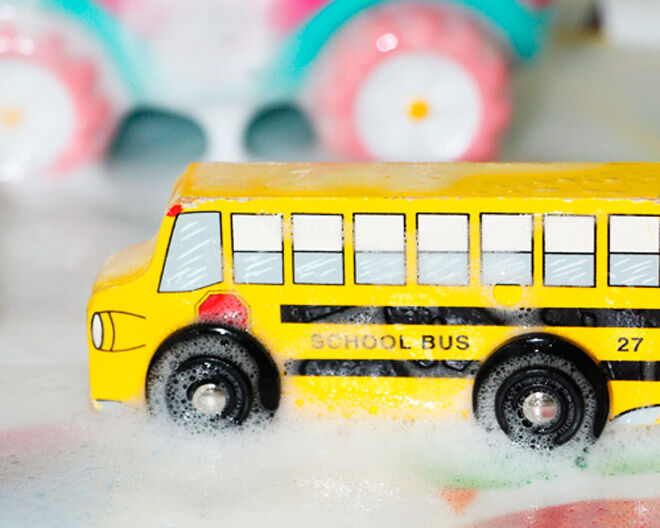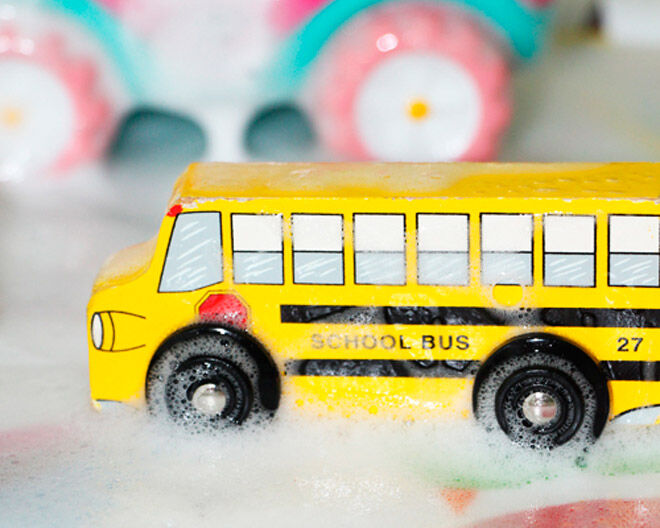 Trikes aren't the only things that are wonderful for washing. Toddlers can get to work on toy cars, shells and dolls too. (image via Meri Cherry).
9. Spray bottle painting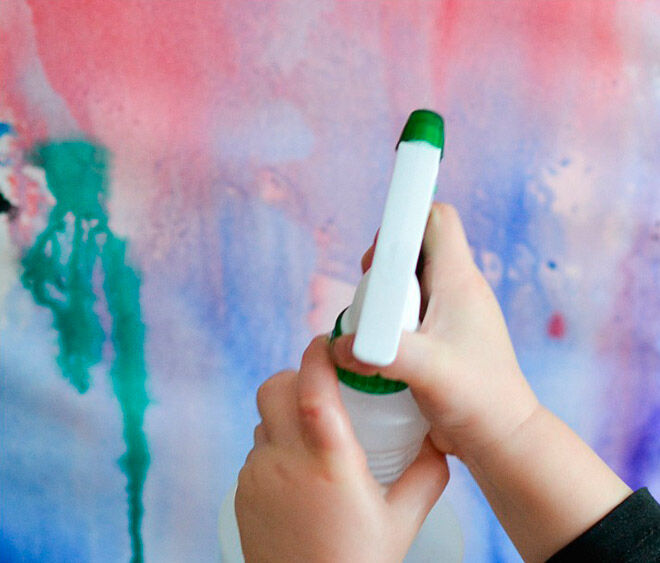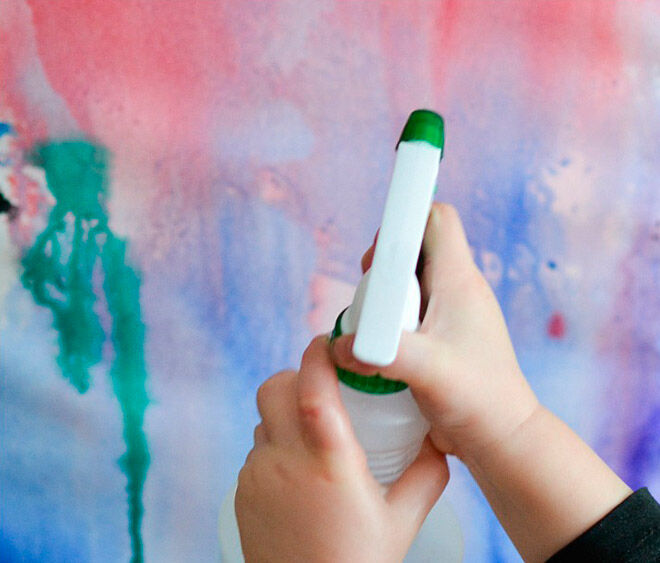 Once toddlers can squeeze a trigger, create al fresco art using washable (we repeat, washable) paint and water. Just fill up a spray bottle and Jackson Pollock Junior takes aim at paper. (via Toddler Approved)
10. Ice play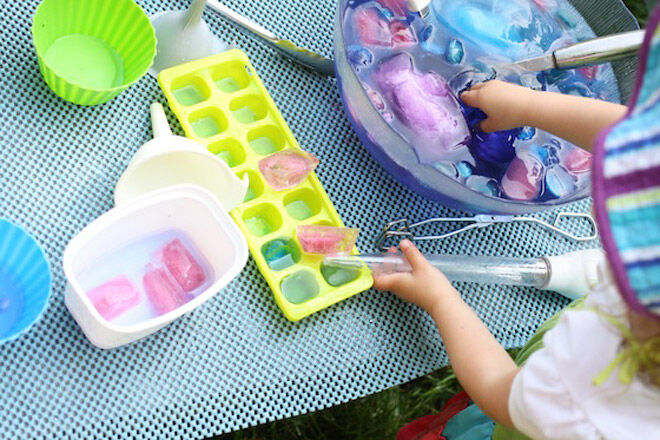 Chill out with coloured ice cubes and cool water. With the help of some tongs, spoons, measuring cups, funnels and turkey basters, toddlers will be busy as can be. (via Happy Hooligans)
11. Garden soup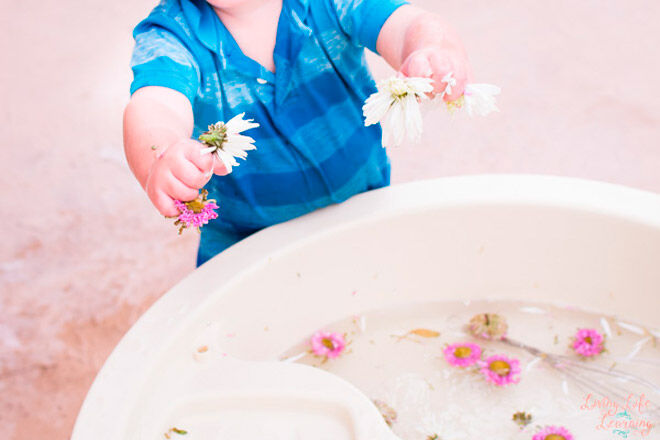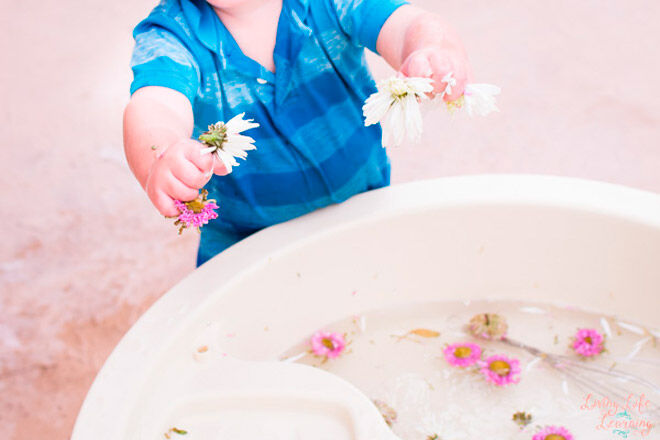 Flower collecting and water dunking is a recipe for garden soup. Little hands will have a grand ol' time pouring jugs of water, pulling off petals and swishing everything around with utensils. (via Living Life and Learning)
12. Pouring station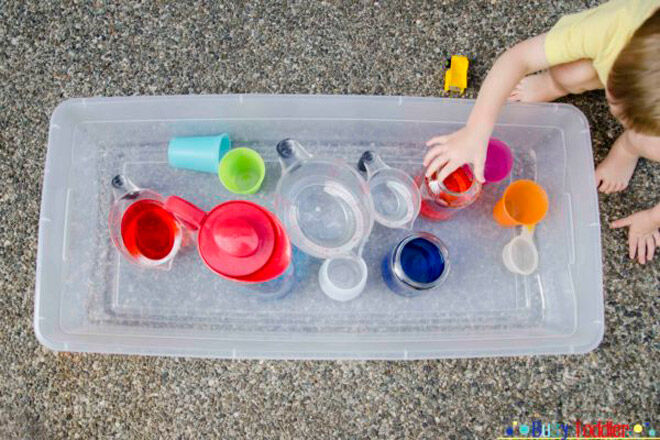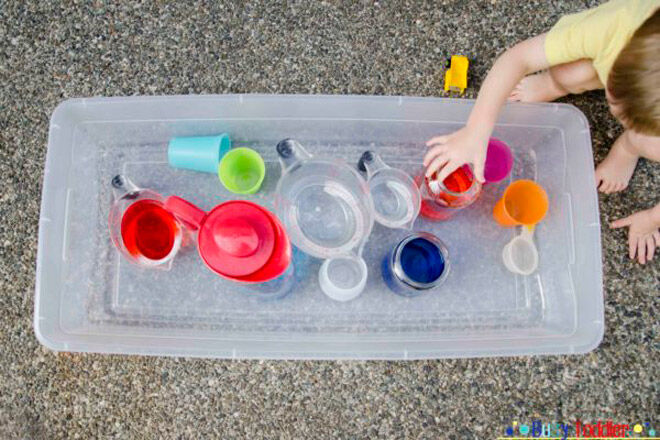 Once they've got the hang of the jugs, set up a pouring station with different coloured water. It's time for colour-mixing and messing about. (via Busy Toddler)
13. Water balloon piñata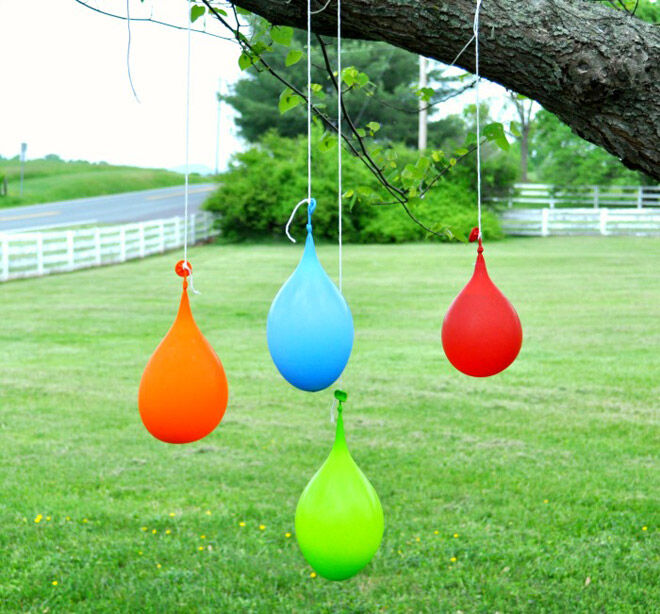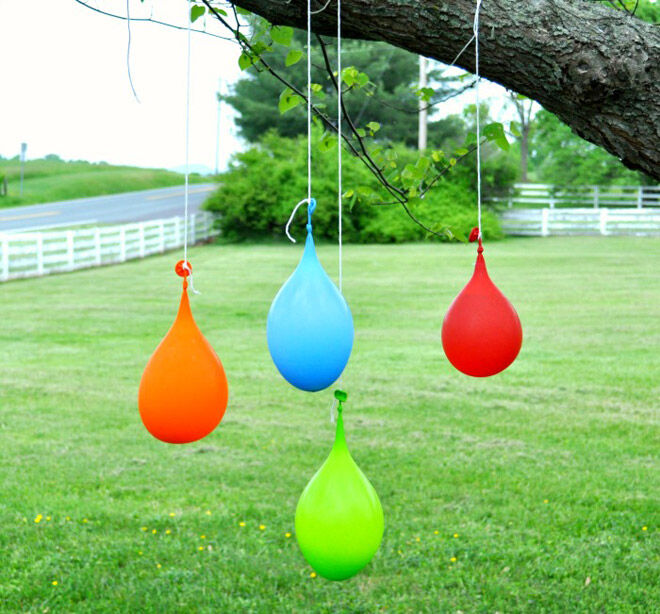 Fill some balloons with water, string them up high-ish and pass toddlers a plastic bat. With a little whack comes a big spray of water. Yay! (via The Seasoned Mom)
14. Lavender soap foam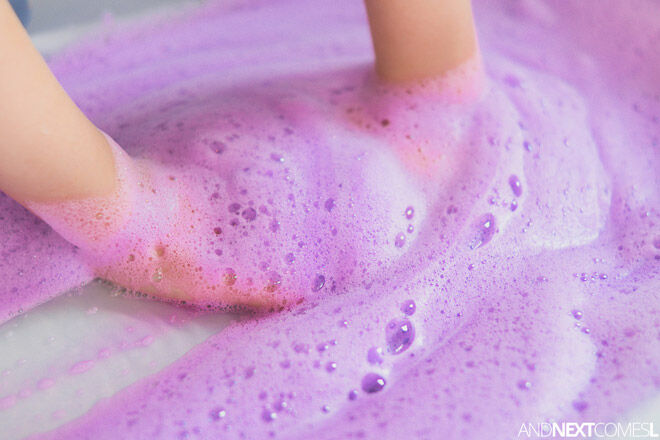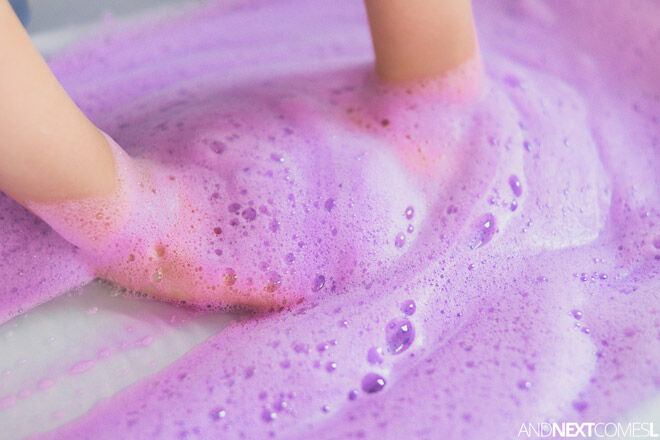 Sensory play feels so good on little hands, and this lavender soap foam is a wishy washy and wonderfully calming way to play. Rainbow and sea foam are fab too. (via And Next Comes L)
15. Lagoon sensory bin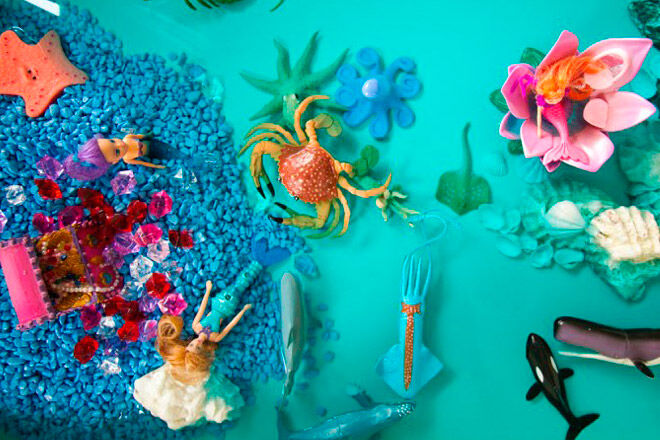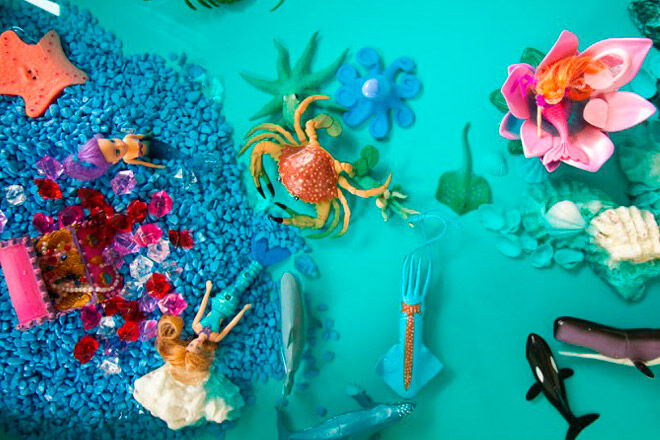 Another idea is to create a mermaid's lagoon or dinosaur world in a sensory tray. Just add water, pebbles and cool critters. (image via My Small Potatoes)
16. Knock 'em down game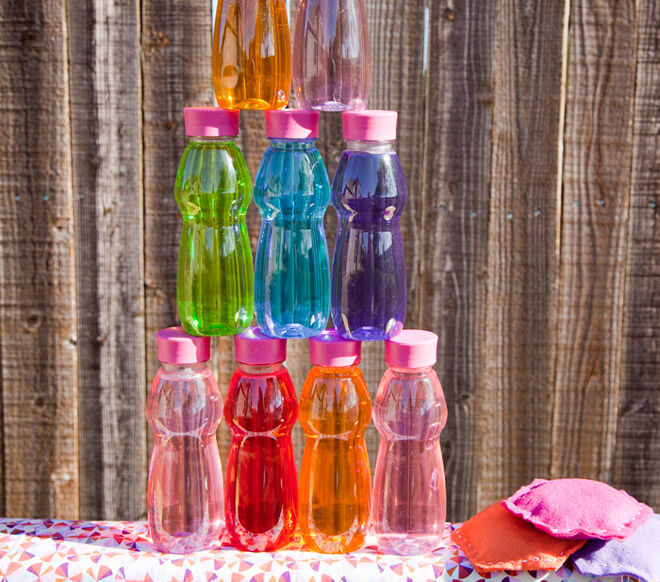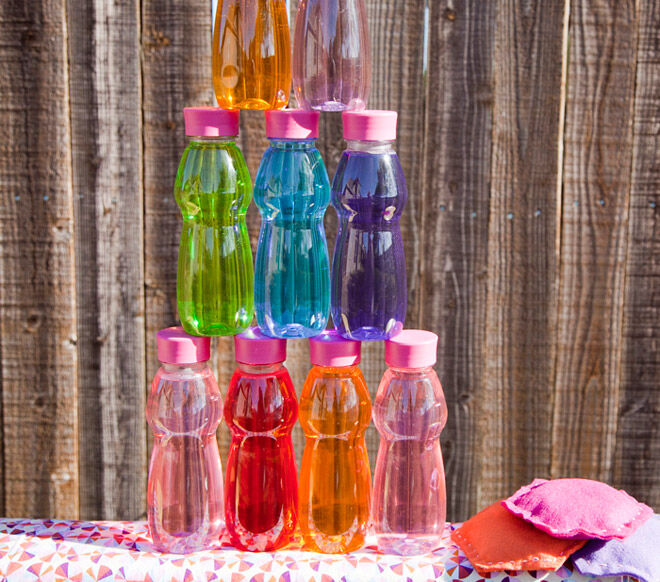 Fill up plastic bottles with water and watch little dynamos knock them over with a bean bag (or hands). To make things splashy, leave the lids loose and get their help with re-fills. (via Pretty Prudent)
17. Toddler fishing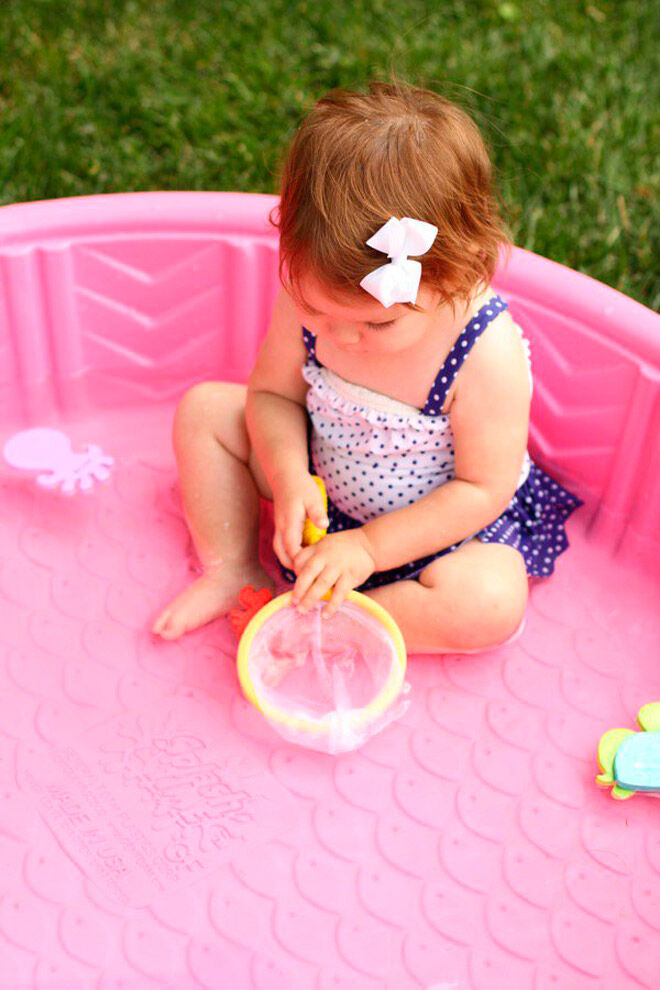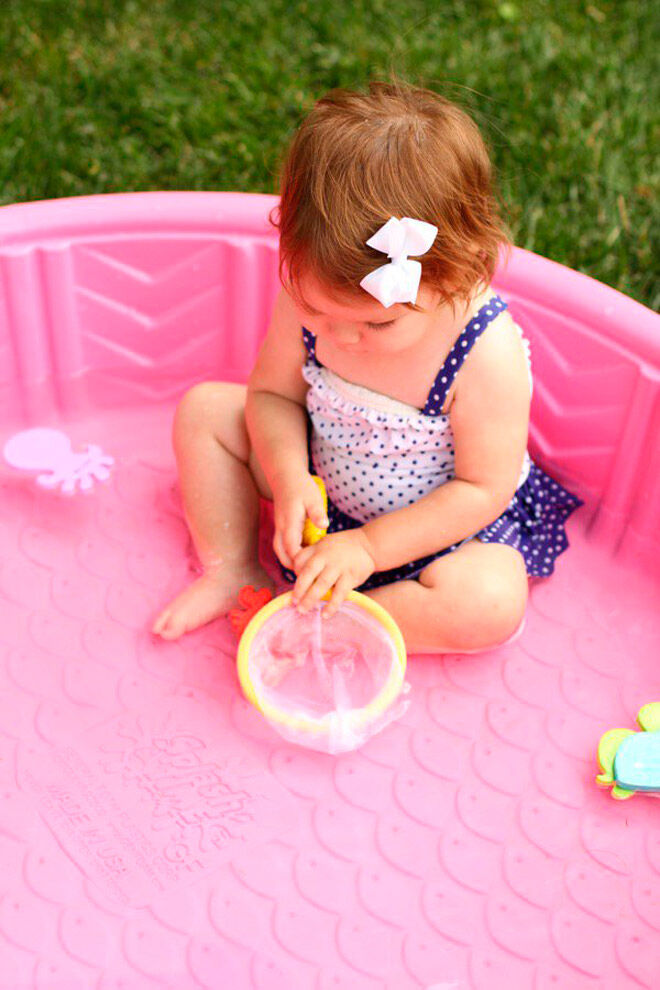 Fill up a paddling pool with foam sea creatures (or plastic balls), then pass that toddler a net. This is the fishing trip of a lifetime. Well, playtime. (via I Can Teach My Child)
18. Fishing game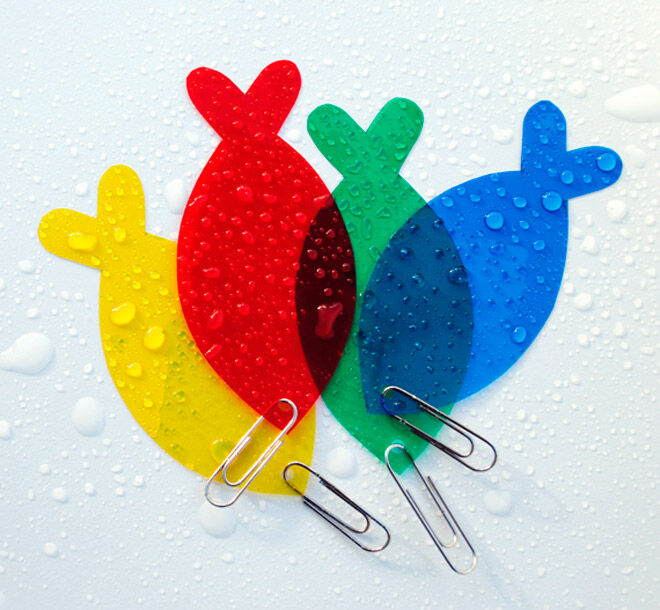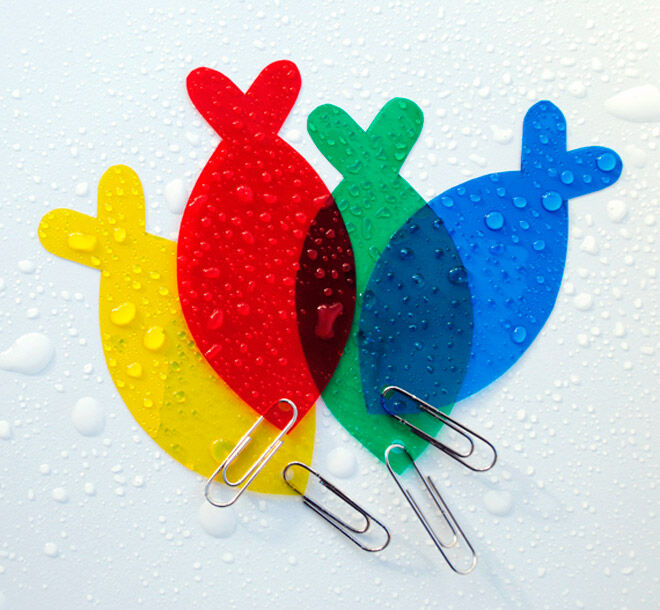 With grown-up supervision, this DIY fishing game will have older toddlers hooked. Submerge plastic fish in water and watch as tykes try to snag them with a magnetic fishing rod. (via Minico)
---
KEEP READING:
More on toddler fun
17 DIY busy boards for active toddlers
Groove things: 14 DIY musical instruments for toddlers
30 educational activities and their benefits