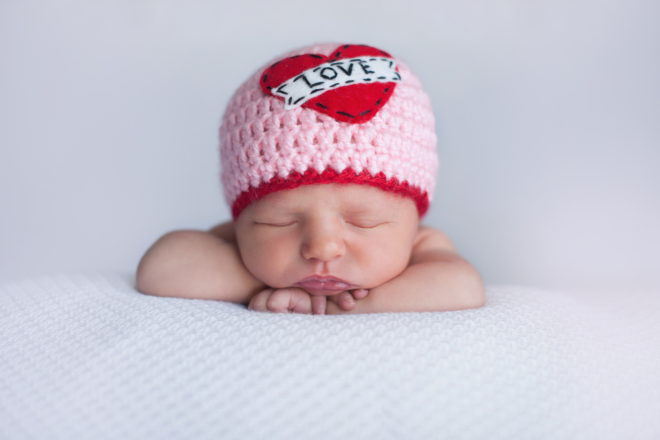 From the very first moment we find out we are pregnant, lil' bubbas tend to steal our hearts and send our emotions into overdrive, and so we thought it would be timely to take a look at all the baby names out there inspired by the notion of love.
Here are 23 baby names you can fall in love with forever.
Aiko: From the Japanese words meaning 'love' (ai) and 'child' (ko) comes the perfect baby name.
Aimee: This French moniker, derived from the more traditional version, Amy, means 'beloved'.
Amada: Eva Mendes, and the man who makes our hearts skip a beat, Ryan Gosling, named their daughter Amada. It means 'beloved'.
Cara: A traditional name of Latin origin, meaning 'beloved'.
Carys: Catherine Zeta Jones and Michael Douglas named their second child together, Carys; a Welsh name meaning 'love'.
Darcy: What women wouldn't want to be inspired by Jane Austen's classic love story between Elizabeth Bennett and Mr. Darcy?
Ella: Ella is a lovely abbreviation for the character Cinderella; the fairytale of a woman who finds love with her prince despite the obstacles set by her evil family.
Esme: It's French, it's vintage and it means 'esteemed' and 'loved' – what more could you ask for in a name?
Freya: We adore this moniker which also happens to be the name of the Norse goddess of love and fertility.
Isla: The name given to the female lead in Casablanca, the classic tale of lost love.
Jack: I mean, he did give Rose the piece of wood that led her to safety in the movie, Titanic. Now that's love.
Jedd: An abbreviation of Jedidiah, this is a Hebrew name meaning 'Beloved of the Lord'.
Juliet: The famous lead female character in Shakespeare's famous tragic tale of two star-crossed lovers.
Mia: Meaning 'wished for child', Mia also means 'mine' in Italian. This name has consistently been in the top 10 Aussie baby names for girls over the last few years.
Milena: A very melodic-sounding Czech name, meaning 'love, warmth and grace'.
Mina: A German moniker meaning 'love'. Mina is also said to come from the longer, Wilhelmina, meaning 'desire' and 'protection'.
Romeo: Romeo, where for art thou, Romeo? The male lead in Shakespeare's Romeo and Juliet.
Snow: The most beautiful woman in all the land, Snow White is loved by all – except the Evil Queen, of course.
Tristan: Perhaps a controversial one, Tristan is male half of the story of Tristan and Isolde, the tragic story is of the adulterous love between the Cornish knight Tristan and the Irish princess, Isolde.
Valentina: Inspired by Saint Valentine, this name was given to the daughter of movie star Salma Hayek and her billionaire husband, François-Henri Pinault.
Valentino: The male form of the name inspired by Saint Valentine.
Viola: The feisty female lead in Shakespeare in Love, this role earned Gwyneth Paltrow a Best Actress Oscar in 1998.
William: From the rom-com, Notting Hill, comes the lead male character, William. Played by Hugh Grant, he's the ordinary man who falls hard for mega movie star Anna, played by, funnily enough, mega movie star, Julia Roberts.
---
Read next …
Looking for more baby name inspiration to choose from? Take a look through some of our most popular baby name lists below: