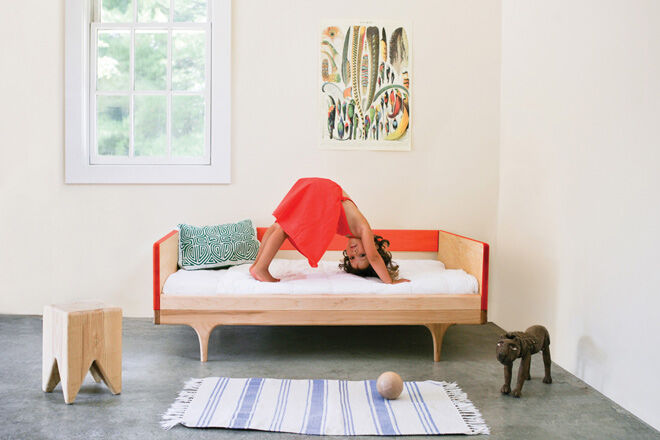 If parents stopped to think about how much stuff kids use for a heartbeat and then grow out of, the earth would probably shake with our collective shudder.
When designers put longevity, function and quality into their products, we're tickled. OK, it doesn't make sense to design a pair of jeans that get longer and wider as your kid grows from baby to kindergartener, but a cot that turns into a bed to last through those years is a good investment.
Here are our six of our favourite convertible cots that become toddler beds.
1. Oeuf Rhea Cot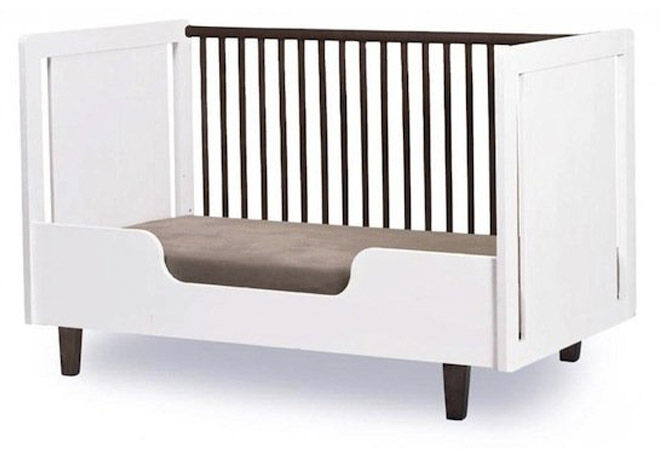 You can't write about cots without writing about Oeuf, and the latest gorgeous design is the Rhea Crib ($1099). While we'll always have a soft spot for natural wood, the rich walnut finish shown here is our favourite of the two colour options.
The Rhea transforms from a cot into a toddler or day bed with a conversion kit ($260) and you can find both locally at Minimee.
2. Plyroom Ava Life Stages Cot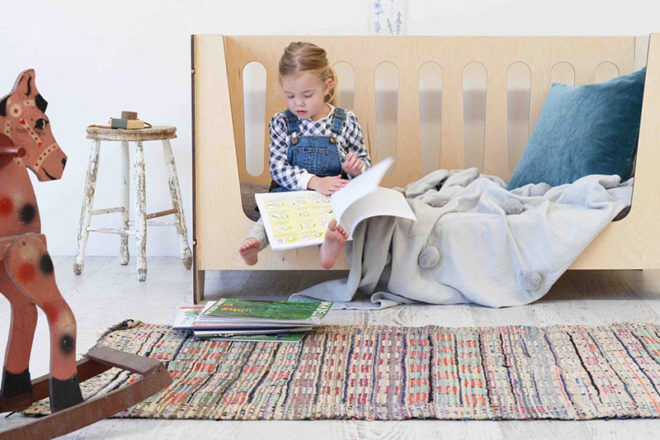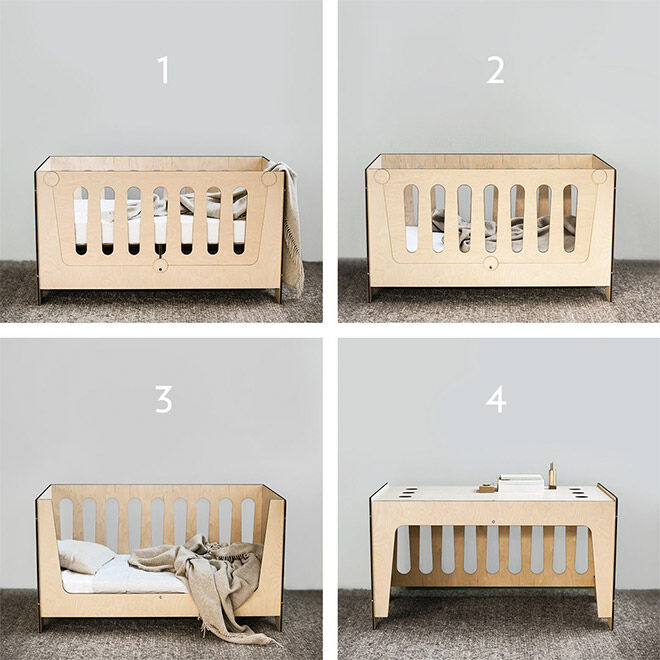 Plyroom is a Melbourne company whose goal is to create sustainable, beautifully designed and simple furniture. The Ava Cot ($1195) hits that goal.
This cot has four stages to suit a child's development. The high mattress for young babies can be lowered for when those babies turn into escape artists. The front comes off to create a three-sided toddler bed, and the whole thing flips over to become a handy homework table once your child starts school.
3. Mocka Amalfi cot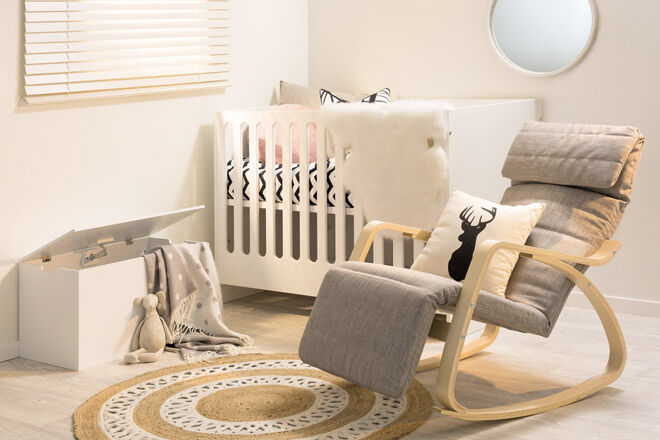 A trip to the Amalfi coast may not be in your future, but the incredibly affordable Amalfi cot from Mocka ($290) most certainly can be.
It has two mattress levels to keep newborns and older babies at just the right height so your back doesn't scream in protest when you bend over to soothe them through the night. Add in a conversion kit ($59.95) for when baby morphs into toddler and you're all set.
4. Boori Manor Cotbed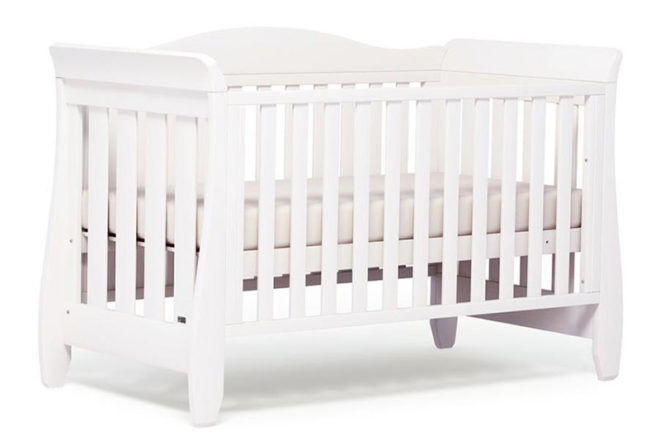 From the very modern to the very traditional, Boori's Manor Cotbed ($650) is the one you need when the nursery demands a bit of old-fashioned elegance.
The sides curve gently out and the back piece is shaped like a headboard. When your baby is ready, the front piece can come off and the cot converts to a toddler bed.
5. Pottery Barn Kids Larkin 3-in-1 Cot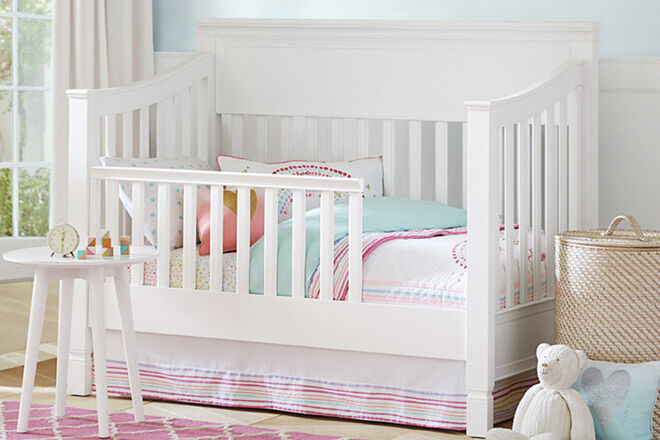 Like the Boori, Pottery Barn's Larkin Cot ($1299) has a classic aesthetic.  There are two conversion kits: one makes the cot into a toddler bed ($229), and the other turns the cot into a double bed ($339).
6. Kalon Studios Caravan Cot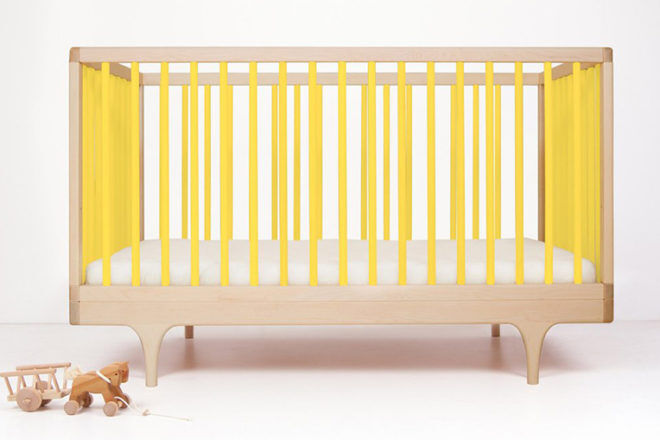 We've done plenty of wood and white cots, and now it's time for some colour. The Kalon Studios Caravan Cot ($1495)  is an elegant little convertible with dainty legs, a smooth wood frame and electric yellow bars.
The mattress has two levels, and when your little one is ready, the side comes off to make a toddler bed that's safely close to the ground. Check out the picture at the very top of this post to see what it looks like in bed mode. Wow, right? Find them locally at Kido Store.
Now that we have the cot/bed dilemma sorted, take a look at some cool ways to decorate your toddler's bedroom.