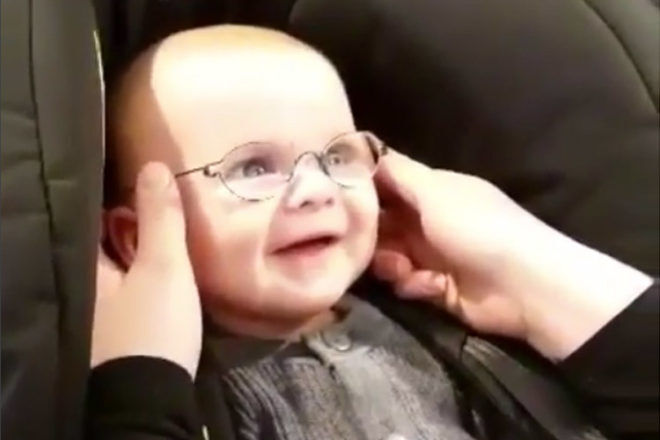 Seeing the world through rose-coloured glasses can have its perks, but for a baby in Denmark, seeing his mum through prescription rims has an even happier effect.
Christine A.J Friis Rosenhøj is the proud mama of Emil, who was born with extreme farsightedness. For his early months, life was a blur and Mummy was a person to be touched and heard, but not seen too well.
All that changed when Emil got his first pair of small glasses. And luckily for us, Christine has posted a video on Insta showing the exact moment Emil realises he's looking at his mummy.
It's an incredible moving moment to see Emil's slow dawning of realisation, so here goes!
Christine's comment translates as, "Today is a great day. Emil got his glasses. The journey has been long and our little baby had to go through a lot to sit here and smile with his small glasses, but now they are here."
Seeing a moment like this makes you feel good inside, so let's roll with those positive vibes and rekindle a story closer to home.
Shane Jacobson and son Jax
Aussie actor Shane Jacobson made his name playing Kenny and talking toilets, but when his son Jax (love the X name btw) saw clearly for the first time, it was the baby making us smile.
Shane said on Facebook, "My wonderful partner Fliss thought that our baby boy had a vision problem and decided to get him checked early, I am SO glad she did, it turned out she was right. I only share this with you all so that you can see the moment that our beautiful baby boy gets to see us and the world clearly for the first time."


Yes, sometimes looks are everything. And speaking of looks, back in Scandinavia, Emil is absolutely rocking his new glasses.
Downtown style …
The thinker …
Channelling Happy Feet …
Accessorising …
And … giggling with Mum. The best!
Want more videos that'll bring a tear to your eye? These six sweet videos of babies and kids will definitely have you reaching for the tissues.