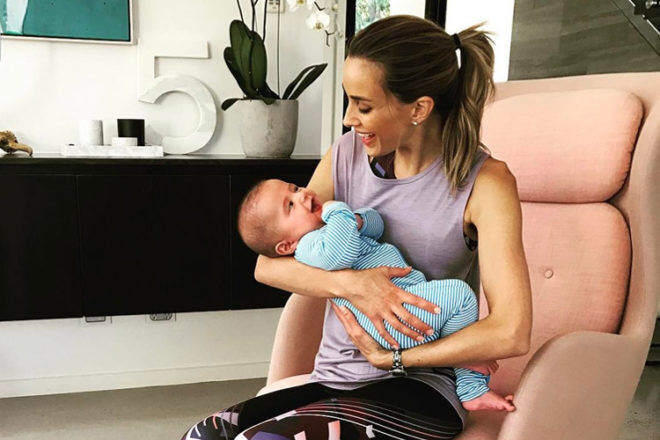 Fame, fortune and adorable families right this way! Yes, thanks to Instagram, us mere mortals get access to the gorgeous lives of celebrities and their offspring. With baby news and kiddie grooves, there's never a dull moment with stars and their kids.
Here's what 11 of our fave celebrities have been up to recently.
1. Oh baby!
Congrats to supermodel, Rosie Huntington-Whiteley and her hubby Jason Statham. There's a beautiful little person on the way for the couple!
2. Walk on the wild side
We [heart] Zoë Foster Blake and her little lad, Sonny. First Zoë owns Beyonce's pregnancy announcement, then her son earns his stripes for Cutest Facepaint of the Week.
3. Family flashback
How time flies! Guy and Jules Sebastian's son, Hudson has started school and his proud mama marked the occasion with this flashback pic of the dapper little dude.
4. Mini-chef in the making
Jamie Oliver is showing his fifth-born, River how the whole 'celebrity chef' thing is done. What's cookin', cute lookin'?
5. Twinning!
Before the Beyoncé and Jay Z twins and the Amal and George Clooney twins, came the Bec and Chris Judd twins. Tom and Darcy are two peas in a pod!
6. Multi-tasking mama
Life's just peachy for P!nk. She gets to cuddle Jameson and have her make-up done at the same time. We're calling it 'snuggle-glam'.
7. Kickin' it
Megan Gale's son River is keepin' it real with this cool clip. Real gold, that is.
8. The jungle kids
Nat Bassingthwaighte is in deep with I'm A Celebrity Get Me Out Of Here, but this happy family photo will be keeping her upbeat. Hi to her kids, Harper and Hendrix!
9. Superrrrrdad!
Elsa Pataky's man, Chris Hemsworth is legen … wait for it … dary for his dad antics. Up, up and away!
10. Where's Wally Kate?
Ok, two of these girls are Kate Ritchie and daughter Mae. Now, which ones …?
11. Day at the museum
What do you do when Mum's designing a world-famous fashion collection? Well, if you're David Beckham, you take the kids to the Natural History Museum!
WE'll bring you more celebrity updates soon.