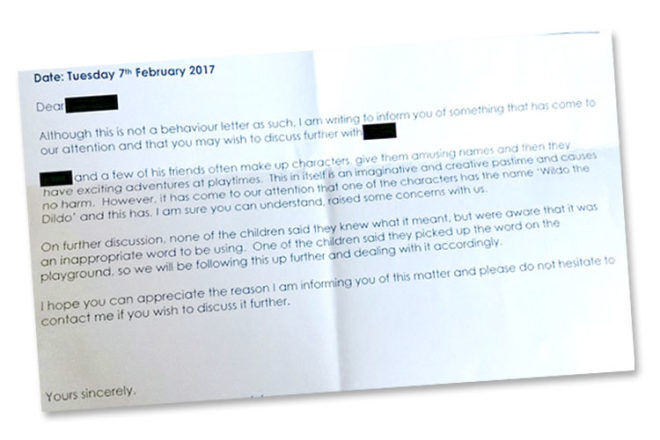 Well, school's back, the playgrounds are bursting with excited kids and it's fair to say that teachers have seen – and heard – it all.
So spare a thought for Teacher X – who shall remain nameless – and had to send a letter home to Mr Paul Hunt, dad of a 10-year-old boy in England.
Paul promptly shared the letter on Twitter for all to enjoy … and aren't we glad he did!
"This letter, that was sent home from school today, is the funniest thing I've ever read," Paul tweeted. Us too Paul, us too!
The note starts mildly enough."Although this is not a behaviour letter as such, I am writing to inform you of something that has come to our attention and that you may wish to discuss further with [name blacked out]," the teacher writes.
Riiiiiight. Let's read on then, eh?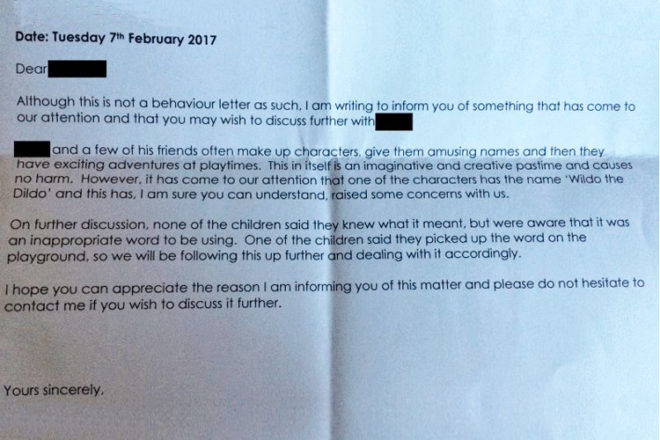 The teacher explains that the 10-year-old and his friends often make up characters and create exciting adventures for them at playtimes.
"This in itself is an imaginative and creative pastime and causes no harm. However, it has come to our attention that one of the characters has the name 'Wildo the Dildo' and this has, I am sure you can understand, raised some concerns with us," the letter says.
Hang on, did they say, "WILDO THE DILDO?!" Oh, my gawd, that is hilarious. The kids get points for rhyming, anyway.
And the school gets points for dealing with the situation.
"On further discussion, none of the children said they knew what it meant, but were aware that it was an inappropriate word to be using. One of the children said they picked up the word on the playground, so we will be following this up further and dealing with it accordingly.
"I hope you can appreciate the reason I am informing you of this matter and please do not hesitate to contact me if you wish to discuss it further."
Yours sincerely indeed! We're giving this one the Mum's Grapevine prize for letter of the week.
And on that note, happy Friday!
Want more laughs? Don't miss our guide to housework for real mums!