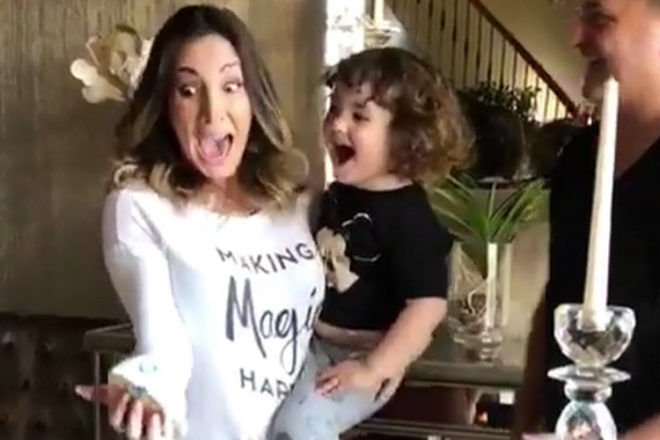 A good gender reveal vid is a little like an Oscar-winning performance. Full of raw emotion and  collapse-on-the-ground-in-shock reactions, finding out whether it's a boy or girl is video gold.
With that in mind, the nomination for 'Best Reaction to Pink Cake' has to go to Kansas City blogger, Egreis Gjergjani. The mum of two boys, aged one and three, was staggered to find out that she's expecting a girl. And when we say staggered, we mean she actually staggers back from the cake table in utter shock and elation!
https://www.instagram.com/p/BQI3j81jKPd/?taken-by=thestilettomeup
Egreis' reaction is definitely understandable. Before cutting the cake her "evil' best friend had organised a balloon reveal with blue and pink inflatables. Confused much?
https://www.instagram.com/p/BQI2LtGjh7w/?taken-by=thestilettomeup
Throw in an element of suspense with the slowest cake-cutting ever …
https://www.instagram.com/p/BQI3I6Mjes0/?taken-by=thestilettomeup
And all this after the pregnancy itself was a surprise! Egreis told the The Huffington Post that she and hubby Jeremy weren't planning to have any more kids after their "two amazing sons".
She says, "Since I've had two boys so far, I genuinely did not think I would have a girl". In fact, the mum went so far as to create a kids' couture line, Itty Bitty Toes, to experience what it's like choosing clothes for a little girl.
Well, she's about to have that experience for real and, one thing's for sure, her "mini me" will have access to an Oscar-worthy wardrobe once she arrives!
And as for the 'Best Supporting Role' nomination? It goes to Egreis' little boy George who is standing by as the pink cake is revealed. "He just thought we were celebrating something with cake … I laugh when I see George's face the entire time. He's just so confused, wondering what is wrong with the cake!"
Sharing the news with the world
The reveal video has almost a million likes on Insta and Egreis says she's been bowled over by people's positive reaction to the news. "So many [strangers] have shared tears of joy with me … That's the beauty of humanity. To be able to relate to another human being, without ever knowing them, simply because you can feel the happiness through a video."
And whether it's a boy or a girl, Egreis says pregnancy is a "blessing". "That initial discovery of your child's gender is an amazing feeling. It doesn't matter if it is boy or girl, just that initial moment of knowing what you're going to have makes it all so real."
Too true and congrats to the (very) happy mum! If you love a gender reveal as much as we do, take a look at these other hilarious gender reveal videos.