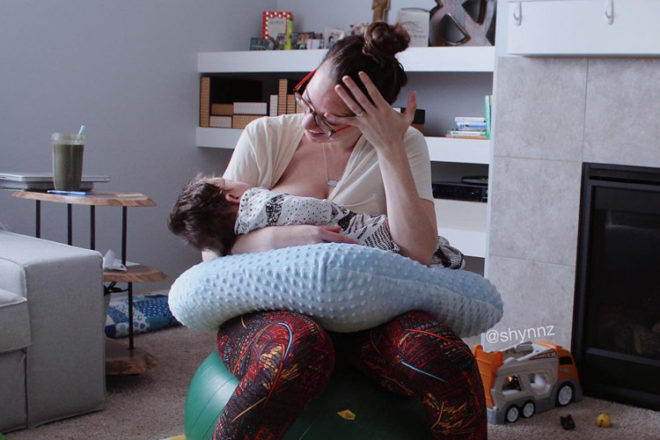 Motherhood is one helluva ride. With more twists and turns than a bowl of spaghetti, it's full of excitement, wonder, unconditional love and – if we're frank here – energy-sucking moments.
While the less glamorous vignettes don't always make it onto social media, boy, it's good when they do! After all, we're all in this parenting gig together, and for every bright and sparkly family portrait on Instagram, there are squillions of tired mums trying to keep it all together in the real world.
So a big thanks goes to Much Most Darling blogger and mum of two, Shannon Peterson, who is reminding us that social media life and real life aren't the same thing!
Motherhood, unfiltered
With a four-month-old at her breast, a fit ball under her tush and a three-year-old just out of the frame, Shannon has shared an honest Instagram and blog post, showing that motherhood isn't all pretty photos and perfect moments.
She says, "The other day I spent THREE HOURS like this, people. Over 180 minutes. More than ten thousand eight hundred seconds. Bouncing side to side and back and forth, in a very particular pattern"  – unshowered, un-fed and on "the brink of tears … The truth is, this is who I am most days."
https://www.instagram.com/p/BP_W8hHFtv2/?taken-by=shynnz
The whole truth
This post is so refreshing in its honesty. Shannon says that in the past she's tried to "focus on the good" moments in her social media feed, she's realised that, "it's really important to address the not so great stuff so that people know it's normal."
The mum tells The Huffington Post that she has been dealing with postpartum depression and anxiety recently, and wanted to show a more accurate picture of what it's like to be a parent.
"Scrolling through my feed is hard ― seeing all these beautiful mums with their hair and makeup done every day, perfectly put together left me wondering why I couldn't be that," she explains. "Why my pre-pregnancy jeans are still too snug, why my living rooms aren't perfectly styled and pristine, why I don't always feel the 'motherhood is beautiful' words that are shared. I have been feeling so uninspired and, quite frankly, pretty emotional about not measuring up."
Sound familiar?
It turns out that Shannon isn't the only one feeling a bit 'normal' in comparison to social media.
At the end of the post, she gives a nod to all mums, saying, "Here's to YOU mama, holding it together even when it gets rough. And even if you're not, you're still a part of this club of crazy. Because nothing is ever as perfect as we sometimes portray on Instagram, but it's refreshing to let the 'real' out every once in a while. Anyone else having a really rough week?"
Yes, Shannon, the answer is, "yes."
Since her 'authentic' post went up, Shannon says, "So many women shared that they were in the same position and feeling lonely and defeated, just like I was and am … and it just felt good to connect on such a huge level with so many other parents across the board."
Shannon now vows to show more of real life moments to the world, starting with this pic where she's breastfeeding, pumping and making her three-year-old feel included – all at the same time.
You're awesome, Shannon, and so, dear reader, are you!
https://www.instagram.com/p/BQMDpRXFKSV/?taken-by=shynnz
And if Shannon does find a sec to think about cleaning her house (not to be confused with actually cleaning her house), then she'll love these cleaning hacks for busy mums.