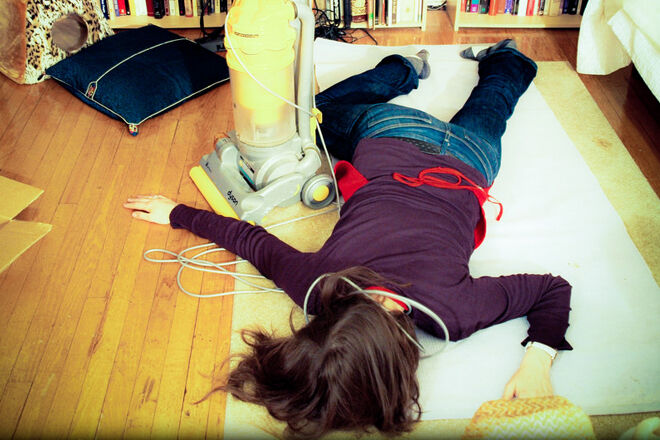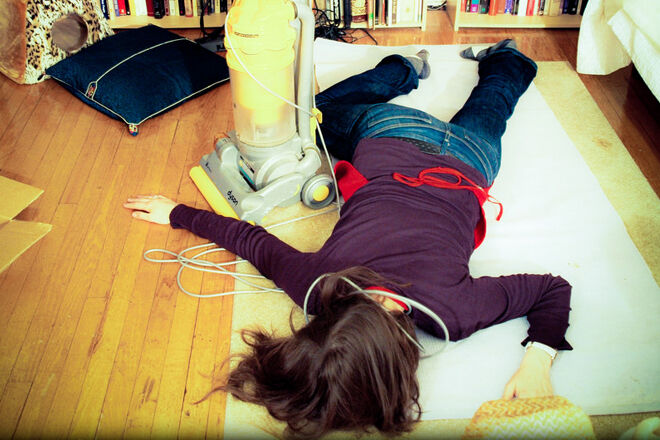 If your house is blanketed by a thin-ish layer of dust, the washing basket is groaning and you can't see the carpet for the toys, then a fellow mum is making everything better with her honest housework guide.
Presenting A Real Mom's Guide To A 'Clean' House, direct to you from American mum-of-three Meredith Ethington. Tired of seeing Pinterest-perfect cleaning tips and unfeasibly sparkly homes, Meredith's created some real tips and tricks for avoiding/hiding/dealing with housework that'll have you feeling better about the mess lurking at your place.
It's littered with daily, weekly and monthly housework tips, and some of our favourites are, "soak dishes in soapy water, so it appears you're going to clean them"; "threaten to take away all toys forever" and "consider dusting, but just laugh." Oh, how we laugh!
Here's the whole housework guide. You're gonna want to print it for your wall.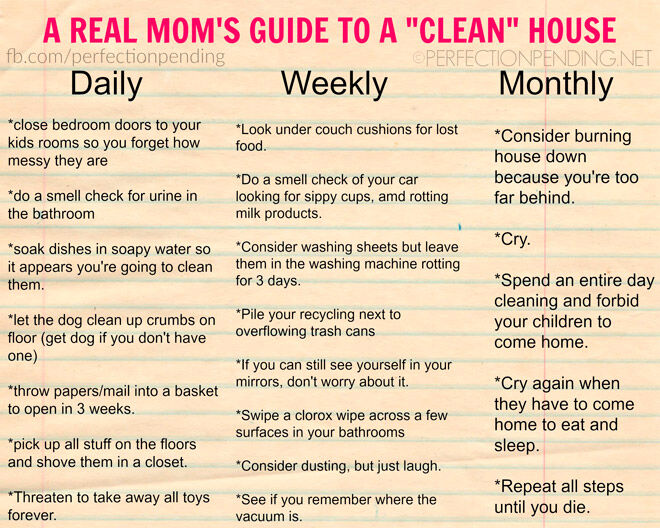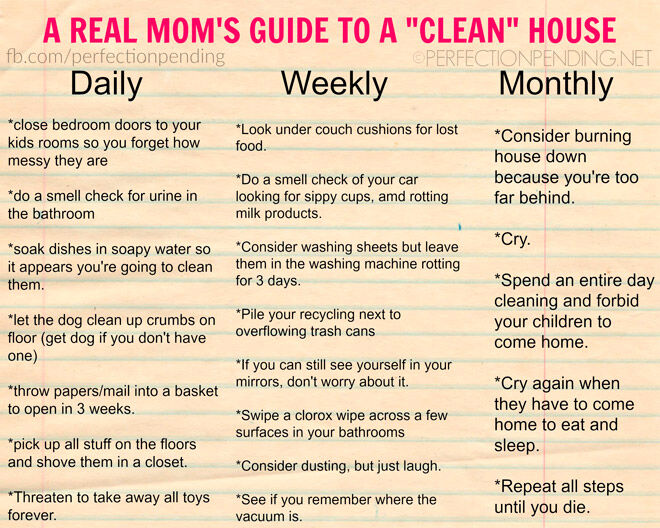 Meredith says, "I kept seeing these Pinterest guides to keeping a clean house by doing X, Y, and Z every week to make it look spotless, and, I thought, well, I can't even stay on top of the laundry every week, much less vacuum my couch."
True that, and this guide has definitely struck a chord with mamas.
"So often we see the pretty side of people's lives on social media, and often, that pretty side sets us up for feeling like we are failing because we are trying to live up to unrealistic expectations. I just hope it makes a mom feel less alone and like she is doing a good job even if her house doesn't look like a magazine.," Meredith tells the Huffington Post.
"I've had so many moms thanking me for keeping it real, and for giving them realistic expectations. I have even had some moms tell me they've already been following my routine for years unknowingly".
To look on the bright (well, realistic) side of life, check out Meredith's video too. Then try to remember where the vacuum is…