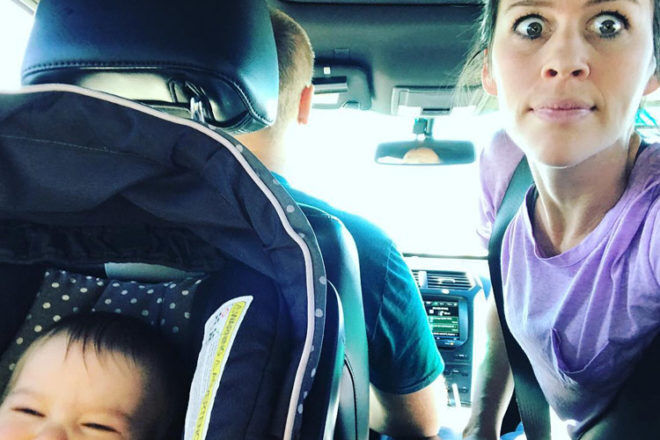 When a toddler declares that they've, "gotta go potty", us parents listen. As in, we drop EVERYTHING to make this toilet break happen.
For example, one minute you're blissing out with a chocolate gelato. The next, you're dropping it like it's hot and breaking land speed records to get junior to the loo on time.
Perhaps you just bumped into Ryan Gosling (let's dream a little) and he wants to chat. Of course you reply, "Ah, not today, Ryan, my two-year-old needs to pee …"
Or maybe you're all buckled up in the car when your toddler announces that they need to relieve themselves – "right NOW!" – despite the family pit stop just three minutes before.
This is exactly what happened to Story of this Life blogger, Esther Anderson, who had us – and the rest of the world – in hysterics after sharing the whole hilariously frustrating experience on Facebook.
Esther whips into action when her daughter insists she "has to go NOW", scrambling to find the nearest petrol station with her gps and racing there as fast as legally possible.
But when she rushes over to open the car door, she discovers that her toddler has … wait for it … fallen asleep in her car seat!
So, so, sooooo typical
Raising toddlers certainly has its challenges (bless their tiny toddler socks) and toilet training is one of them. That's why Esther's post has resonated with fellow parents, many of whom have their own toileting tales to tell:
"We had this situation on a recent road trip," says Bekah Clipperton. "We had just stopped and were now driving through the middle of nowhere. So of course the three-year-old desperately had to pee and couldn't hold it.
"Our only option is to stop at the middle of nowhere super sketchy gas station late at night. Once I had the three-year-old situated on the less than sanitary toilet in the less than sanitary bathroom in the sketchy gas station, she informed me that she didn't need to go potty."
Problem solved
To make toilet training and car travel that bit easier, plenty of mums suggest packing a travel potty in the boot. Line it with a small garbage bag that can be binned when used and you're good to go!
Make sure to browse our toddler section for more funny posts and tips about toddlers, including this very useful guide to the best potties for toilet training.