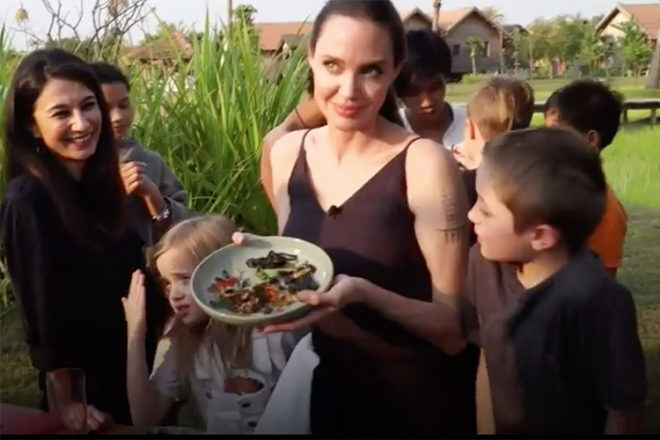 If your kids are jacking up about the peas on their plate, or complaining that their fish fingers are touching their mashed spud, then we've got a meal that will really spin out the Fussy Eating Brigade: Scorpions, tarantulas and a sprinkling of crickets with chilli – deftly prepared by Angelina Jolie!
In a BBC News video shot in Cambodia, the actress, director, mum of six, humanitarian and part-time insect chef explains that she started eating bugs when she first visited the country. "You start with crickets … and then you kind of move up to tarantulas."
Well, ok, if you say so, Ms Jolie.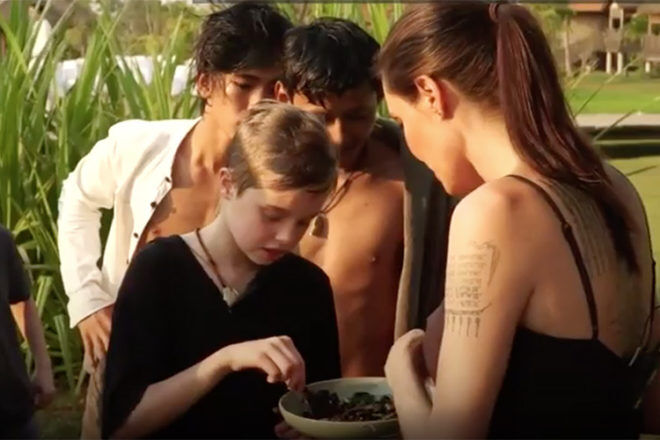 With her kids by her side, the megastar shows us how to de-fang a tarantula, flip a scorpion in a frying pan and convince your children that a bowl of creepy crawlies is 'dinner'.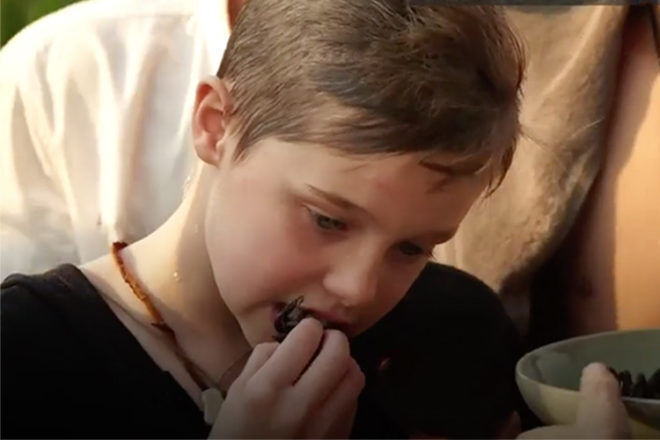 We're impressed to see the whole family in bug-munching mode, and are particularly gobsmacked to see daughter Shiloh sharing a tarantula with her mum because those arachnid legs are BIG. And HAIRY.
Though little sister Vivienne below looks less than convinced!
And there are EIGHT of them – one for each kiddo, plus two for Ange ( bet Brad's disappointed to miss out on his share …).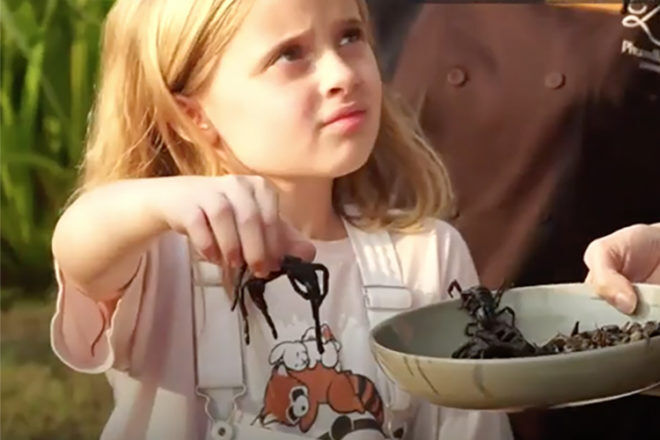 So what's it like to eat a bug, anyway? Well, according to Ange, the flavour of the spider is, "actually really good," though she admits the scorpion is, "hard to chew". Meanwhile, her son Knox describes the black bugs as like, "dry chips … flavourless chips".
Chips, you say? Well, bambinos do like chips, so there's a meal plan for the week. Bon appétit!
You can watch the video of the Jolie-Pitt kids eating bugs and arachnid delights over on the BBC website.
If your kids prefer something a little less exotic for dinner, take a look in our food archives for lots of yummy family meal options, including sticky chicken drumsticks (sooo much tastier than tarantula legs!).