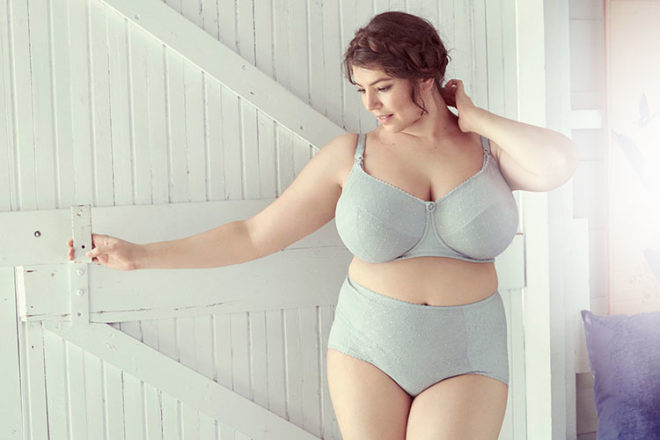 If there's ever a time when a woman needs good bust support, it's during pregnancy and breastfeeding. That whole making-a-baby and breastfeeding caper can play havoc with your bra size, especially if your tatas are already on the voluptuous side. 
But no more worrying, mamas with plus-sized boobs.
We've done all the hard bra-hunting work for you. Presenting a stack of stunning plus-size maternity bras that will definitely fit.
1. Freya Rosie Nursing Bra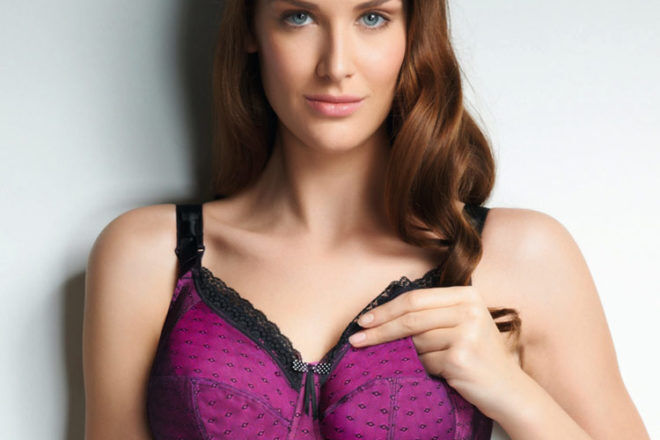 Freja's supportive bras are always exquisite, and the Rosie nursing bra ($74.95) in show-stopping black lace and fuschia is the perfect addition to the collection. The wide straps don't dig in, and the bra is super supportive. with three hooks at the back to hold everything where it's meant to be. Sizes range from 8FF to 18G.
2. Ulla Lilly Nursing Bra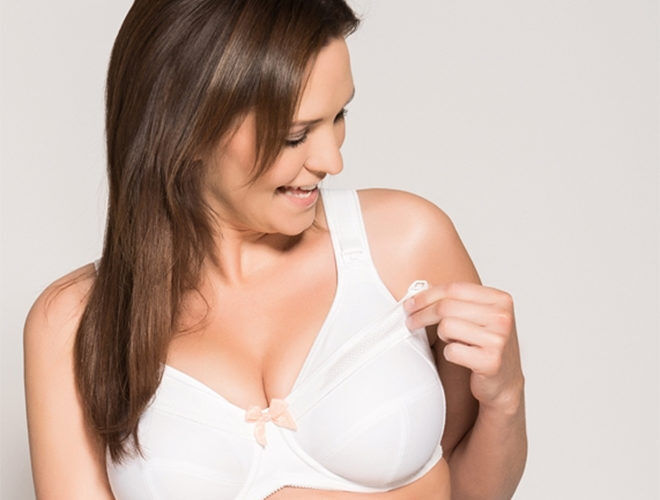 Ulla's Lilly Nursing Bra ($220) is a pretty white piece. It's got a seamless nursing panel, flexi-wire support and is made from temperature-regulating microfibre. Sizes go up to 26L.
3. Debenhams Leopard Print Nursing Bra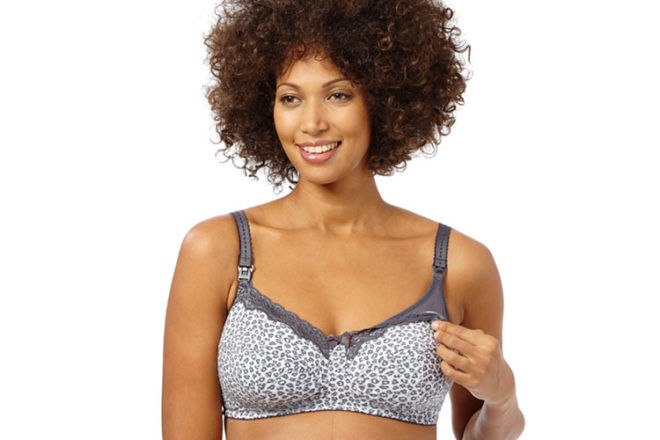 This leopard print maternity bra ($50.40) from Debenhams has some serious va-va-voom going on. It comes in a two-pack with a pretty grey number so you'll always have another one on hand when your milk leaks. Which it will. The duo bra set comes in sizes from 12C all the way up to 18H.
Other Debenhams maternity bras go to 20HH.
4. Elomi Smoothing Nursing Bra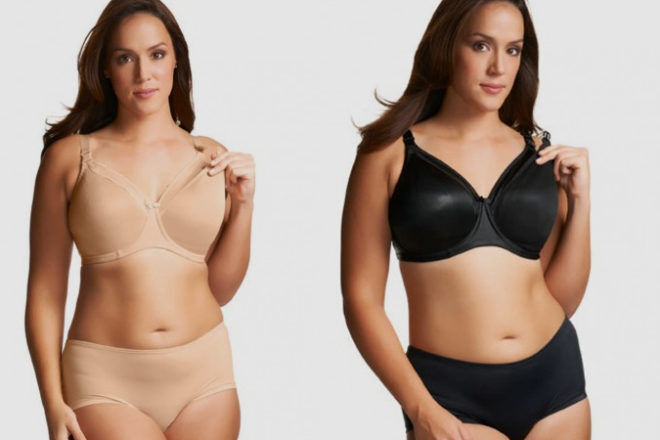 Pretty lacy bras are nice and all, but sometimes you need something that will be smooth and invisible under a t-shirt. The Elomi Smoothing Nursing Bra ($94.95) comes in black or nude in sizes from 12E to 22FF.
5. Hot Milk Show Off Enigma Nursing Bra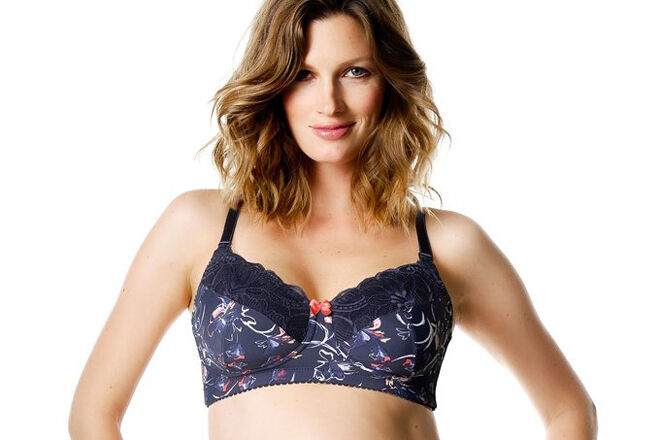 Hot Milk focuses exclusively on maternity lingerie, so the designers know what a pregnant mama needs from her bra. The Enigma Bra ($69.95) is sized all the way up to H cup and has lovely navy floral design on the cup. It's trimmed in lace and finished with a pink bow, but unlike many adorned bras, it's smooth under a top.
6. Berlei Barely There Cotton Maternity Bra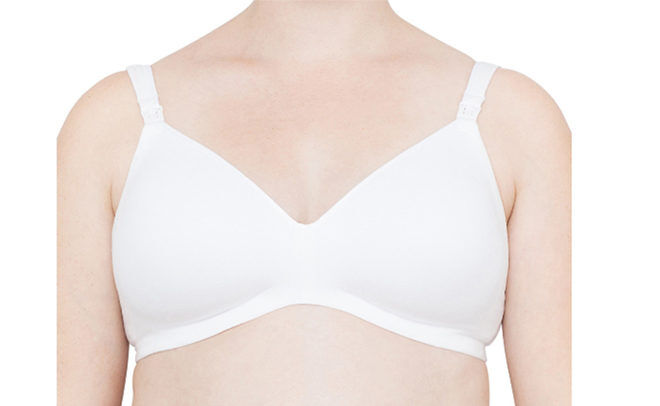 The Berlei Barely There Cotton Maternity Bra ($59.95) doesn't look like anything special until you put it on. What it lacks in decoration it makes up for in softness, simplicity and comfort. This plus-size maternity bra comes in nude, black and white in sizes up to 18E.
 7. Cake Lingerie Parfait Flexiwire Lace Nursing Bra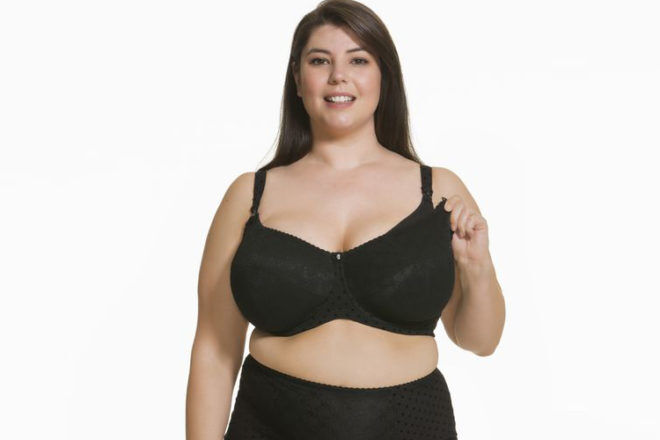 Cake Maternity's divine Parfait Flexiwire Lace Nursing Bra ($74.90) has all the good looks of a bra you'll actually want to wear, plus all the support of a seriously engineered piece of lingerie. It comes in black, cream or just-released frosted, as pictured at the top of this post. From the balconette styling to the underbust support, every part of this seam-free bra is made to provide the most comfortable support. Sizes run from 10C to 18H.
Now that we have your plus-size maternity bras sorted, here's some comfy maternity sleepwear to help ensure a restful night's sleep.