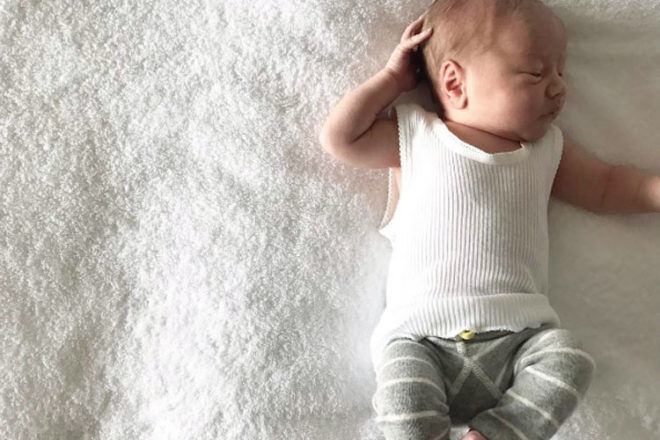 Celebrities – they are just like us. Sure, their lives may be a little more lush than most of ours, but, hey, at the end of the day, we're all in the same situation We are all just trying to balance our children, our chores and our careers without losing our minds.
So what's been happening in the world of LaLa land this week? Check out which celebrities pushed out babies, celebrated birthdays, shared pregnancy pictures and finally revealed their newborn son's name.
Chrissy and Luna pose pretty in pink
https://www.instagram.com/p/BRzQ8iujeDk/?taken-by=chrissyteigen
Chrissy Teigen and hubby John Legend are enjoying life away from the limelight with daughter Luna. The threesome are in Morocco where they are busy riding camels, touching snakes and posing for photos. We especially love the man in the background, who, clearly didn't get the memo about wearing pink…
The proud parents also celebrated a major baby milestone as little Luna said her first word while on holidays – cat.
Michelle Bridges and clan get active
https://www.instagram.com/p/BRxidWoAXxJ/?taken-by=mishbridges
Michelle Bridges shared this sweet picture of her two men – Steve "Commando" Willis and their son, Axel. Donning his classic "Come and touch my abs" shirtless look, the Commando is looking as sizzling as ever.
And Axel has already mastered his father's professional pout.
Hilary Duff celebrates son's birthday, Ghostbusters-style
https://www.instagram.com/p/BR3gBfNh1I7/?taken-by=hilaryduff&hl=en
It's been five years since the Lizzie McGuire alum welcomed her son, Luca Cruz, with then-partner Mike Comrie. Hilary posted a cute snap of her little blonde sweetheart as they celebrated a Ghostbusters' themed party.
Hilary shared a special message to her son on his birthday, stating, "Hey kid…. the past 5 years have been the BEST, hardest, most blessed years of my life. I love you so much. The world is yours my love …I hope you take it❤️Happy Birthday Luca Cruz."
Wonder Delivery for Wonder Woman Gal Gadot
https://www.instagram.com/p/BR3tPPZg_Tp/?taken-by=gal_gadot&hl=en
Gal Gadot recently welcomed her second child, another little girl, with husband Yaron Versano. Yaron and Gal are also parents to five-year-old Alma.
Gal, 31, who plays Wonder Woman in the upcoming movie of the same name, shared the happy news on her Instagram page, writing, "And then we were four… She is here, Maya. I feel so complete blessed and thankful for all the Wonders in my life #family #newborn #grateful."
Pink's party of four
https://www.instagram.com/p/BR1ZoZ3lmvV/?taken-by=pink&hl=en
All rugged up and ready to party, Pink enjoyed some quality family time during a trip to Wyoming. The Grammy Award-winning singer posted a family selfie of herself, hubby Carey Hart and their two children, Willow, 5 and Jameson, 2 months, enjoying a night out.
Zoe and Hamish enjoy baby moon bliss
https://www.instagram.com/p/BRum8kUFjvc/?taken-by=zotheysay&hl=en
Zoe Foster Blake and Hamish Blake are enjoying some child-free time before the arrival of their second child later in the year. The hilarious parents relaxed in the Whitsundays at lux Qualia Resort where the couple posed for an array of adorable photos.
Zoe surprised us all when she took to Instagram to announce her pregnancy the same day as Beyoncé (and in a very similar way might we add). Zoe and Hamish are already parents to Sonny, (three in May).
Bec Judd's double snuggles
https://www.instagram.com/p/BR5bLcqhpVW/?taken-by=becjudd&hl=en
The master of multitasking, Bec's recent Instasnap proves that you really have to be on your toes constantly when it comes to twins. When you're tickling one, you must always be touching the other.
The mother of four (she also has son, Oscar and daughter, Billie) with hubby Chris Judd, is clearly enjoying her double dose of sweetness with her identical twin sons, Tom and Darcy, five months.
Emma and Tom Hawkins celebrate child-friendly anniversary
https://www.instagram.com/p/BRzmB0OgaQt/
Emma Hawkins, the wife of Geelong star Tom Hawkins, shared a (mostly) beautiful daddy-daughter photo of Tom and their growing bubba, Arabella.
The couple celebrated their first wedding anniversary this week with a family lunch for three. Three-month-old Arabella though clearly has not learnt the golden rule of dining out – don't throw up on the dinner guests!
Pregnant Beyoncé glows in gold
https://www.instagram.com/p/BRzJh3OAnBA/?taken-by=beyonce&hl=en
Meanwhile, Queen Bey showcases her growing belly with a shimmering photo shoot, complete with gold heels, a long trench coat and a flowing gown. The singer broke the internet last month when she announced she and Jay-Z were expecting twins later in the year.
It looks like the pregnancy is progressing beautifully!
Rachael Finch shares son's adorable name
https://www.instagram.com/p/BRXy8uVDM7M/?taken-by=rachael_finch
Back in Australia, Rachael Finch finally settled on a name for her newborn son – Dominic Michael Miziner. The little man was born 2 March 2017 and is Rachael and her husband, Michael Miziner's, second child. They are also proud parents of three-year-old daughter, Violet.
That's it for our round-up of what's been happening with our favourite famous families this week. Stay tuned to see what's in store in the world of celebrity baby news. We will deliver the good and keep you up to date on the pregnancy news, birth announcements and name selections from the rich and famous.