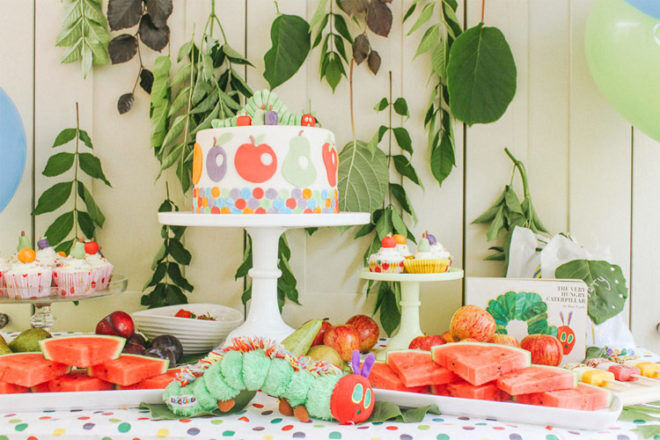 Whether your little one is inching his way into toddlerhood, or your preschooler is obsessed with the colourful caterpillar that has captivated the hearts of everyone, we've got everything you need to pull off the perfect party, from the invitation down to the lolly bags.
Calling all caterpillars!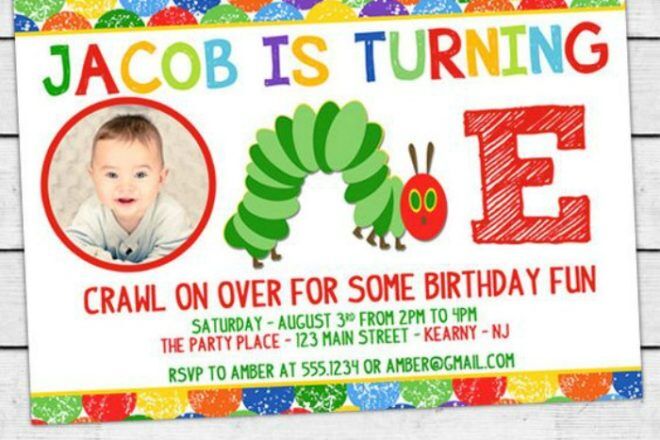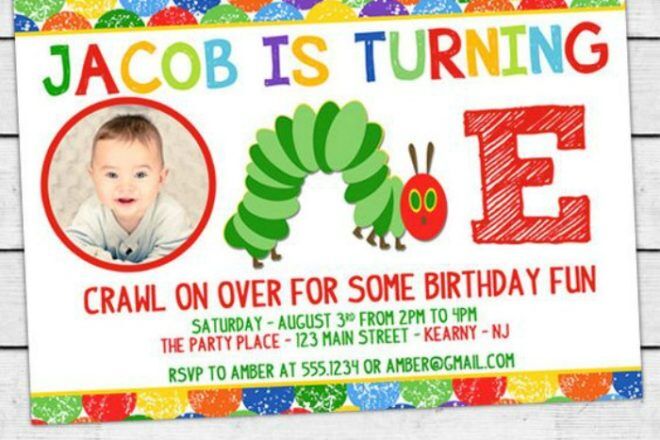 Invite your guests to bite into the fun with an invitation that is bright, colourful and classic Carle. Available from L'il Faces ($14.95).
Greet your guests with green and red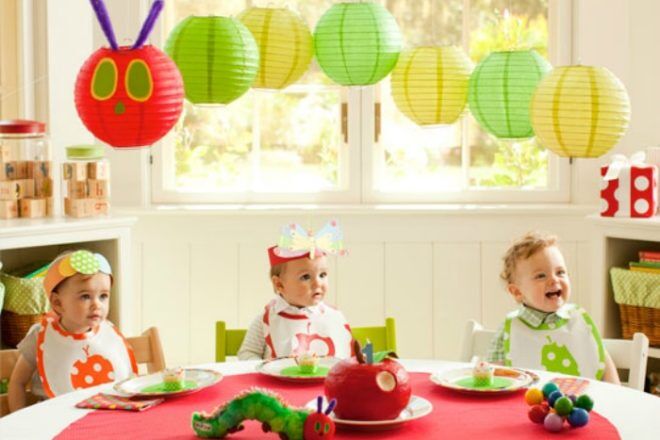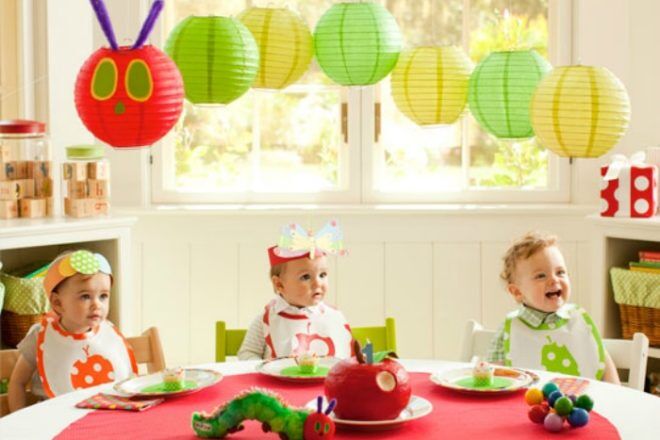 Green and red balloons make for a great caterpillar. But this paper lantern caterpillar is sure to make a statement and set the stage for an afternoon of fun.
You can learn how to make your own over at Pottery Barn Kids, which offers a step-by-step video tutorial.
Party plate perfection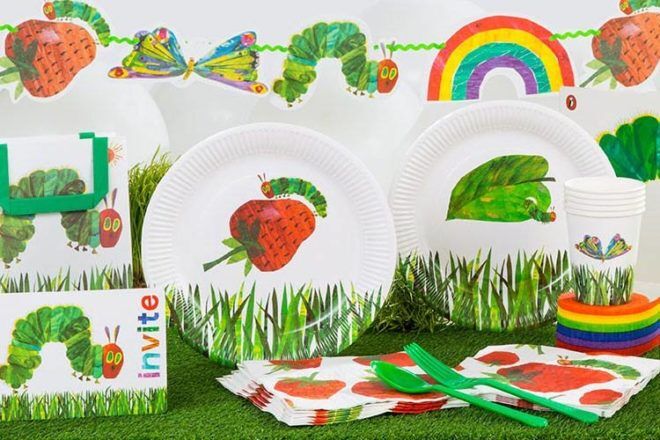 If you're strapped for time but still want to pull off the perfect party, why not consider a party package? This adorable collection comes complete with plates, lolly bags, cups, napkins, a grass table runner and a party bunting.
Find it at Eve's Crafts on Etsy ($81). A smaller set, plus matching cutlery and other party items are available.
Beautiful bunting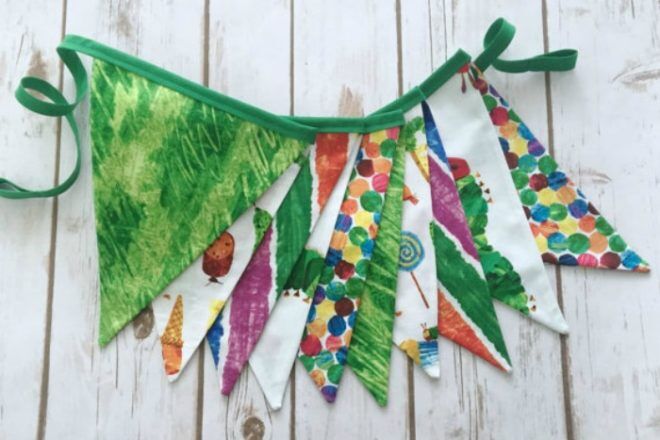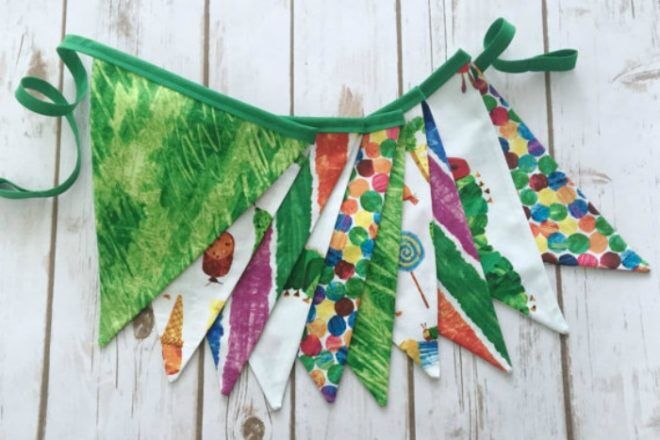 Another great decoration addition to any table is a bunting. And you cannot go wrong with this beautiful bunting which includes 10 flags in coordinating fabrics, including red, green, blue, yellow, orange. Of course the Hungry Caterpillar himself makes an appearance, along with all the snacks he loves. Available from Simple Details Designs ($32)
Grub fit for the hungriest guests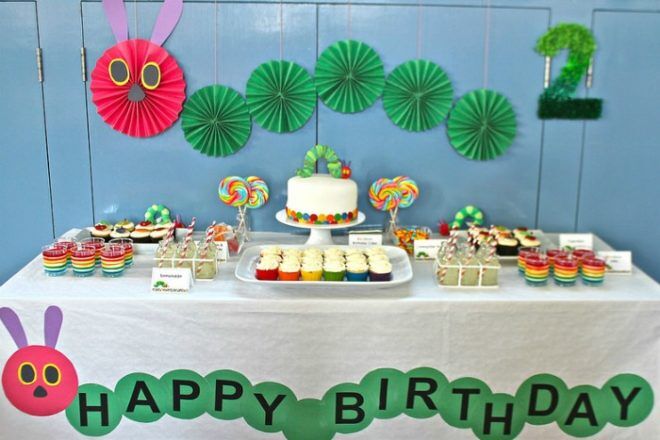 Feast your eyes on a table topped with treats galore! With funky lollipops, rainbow-inspired cakes and colour-infused jelly, the kids will be crawling to the table in droves.
We especially love the caterpillar along the wall, which can be made by scrunching up green tissue paper. Genius!
Flutter with fruit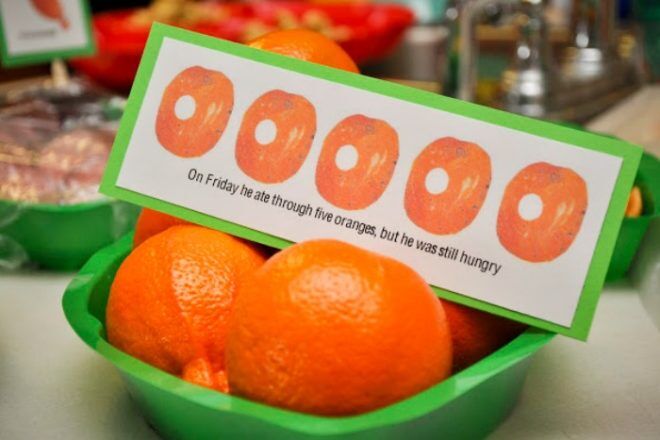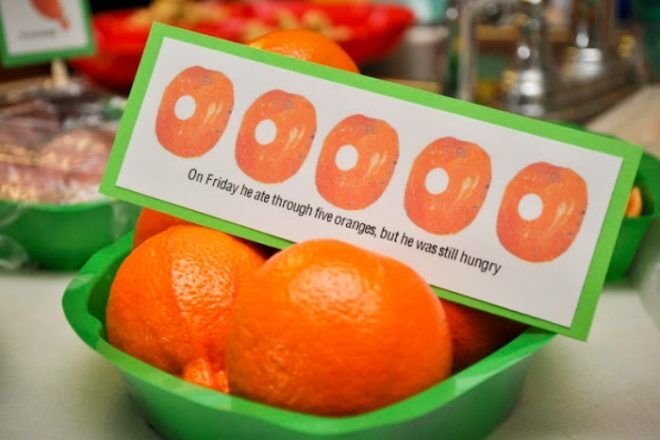 Whether or not your guests are big fruit lovers, adding a few bowls of fruit to mimic the caterpillar's weekly food journal looks great, even if the fruit doesn't get touched. Make sure you add a bowl of apples, pears, plums, blueberries, strawberries and oranges.
Satisfy their sweet tooth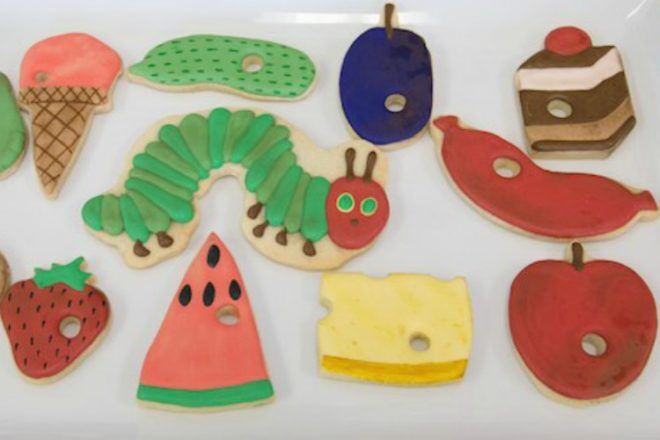 We all know what happens next. After a week of healthy living, the very hungry caterpillar succumbs to his cravings on Saturday and gorges himself on pretty much everything (we feel your pain mate, we've all been there).
And these perfectly designed cookies ought to help keep your little guests happily munching away in between the fun.
Cool down with jelly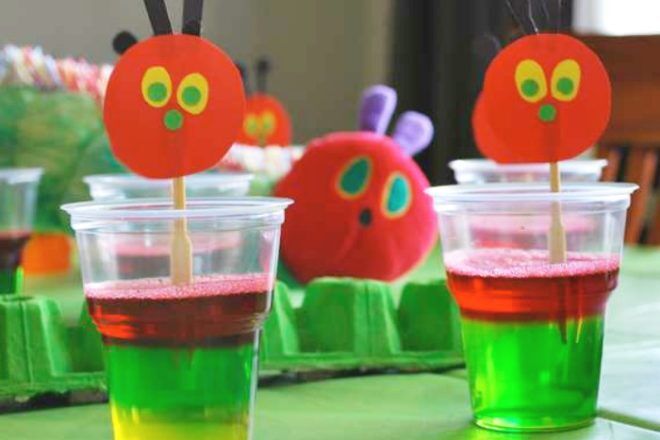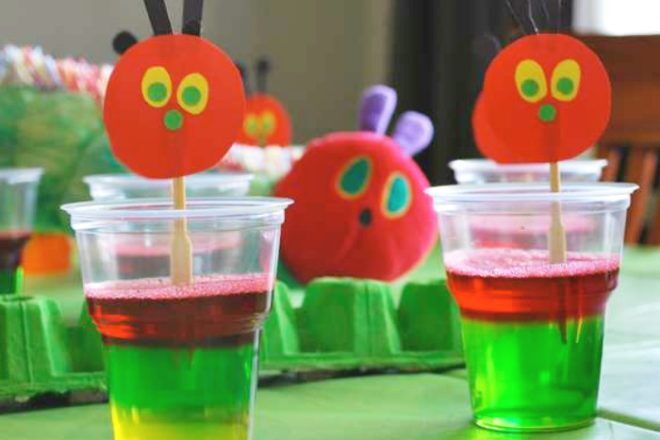 It's just not a kids' birthday party without jelly! You can easily craft caterpillar jelly by layering green and red jelly and adding a few friendly faces to each plastic cup. Easy peasy!
Platter of party games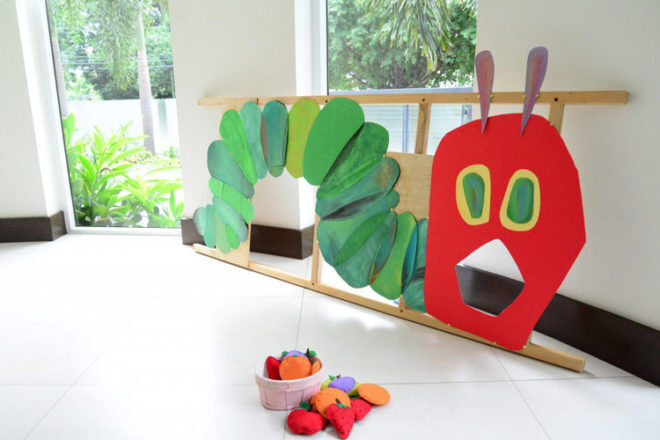 There are a number of great games that complement The Very Hungry Caterpillar theme. Your guests can create their own caterpillars or butterflies using pieces of card, pens, glue and (if you dare, glitter). You can play 'hot cocoon' (a rendition of hot potato) or entice them into a game of pin the antennae on the caterpillar.
Or, design your own fruit-shaped bean bags and play toss the fruit into the caterpillar's mouth.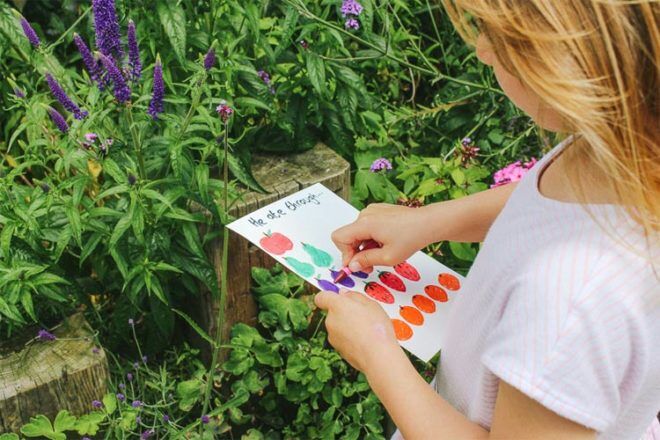 We also love this idea for a Hungry Caterpillar treasure hunt in the garden.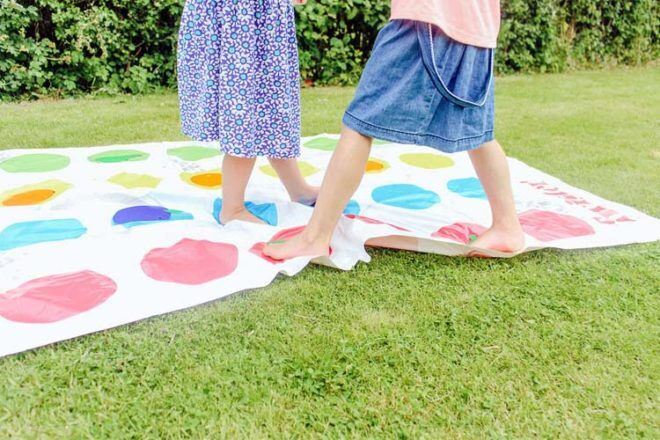 And don't forget Very Hungry Caterpillar Twister for the older children. So much fun!
Hats off to fun!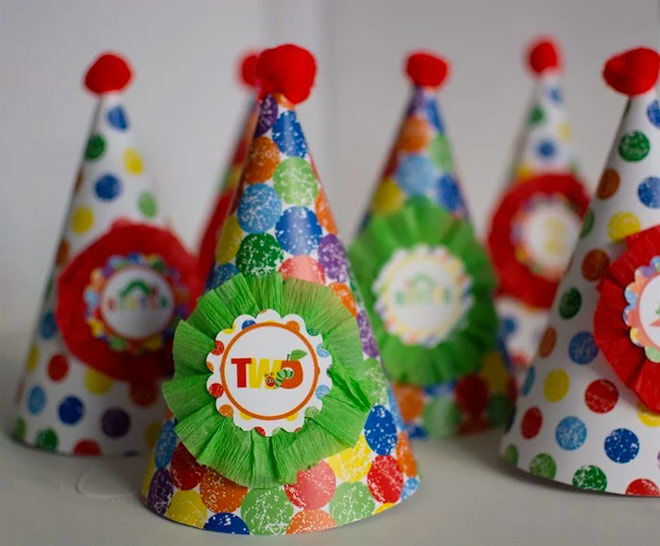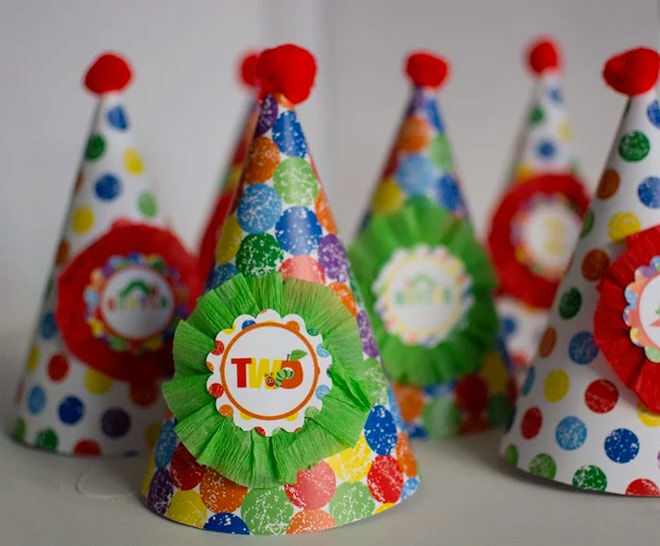 What better way to ensure the picture perfect moment when blowing out the candles than with Carle-inspired hats? These Very Hungry Caterpillar party hats are festive, colourful and sure to bring a smile to the face of every little party-goer.
Top the cake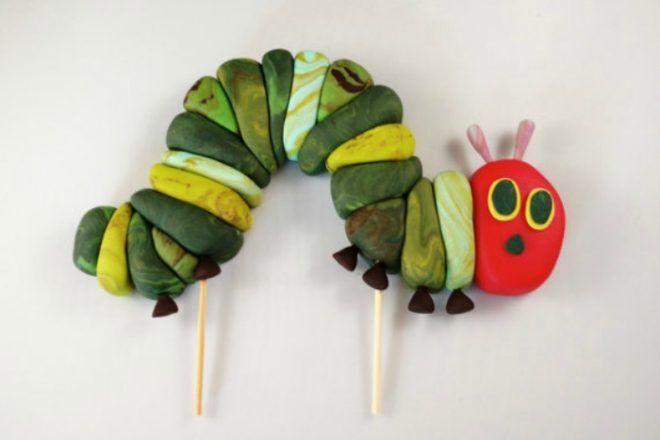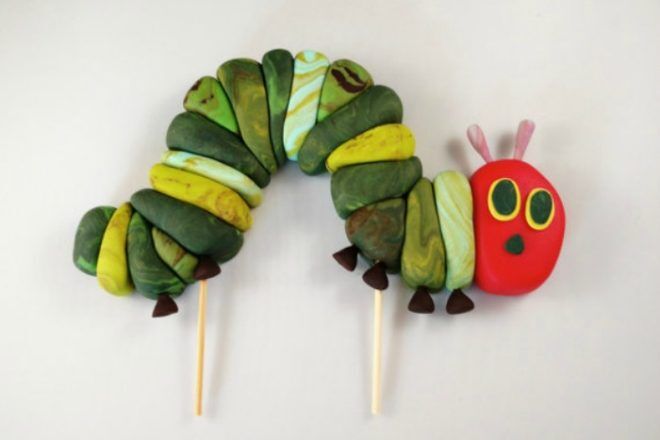 A good cake topper is hard to make. But it's easy to find thanks to Etsy. Check out this completely edible and adorable cake topper which is the perfect addition to any The Very Hungry Caterpillar cake. Available from Sweet Complete ($35).
Sweet dreams (are made of cheese candles)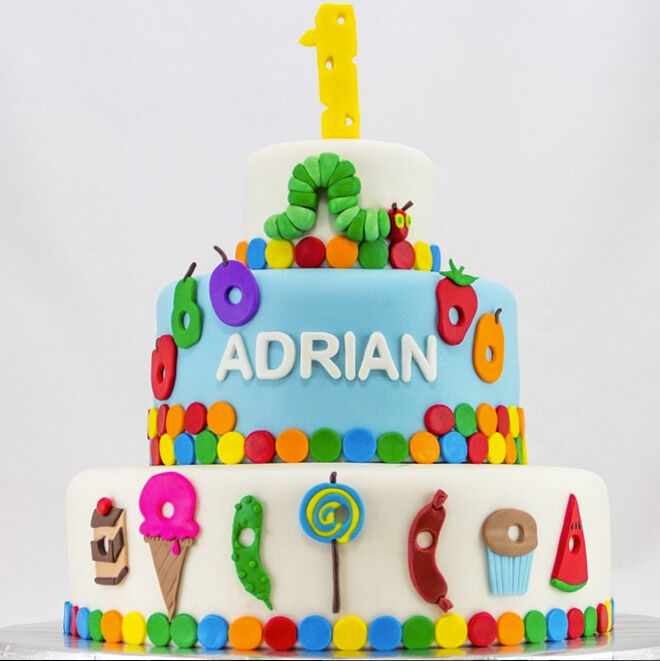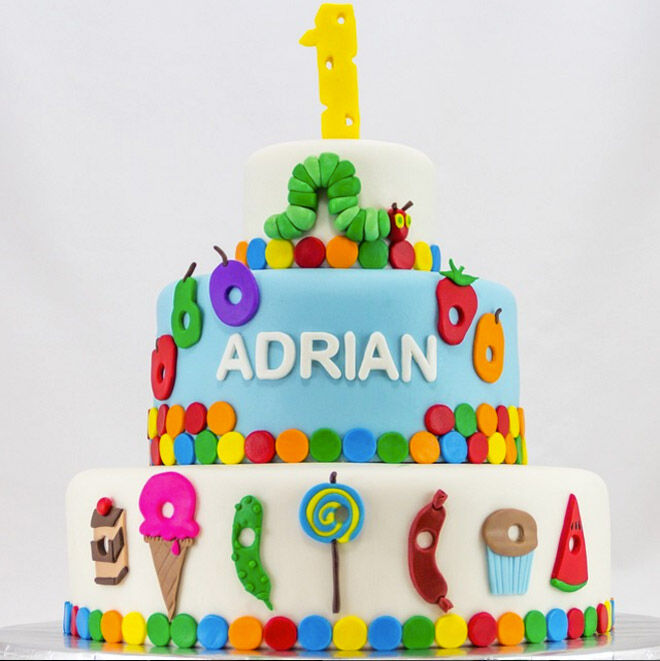 It's just not a party without an over-the-top decadent cake, complete with food made from fondant and a sensational cheese-inspired candle to top it off.
Check out our post dedicated to our very favourite The Very Hungry Caterpillar cakes for even more amazing Carle-inspired creations.
Help them inch their way out the door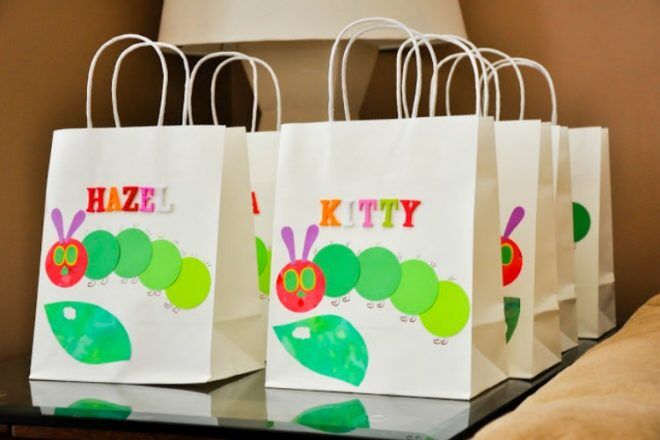 After an afternoon of tasty treats and crazy games, the little ones are probably ready to crawl into their cocoons. But before you let them fly, send them off with an adorable handmade lolly bag, complete with caterpillar food.
Commemorate the occasion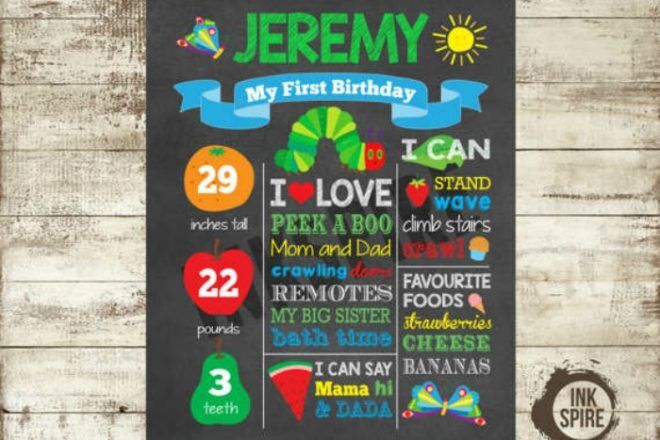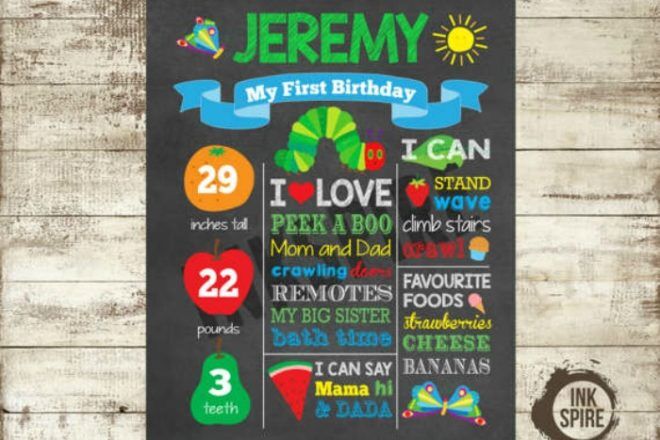 Finally, after the party is over, commemorate the year with a chalkboard style plaque. Complete with your little one's personal information and beautiful illustrations from the classic storybook, you will have a memento to look back on for years to come. Available from Be Ink Inspired ($15)
Looking for more party ideas? Have a look at these 16 ways to juice up a watermelon party, 15 ways to perfect a Winnie-the-Pooh party and 20 fun essentials for a fab flamingo party.
(Top image via Rock My Family)