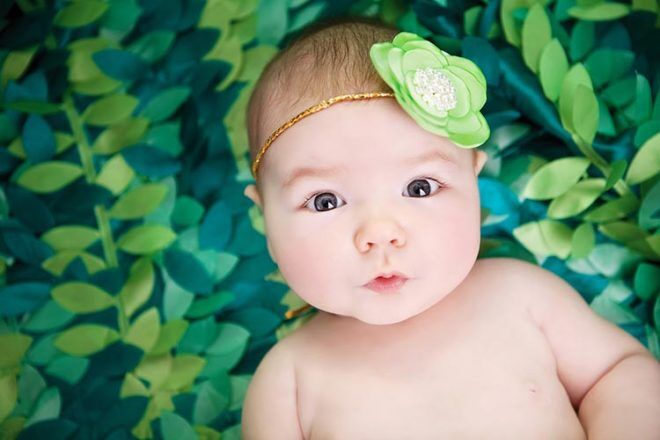 Celebrate St Patrick's Day all year round and give your newborn the luck of the Irish with a gorgeous Gaelic name.
With choices like Finn, Tara, Eoin and Saoirse, some monikers are simple to pronounce, others are easy to love and all are inspiring parents the world over.
Here are 29 Irish names for little leprechauns.
Aiden: Watch out, world because this unisex (but usually boy's) name means 'little and fiery'. On-theme variations are Aidan, Aidyn and Ayden.
Aoife: Pronounced 'ee-fa', this is an uber-popular Gaelic girl's name meaning 'beautiful' or 'radiant'.
Caitlin: For those wanting the royal vibe of Catherine, with a friendly twist, Caitlin may suit. It's Irish and Welsh, meaning 'pure'.
Cian: Spoken as 'kee-en', this boy's name has that short and strong sound parents are loving.
Ciara: This girl's name looks soft and sweet on paper, and can be pronounced three ways – as 'keer-a', 'kee-ahr-a' or 'see-ahr-a'.
Ciaran: Keiran is more common for little lads, but to lock in an Irish lilt, go with Ciaran (also pronounced 'keer-an').
Cillian: Made famous by actor Cillian Murphy, this  Irish baby boy's name can also be spelt with a 'K'.
Clodagh: Popular in its mother country, this girl's name is shared with Ireland's River Clodagh. So it's a nature name with a similar flow to Chloe.
Colm: If you like the Scottish lad's name, Callum, then Colm is an Irish alternative. Meaning 'dove,' it's based on the Latin name, Columba.
Connor/Conor: Nicole Kidman and Tom Cruise went with the double 'N' for their son, Connor, and this name means 'lover of hounds'. Who would have thought?
Cormac: This traditional Irish moniker has a powerful edge, which is fitting, because it means 'charioteer'. Shorten it to Mac and you're onto a winner for baby boys.
Dara: If you don't know what you're having or love the idea of a unisex title, then Dara could work. It's a wise, biblical name with Hebrew and Irish roots. Darragh is a girl/boy option too.
Eoin: This boy's name might look like a tongue twister, but it's pronounced 'o-wen'. Easy peasy. Ewan, Ewen, Evan and Eoghan (also said as 'o-wen') are possibilities too.
Erin: A cinch to spell, say and cherish, Erin is poetic name for Ireland, making it a place name as well as an Irish name.
Finn: Model Christy Turlington called her son Finn, but this cool, clean name might work for both genders. Fionn is another way to channel the Finn feeling.
Hello Liam
Liam: Hello Liam Payne, Liam Hemsworth, Liam Gallagher and Liam Neeson. This boy's name has celebrity clout across the ages, is associated with William and means 'resolute protection'.
Niall: Most often a boy's name, this Irish name means 'cloud'. And with Liam Payne and Niall Horan both members of One Direction, the boy band was all about the Irish.
Niamh: Pronounced 'neev' this Gaelic name is a bright and pretty choice for girls, based on an ancient goddess. Neve is a phonetic version Australian parents might prefer.
Patrick: No Irish baby names list is complete without Patrick! Meaning 'noble', this Latin-based moniker is tied to the patron saint of Ireland, Saint Patrick.
Rian: If you like Ryan, then why not Rian? It means 'little king'.
Roisin: Nope, it's not 'raisin'! This floral girl's name is the Irish version of Rose and pronounced 'ro-sheen'.
Ronan: A commanding Irish name for a son, it's popular in Ireland and owes much of its star power to singer Ronan Keating.
Rory: This regal name has Irish lineage, but is hailed by parents throughout Great Britain. It means 'red king'.
Little king
Ryan: Stay on royal lines with this popular boy's name meaning 'little king'.
Saoirse: Popular Irish name back in 1920s Ireland, this girl's name is pronounced 'seer-sha' and is all about liberty.
Sean: The Irish form of John, this boy's name is a classic choice with a twist.
Sinead: Nothing compares to this girl's name meaning 'God's gracious gift'. It's actually the Irish form of Janet and singer Sinead O'Connor put it on the charts.
Tara: Yes, Tara has Irish origins, and it makes an instantly recognisable girl's name.
Teagan: Any name meaning 'beautiful' has to be worth a look, and Teaghan is a girly option too.
And there you have it, the ultimate list of Irish names. Check our archives for some beautiful Italian baby names and French baby names.