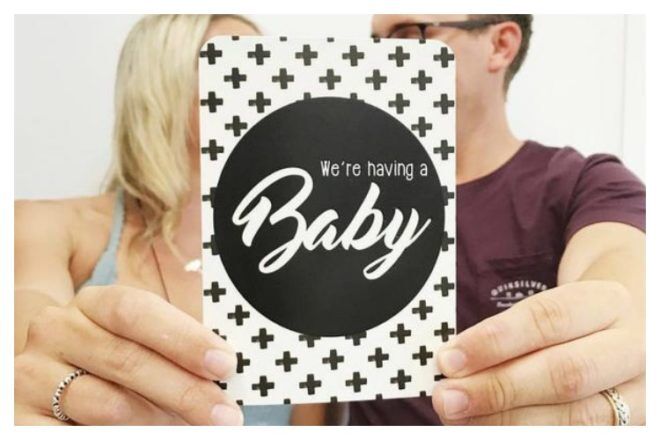 The (give or take) 40 weeks that you are pregnant are memorable to say the least. Regardless of whether this is your first pregnancy or your last, you will most likely want to track your little one's progress throughout your journey.
One of the fun ways to highlight your growing baby bump and keep track of those beautiful moments during the next nine months is by taking regular snaps along the way.
Here are our favourite pregnancy milestone cards to record the moments.
Blossoming belly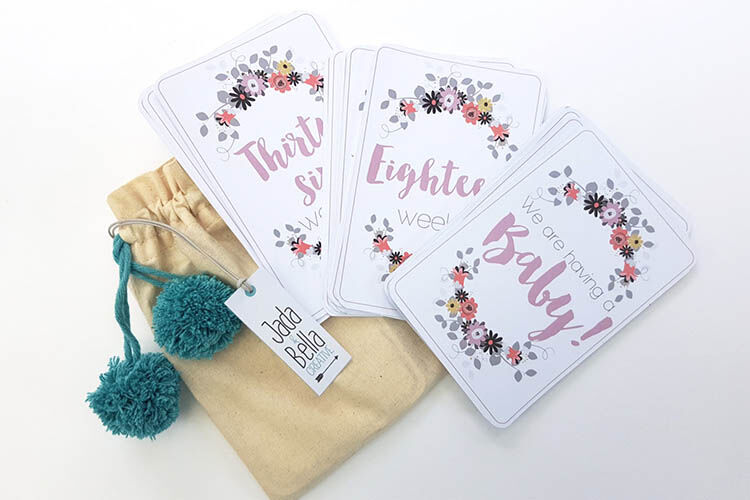 Pretty, precious and perfectly polished, Jada and Bella Creative ($27) has designed a set of cards for expectant mums who are glowing with excitement. Spoil yourself with cards designed for the next nine months, complete with a handmade calico bag with pom pom drawstring.
Monochrome memories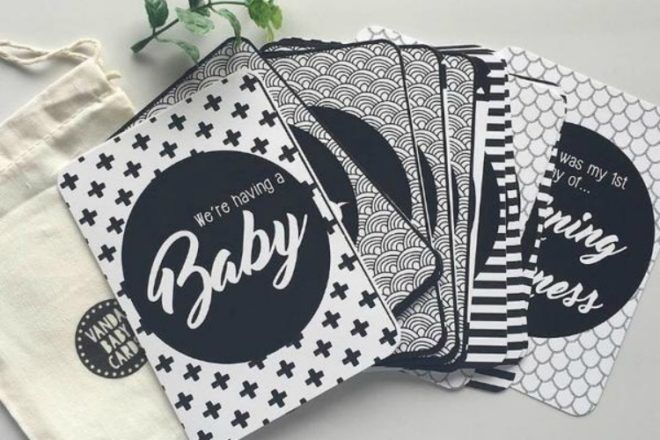 Vanda Baby Cards ($30) are responsible for these black and white beauties which highlight your pregnancy in a subtle and timeless way. The set includes 30 cards with a number of milestones you will want to remember, including the first time bub kicks, the first ultrasound and eviction day.
Up the duff with Miffy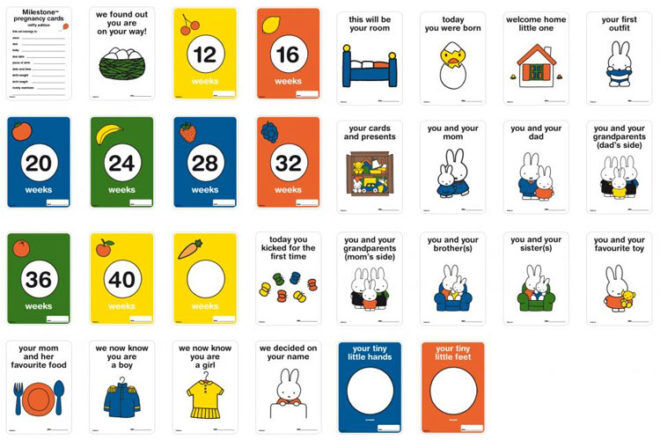 Miffy milestone cards (€12.75 plus shipping from the UK) is over the moon to help you announce your pregnancy and mark each growth spurt and occasion along the way. With classic Dick Bruna illustrations, this set of 30 cards includes both pregnancy and newborn milestones.
Double the delight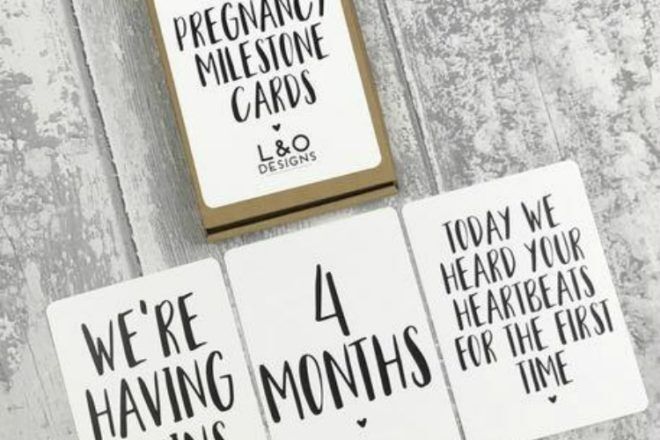 Expecting more than one? Then you're going to need a special set of pregnancy milestone cards – ones that include the special moments that come with carrying multiples. We adore this set from L and O Designs ($19.90) which includes 24 simple yet elegant cards, especially for mums expecting twins.
Animal encounters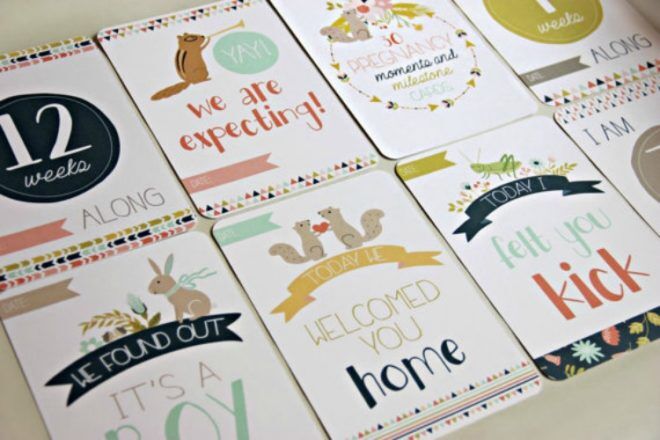 Hip Ink Hooray's ($41) pregnancy cards are another one of our favourites on the milestone market. With a woodland critter theme, the colourful palate of cards lets you fill in the blanks with dates that each milestone (or monthly photo) took place.
Grape expectations

Feast your eyes on these fruit-tastic cards which allow you to create your own pregnancy platter of fruit and veg. Your baby's growth is often compared to the various fruit and veggies you find at the market. Audrey N Me ($26.95) takes this idea one step further with a set of 25 cards that give you a visual of the size of your growing infant.
Counting down with cravings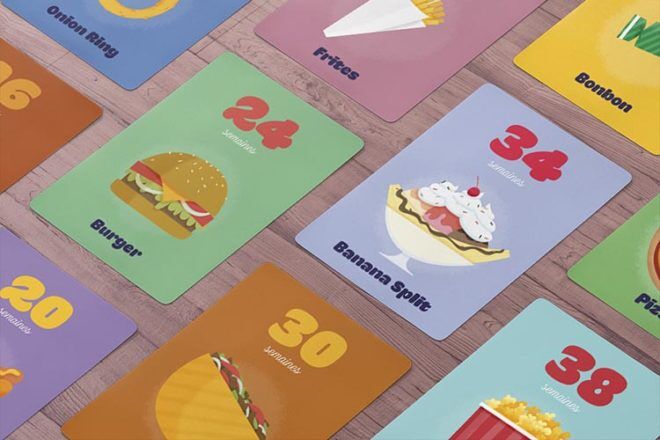 Not a fan of comparing your belly to broccoli? How about something sweeter instead? SimonSek ($17) has designed a delicious set of 14 cards that satisfy your sweet (and savoury) tooth during pregnancy. Rather than marking each month with fruit, these cards mark each month with the more relatable cravings mums have during pregnancy – you know, the cravings for chips, ice cream, hamburgers, tacos and other fast food fixes.
IVF inspiration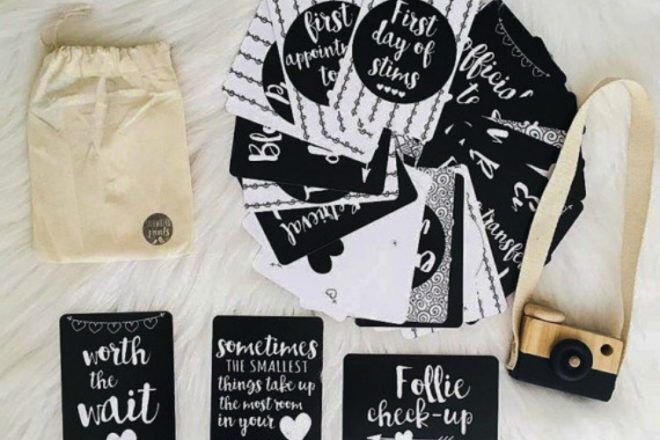 Every mother's journey towards pregnancy and parenthood is different. However, if you are taking the IVF route, then there are a few milestones that most conventional pregnancy milestone cards forget to include, such as your first day of stims, your puregon jab and embryo transfer day.
These unique cards from Snow Bird Prints ($55) celebrate these incredible milestones as well as your pregnancy journey.
Pregnancy imperfections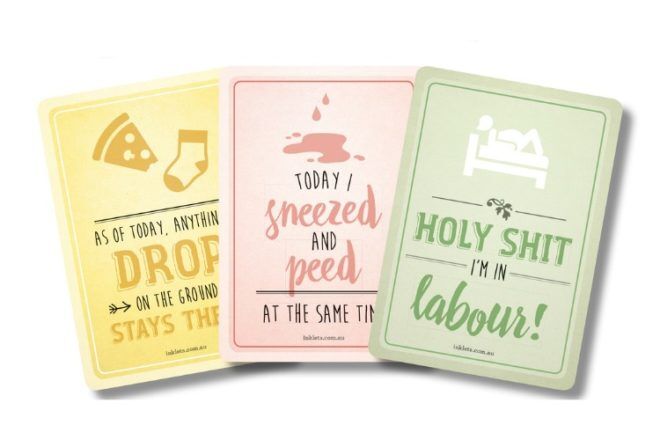 Pregnancy isn't always sunshine and rainbows. Sometimes pregnancy sucks. While most milestone cards forget to mention these less-than-perfect moments, these inappropriate milestone cards don't hold back. Baby Carriers Australia ($29.95) are perfect for pregnant mums with a sense of humour (and a weak bladder).
Sticky momentos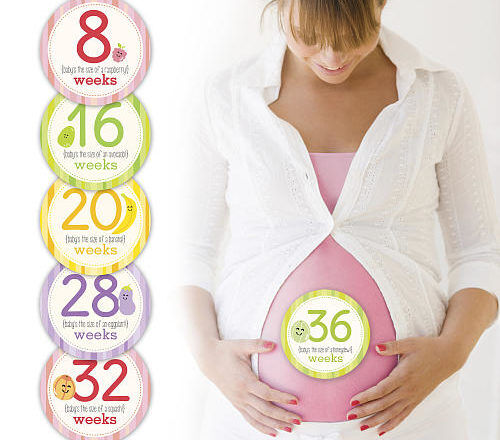 Pregnancy belly stickers are another great way to document your pregnancy (without having to hold up a card for every photo). We love Pearhead's 16 sticker collection which are not only easy to peel and stick on clothing, but also feature adorable fruit and veggie illustrations.
You can pick up your set from Storknest for $9.95
Once bub arrives you'll need a set of baby milestone cards that tell it how it is for the next step in your photographing journey. And, while you're browsing, why not check out these maternity products that you didn't know you needed.