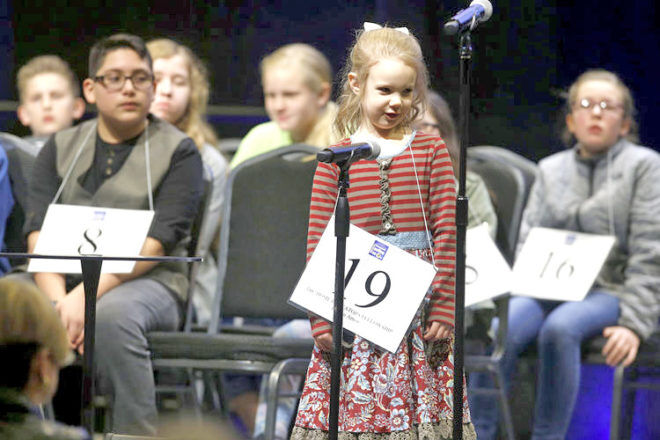 She's the age of most Australian prep students, but pint-sized prodigy Edith Fuller is wowing the world with her incredible spelling prowess.
No need for sight words here, young Edith Fuller has zoomed straight past the usual spelling starters to become the youngest person to earn a place in the US national spelling bee competition.
Edith managed to out-spell more than 50 other students to secure a place in the national spelling bee – an amazing feat for a five-year-old.
Uncanny knack for spelling
Her mum Annie says a family dinner last year led to the discovery of Edith's spelling talent, after she spelled 'restaurant' without ever having been taught.
"We knew there was something special there," Ms Fuller told Tulsa World.
"Learning the words was so educational. She was able to learn about different countries and cultures and different kinds of food."
Can you compete with these spelling-savvy kids?
The final word that Edith had to spell to take out the competition was 'jnana'. It's pronounced 'jah-nah-nuh' and is a term for knowledge in Indian philosophy. And after asking what it meant and its origin, she nailed it. Watch her in action.
Here's the entire list of words that Edith got right. Forget about spelling them, we're not even sure what some of them mean! How many can you get right? (Hint, use US spellings). Test them on your kids and let us know how you all go!
1. Dracula
2. Layette
3. Odori
4. Colloquial
5. Sevruga
6. Staccato
7. Panglossian
8. Troika
9. Picaresque
10. Lieutenant
11. Kama
12. Mesmerize
13. Tritium
14. Pernicious
15. Buddha
16. Minaret
17. Dahlia
18. Tamarind
19. Virgule
20. Eocene
21. Zephyr
22. Fuselage
23. Nisei
24. Philately
25. Euthanasia
26. Jacamar
27. Chauvinism
28. Alim
29. Perestroika
30. Fennec
31. Lahar
32. Weimaraner
33. Fete
34. Baedeker
35. Sarsaparilla
36. Croesus
37. Jnana
Even though Edith is a spelling whiz, it seems she still has the same attention span as many five-year-olds, after a gruelling 18 rounds she took off into the crowd for a quick family visit.
"She likes to move around," her mum explained. "I'm surprised she sat still for so long."
Edith will now represent the northeastern Oklahoma region when she heads to the national championship in May.
Kids just starting out on the spelling road? Then here's 13 fun ways to teach kids the top 100 sight words.