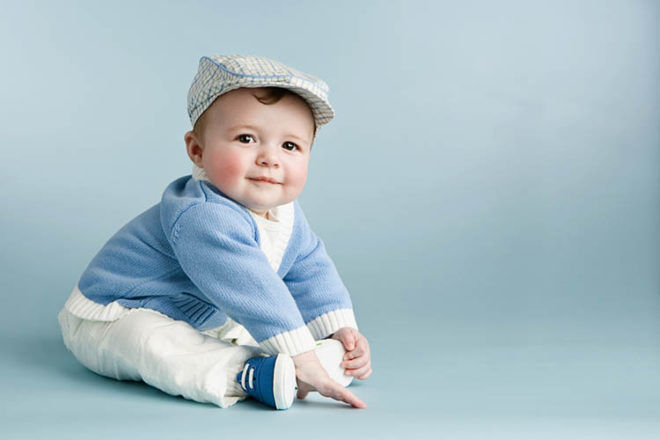 Exuding hip modernity, old school cool and a sprinkle of star-power, some baby names are making us take notice with their blend of style, swagger and good old-fashioned likability.
Here are 33 cool baby names making waves here and abroad, so hitch a ride and consider these on-trend options for your brand-new bubba.
Adeline: What's old is cool again with this noble French name for la petite. Adele, Addie, Adalynn and Adalyn are options too.
Aisha: This girl's name means 'prosperous' and with Arabic and Swahili roots, it sounds pretty lovely.
Alistair: The Scottish version of Alexander, this name for wee lads is strong and sophisticated. And what's not to love about that?
Anouk: Meaning 'grace,' this girly choice is the French and Dutch version of Anna. It's got an exotic vibe that's just peachy.
Arabella: Emma and Tom Hawkins called their baby girl Arabella and it's an elegant, beautiful choice if we say so ourselves.
Arlo: Hello name revival! Arlo was popular in the first half of the 20th Century and it's back, baby! Although a unisex name, it's more common for boys and Toni Collette chose it for her son.
Aurora: With Disney overtones, your little princess may just be the next Aurora. Meaning 'dawn,' the star of Sleeping Beauty was a Roman goddess too.
Billie: This unisex option hit the Top 100 for girls in 2015 and gives a boyish bent to Wilma and Wilhelmina. And if it's good enough for Rebecca Judd's daughter, then you know you're onto a cool thing.
Camilia: A flowery variant of Camelia, Camille, Camilla and botanicals like them, Camilia is growing in popularity.
Darcy: This unisex choice gives boys that Mr Darcy flair, and one half of the Judd twins scored this dapper name.
Eliana: Go international in your hunt for cool baby names with this lilting name from Israel, Spain, Portugal, Russia, Italy and (if you go with Eliane) France.
Eve/Eva: Eve dates way back to Biblical times and is back in style, along with its variation, Eva. For same, same but different, we love Evie, Ava and Evelyn too.
Ezra: Another Biblical name, this unisex option is making a real buzz for boys and means 'help'.
Freya: The Norse goddess of love, fertility and beauty, Freya speaks for parents of girls.
Gabriella: Gaining traction in Australia, Canada and America, this female version of Gabriel is heaven sent if you're looking for something strong yet sweet.
Grayson: This one works for both genders, although Grayson is a shade more boyish than girly girl.
Harley: Another unisex moniker, Harley is soft and lovely for girls (a bit like Harper) and revved up for boys (anyone got a Harley-Davidson?)
Hugo: With an intellectual edge, Hugo is making a splash in international circles and rounds out the alternative for boys – Hugh.
Isaiah: Back to Biblical times, Isaiah means 'salvation of the Lord' and has an easy, breezy vibe for boys. Josiah is also looking up.
Jesse: Meaning 'gift,' Jesse made its presence known in McCrindle's most recent Top 100 baby boy names, and it works for girls too.
Kai: Meaning 'sea' in Hawaiian and 'ocean' in Japanese, Kai is usually a boy's name but can drift to girls too.
Kinsley: This feminine choice is regal and a bit boho, meaning 'king's meadow'. Nice cross-over.
Lewis: All hail, Lewis. Meaning 'renowned warrior,' this boy's name sounds classy and packs a punch.
Levi: Matthew McConaughey called his son Levi and this name is like a favourite pair of jeans, classic and just the right fit.
Lucian: This artistic, indie name means 'light' and it's gaining mainstream interest.
Luna: We love Luna to the moon and back. And so did Chrissy Teigen and John Legend, plus Penelope Cruz and Javier Bardem. Both celeb's daughters are called Luna.
Maggie: There's something about Maggie that's wholesome but streetwise. It means 'pearl' and brings lustre to a little girl's birth certificate.
Mateo: Get that Spanish vibe for señors with this variation of Matthew.
Ophelia: A bit of Shakespeare never goes astray and Ophelia is oh-so theatrical for baby girls.
Peyton: Peyton is on the rise for girls despite meaning 'fighting man's estate' (kinda weird, but don't worry because the name sounds chic and sweet).
Spencer: A distinguished choice for boys (and a possibility for girls), this 'surname as a first name' hit the Top 100 in McCrindle's most recent wrap-up for junior gentlemen.
Wyatt: Wyatt has been heating up for boys and thanks to Mila Kunis and Ashton Kutcher, it's a-ok for daughters.
Zane: Lean and strong, this boy's name is a little bit rock star – make that, boy band star – with Zayn Malik of One Direction note.
Want more cool baby names? Take a look at these 20 hipster baby names than end in X.