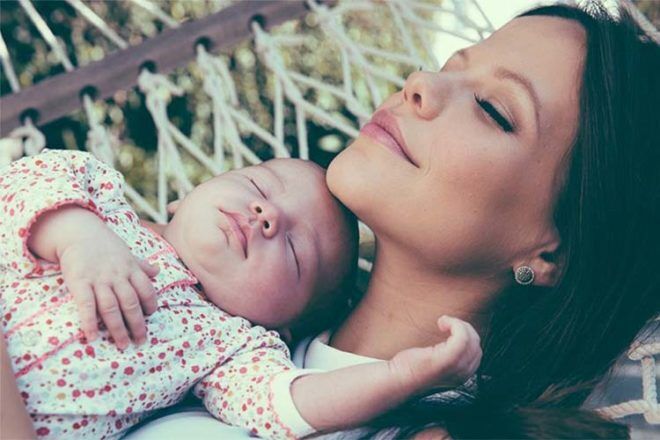 Australia is home to some of the most talented performers, who also happen to be parents. When they are not busy wowing us on television, these Aussie celebrities are knee deep in nappy duty, just like the rest of us!
So just what do our homegrown TV star parents name their offspring? Here's our favourite Australian celebrity baby names as snapped up by small screen stars and Logie-award nominees of the past and present.
Tristan: Tristan is a strong boy's name and the chosen moniker of Hollywood superstar (and former Home and Away star) Chris Hemsworth. Chris and his wife, Elsa Pataky also have daughter, India and Tristan's twin brother is named Sasha.
Albee: Australian celebrity baby names don't get cuter than this. The Secret Life of Us star, Claudia Karvan selected Albee for her son. She also has a daughter named Audrey. Albee and Audrey – how cute is that?
Sonny: A golden name for the light of your life, Sonny is one of the names that celebs are loving. Melanie Vallejo from Winners and Losers has a son named Sonny as does Hamish and Zoe Blake.
Rocco: Rocco comes with that new wave coolness to it but isn't impossible to spell or pronounce. House Husband's Gyton Grantley selected the name for his son, born in 2016. Aussie actress Rose Byrne also opted for Rocco for her little dude.
Evander: It's not one you hear everyday (unless you are a boxer), but the name Evander certainly packs a punch! Neighbours' alum Erin Gleave (nee McNaught) and rapper Elliot (known as Example) selected it for their first child in 2014.
Valentino: It may not be the easiest name for a child to spell but Valentino certainly has a special ring to it! Offspring's Asher Keddie went with it for her little man, born in 2015.
Hendrix: Looking to give your little one a rock star name? Hendrix is a great choice and one that Neighbours' star Madeline West selected for her son. As it turns out, Madeline isn't just the queen of Australian television but also of uber cool baby names. She opted for equally edgy and x-themed names for her other five children – Xalia, Margaux, Xanthe, Phoenix and Xascha.
Harley: Like Madeline, Home and Away's Christie Hayes opted for Hendrix for her son. She also stuck to the nontraditional and somewhat bad boy name, Harley for her other son. Hendrix and Harley – the pinnacle of Australian celebrity baby names – you just know these boys are going to break some hearts when they get older!
Lennox: A name reserved for only the coolest of the kids. It is Home and Away's Pia Miller's choice for her second son. Pia's first son is Isaiah.
Johnas: Another former Summer Bay resident, Ada Nicodemou went with Johnas, a unique combination of John and Jonas, for her only child.
 Zayd: There is something about names starting with Z that automatically catch the eye. And Zayd is certainly no exception. The Project presenter, Waleed Aly opted for this unique moniker for his son. He also has a daughter named Aisha with wife Dr Susan Carland.
Montgomery: Although traditionally considered a bit on the stuffy side (think Montgomery Burns), this name is quickly headed towards the category of old school chic. Home and Away alum Isla Fisher and Sacha Baron Cohen named their third child Montgomery. The couple also have two daughters, Olive and Elula.
Monte: Or, you may prefer the shortened version – Monte – which is what Guy Pearce, another former Home and Away cast member, named his son.
Henry: Henry is another traditional name returning to the charts. Multi-award winning Aussie actress Deborah Mailman opted for the classic Henry for one of her boys. Her other son is Oliver .
Aerin: Light and pure, Aerin is a gorgeous variation of the typical Erin that also resonates well with Game of Thrones fans. It is the name of TV presenter Sarah Murdoch's daughter. She also has two boys – Kalan and Aidan.
Allegra: A name with earthy connotations, Allegra has a breezy coolness to it. TV presenter Jessica Rowe chose this for her second daughter and opted for the equally eloquent Giselle for her first.
Evie: Carrie Bickmore is another one of our favourite Aussie TV presenters who has a thing for adorable names. She selected the trending Evie for her daughter, 2, as well as Oliver for her 9-year-old son.
Coco: It's a name so nice, you have to say it twice. Elegant and sophisticated, Coco is a big name in the fashion industry as well as for the next generation. The Secret Life of Us' Catherine McClements opted for Coco for the name of her daughter. Coco's little brother is named Quincy.
Gigi: Offspring's Kat Stewart also went with the double letters for double the cuteness. Although her full name is Georgia, Kat tends to use the nickname, Gigi for her little girl, born in 2016. Kat also has an older son, Archie.
Lottie: Cheerful and unconventional, Lottie is a cute nickname that also works well for a first name. House Husband's Rhys Muldoon has a little girl named Lottie.
Stella: Stylish and sophisticated, the name Stella continues to climb the popular charts.  Home and Away alum Simon Baker selected the name for his daughter. Simon also has two sons named Claude and Harry. Aussie TV legend William McInnes also opted for Stella for his daughter, born in 1998. As well, he has a son named Clem.
Phoenix: Phoenix is another name that is making its way onto birth certificates across Australia (and overseas). Aussie actress Tammin Sursok selected Phoenix for her daughter.
Neighbours alum, Kym Valentine went with the edgy Phoenix for her little boy as well. She also has a daughter named Millanna.
Scout: Another unique choice for a little girl is Scout, which is probably most often associated with the literary classic, To Kill a Mockingbird. Wrong Girl's Jessica Marais and Home and Away alum James Stewart used Scout for their daughter, born in 2012.
Sailor: Presenter Grant Deyner opted for the name Scout second-time around after setting the S-name trend with his first child, the equally sweet and unique Sailor.
Zipporah: Doctor Doctor Rodger Corser is a fan of unique names and we love his daughter's name – Zipporah. Rodger has three other children, daughter Cilla and sons, Dustin and Budd.
Mae: We end our list with a name that is short, sweet and simply adorable. Home and Away alum Kate Ritchie gave Mae to her daughter, born in 2014.
Looking for more star-studded baby names? Check out these other celebrity baby names and don't miss baby names with the Z factor.