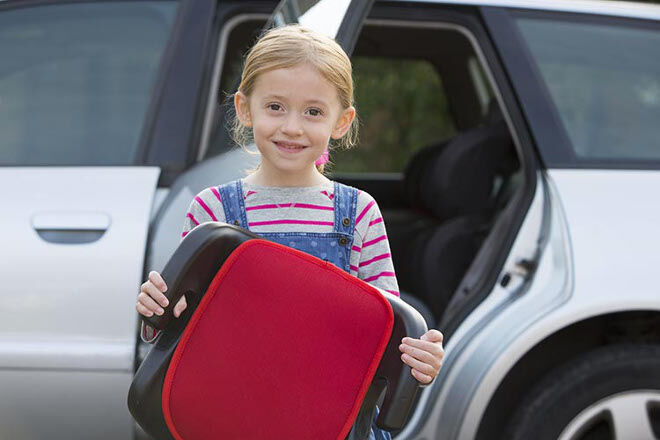 Parents are being warned not to be lured into buying cheap car booster seats for babies and children online, in the mistaken belief that they meet Australian standards.
The Australian consumer watchdog says it's assessing some of the car booster seats available on sites like eBay, amid concerns they pose a serious threat to children's safety.
Budget boosters under the microscope
In a statement to Mum's Grapevine, ACCC spokesman Duncan Harrod said: "Each state and territory has child restraint laws requiring children of certain ages to be seated in child restraints that have been certified to the Australian/New Zealand Standard.
"Any booster seats that do not meet the requirements of the mandatory standard may pose a serious safety hazard and will not adequately protect a child passenger in the event of a motor vehicle accident."
Kidsafe says booster cushions (boosters without the back and side wings for head protection) are "being phased out, except for those built into cars". News Corp claims industry experts have revealed the child car booster seats are being imported from China and on-sold in Australia.
But Mr Harrod warns individual sellers who are supplying products that don't comply with Australian standards are risking fines of up to $220,000.
"The ACCC regularly surveys and tests the Australian market and seeks the removal of non-compliant child restraints including booster seats. Surveys include both bricks and mortar retailers and online suppliers."

It's prompted warnings from concerned motoring bodies about seats sold online.
"A lot of people don't realise the difference between European and Australian safety standards," said RACQ spokesperson Steve Spalding.
"New rules have been introduced with tougher requirements for side impact protection and positioning of the seatbelt."
How can you tell if your child's booster seat is safe?
Choice explains that boosters without the high back and sides, "won't provide additional cushioning in the case of a crash and have been deleted from the most recent 2010 and 2013 standards, so it's rare to find them on sale.
"However, it's not illegal to use one that met Australian standards at the time it was manufactured."
Child Car Seats recommends not using any car seat that is more than 10 years old, or one that's been in a crash.
Any parents concern about a car seat they've purchased, or are planning on purchasing is urged to make sure it hasn't been recalled.
The ACCC says it also welcomes reporting of unsafe products.
Read our handy guide on what you need to know about car seats rules in Australia next.