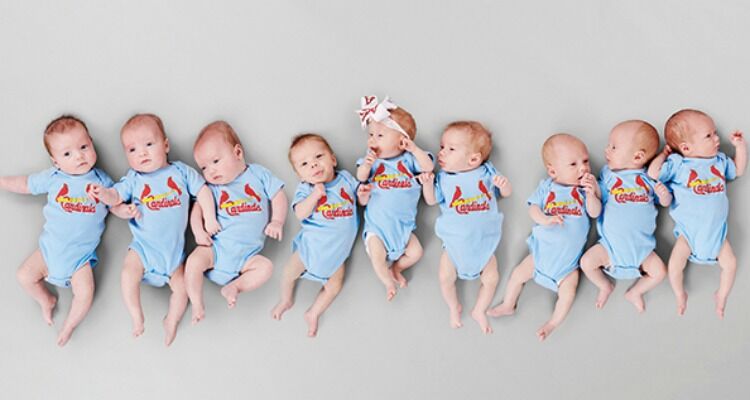 Dr Michael Paul is no stranger to delivering (or raising) multiples. The Missouri-based doctor has delivered his fair share of twin, triplets and even quadruplets in the past, but has never experienced a triple threat quite like this.
In just six weeks, Dr Paul has delivered enough triplets to field an entire baseball team (that's nine babies, if you're wondering!). In fact, the trio of triplets have even been dubbed the the "MoBap Baseball Team". Just look at the baseball triplets in their "team" onesies – so cute we can't stand it!
A league of their own
Recently all the triplets returned to The Missouri Baptist Medical Centre, where they were born, to be part of a special photo shoot.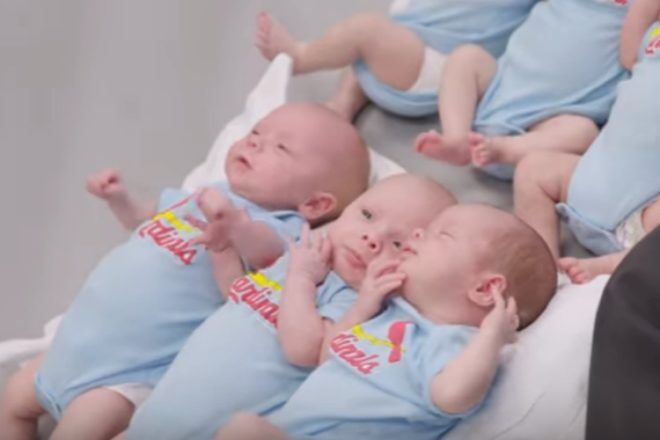 "St Louis is a baseball town and having nine babies all at once makes a baseball team," Dr Paul explains.
To mark the rare moment (and to coincide with the start of baseball season), Dr Paul posed with all nine babies, dressed in matching St Louis Cardinals onesies.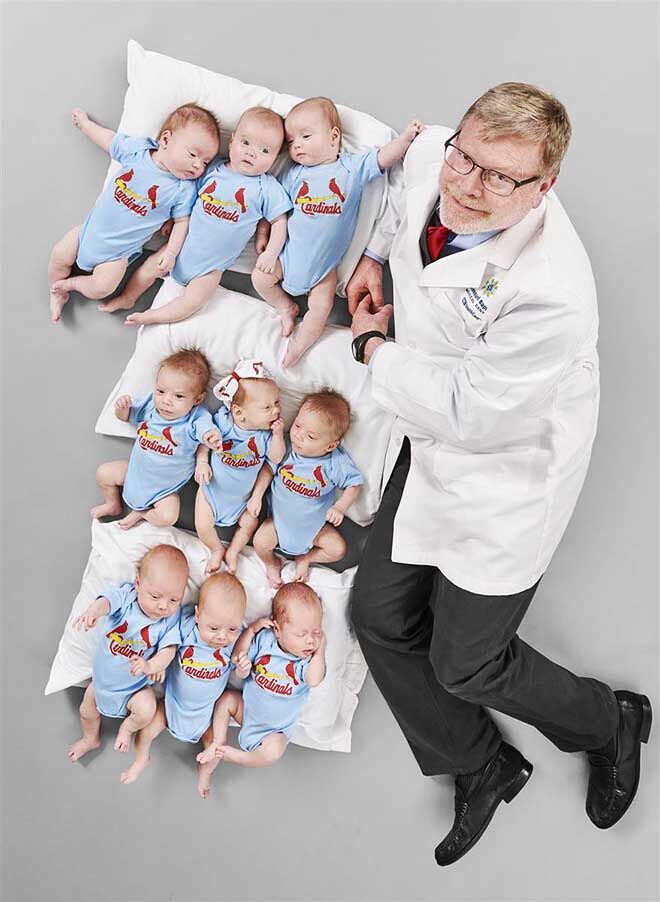 Meet the baseball triplets
The first set of triplets to arrive were brothers Reed, Knox and Finn Kennedy on 2 November, 2016.
Next up to bat were the McCloy triplets – Emalyn, Lucas and Colton, born on 26 November, 2016.
Three weeks later (on 16 December 2016) the third set of triplets, Oliver, Finn and Beckett, arrived.
All nine babies (eight boys and one girl) were delivered between 33 and 34 weeks and spent time in the NICU unit before going home with their families. And, we're happy to report, they're all thriving.
Father knows best
While the trio of triplets' story is certainly incredible, here's something out of left field. Dr Paul happens to be a stepfather to triplets as well as a father to twins. In fact, the doctor and his wife have their own (almost) baseball team at home with eight children between them.
Strength in numbers
One of the greatest things to come out of this story – apart from the cuteness overload – is the bonds that have been formed. Although the families did not know each other before they fell pregnant, the three sets of parents have grown close as they take on the challenges of raising triplets.
"They communicate with each other on a regular basis," Dr Paul says. "They're all going through the same things a few days or weeks behind each other, the same milestones."
Have a look at the adorable video made by Missouri Baptist Medical Centre to celebrate the arrivals of these pint-sized players.
Do you have a set of multiples in your life. Take a look at our post about the most adorable onesies for twosies.