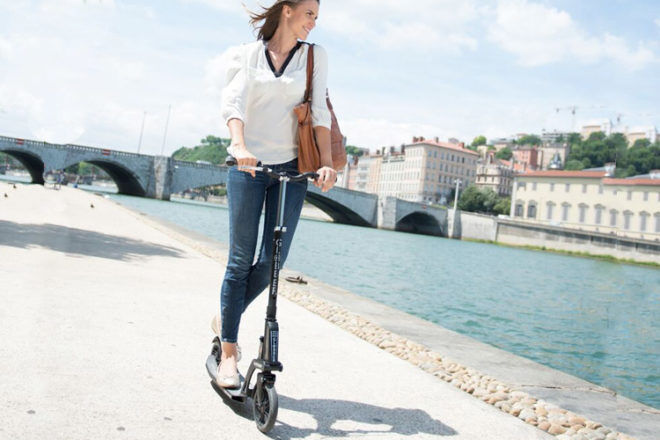 Have scooter, will travel. It's the motto that sets every kid free once they find their scooting feet. And if you're one of those mums who has to run to keep pace while they ride off to the park, shops or school, you're going to love this.
Introducing the Globber 18.0 by Kleefer (from $300) adult scooter. Yes, the name's a mouthful, but it's a whole lot of scooter just for you.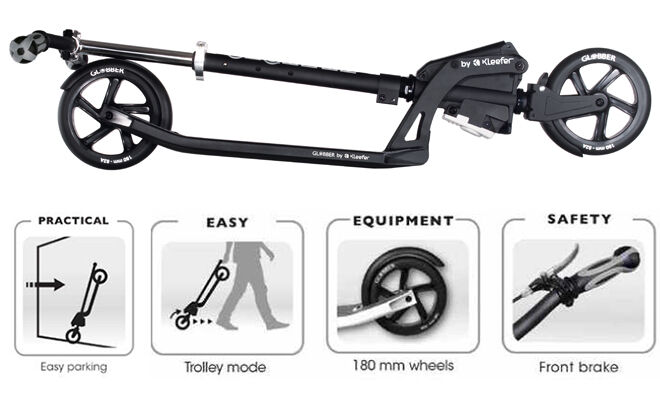 The Kleefer's got plenty of tricks and fancy bits up its sleeve. There's the wide foot deck that can take up to 100kg, plus mudguards to keep mum jeans clean. Add in front hand brakes for extra control, large wheels, wide handlebars and super comfy grips for a smooth ride.
The easy one-kick-to-fold feature is pretty handy too. When folded, it's dead easy to pull along behind you in trolley mode and storing the scooter out of the way at home or under your desk at work is a cinch.
There's also a nifty stand so you can graciously 'park' the scooter and not have to drop it on the ground when you arrive at your destination.
Take a look at the video of the Globber 18.0 by Kleefer one kick-to-fold mechanism in action. Yes, it's a man riding, but we figure it's only fair to give dads a look-in. In fact, there's no reason for anyone in the family to miss out on scooter fun because Globber make fab children's scooters too. Read our review on the three-wheeled MyFREE UP.
And if all that sounds sweet, that's not even the best bit. We're giving one away just in time for Mother's Day.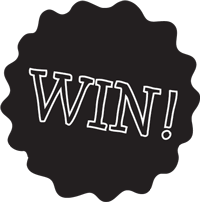 Win a Globber 18.0 by Kleefer scooter
This competition is now ended.
A huge congratulations to the lucky J. Watson (QLD). Enjoy xo
We're giving one lucky mum the chance to be scooting around with the kids this Mother's Day on her very own scooter. Enter here.
Competition ends May 18, 2017.