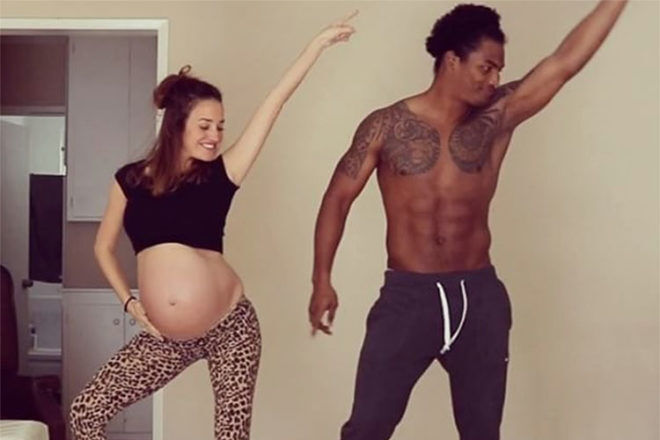 Bare foot, pregnant, and ready to shake their groove things, these mums are proving that pregnancy won't stop them from pulling out all the dance moves.
We've rounded up our favourite pregnancy popping, labour-inducing belly dances for your viewing pleasure. Enjoy xo
Three people, one soul
https://www.instagram.com/p/BQ6d14sF8C9/?taken-by=gemma_marin
Spanish actress Gemma Marin isn't letting pregnancy slow her down. Although she may be taking a break from acting, she has become an instant social media star after posting a series of pregnancy duets with her partner, Isreal Duffus.
The adorable couple are way too cute for words as they dance off to a number of different Latin songs. Gemma and Isreal welcomed their daughter, Alexandra, only two days after posting their final dance number.
Russian rhythm
https://www.instagram.com/p/BR75MGihD1q/
Next we have adorable Russian mum-to-be Svetlana Shcherbakova who joins up with her equally cute hubby to pull out some funky dance moves.
Dressed in matching maroon outfits, the couple are not afraid to have fun as they dance along to Ed Sheeran's Shape of You. The creative couple welcomed their first child earlier this month.
Belly movements
https://www.instagram.com/p/BJnMnIOAJEX/?hl=en
Another couple reaching serious relationship goals with their pregnancy dance video are Mimi and Alex Ikonn who choose to groove in their bedroom.
Since posting their series of dancing videos on Instagram, the couple has welcomed a daughter, who now joins in their dancing dates.
Mother daughter dancing duo
[youtube https://www.youtube.com/watch?v=PrTZ1PzG_y8?rel=0&showinfo=0]
However, it's not just the pairings of husband and wife that are taking the stage.
Last year little Jaylyn and her heavily pregnant mum, Nikki Taylor, set social media alight with their adorable mummy/daughter dance off. The plucky pair stage a perfectly choreographed performance to Watch Me (Whip/Nae Nae) by Silento.
Nikki puts in a valiant effort, but it's Jaylyn who is clearly the star of the show.
Dance to delivery
[youtube https://www.youtube.com/watch?v=PNSRxNOl2Kc?rel=0&showinfo=0]
While there is no scientific proof that dancing can help bring on labour, many mums will give anything a try when it's past their due date. Bonnie Northsea gave dancing a red hot go with her thrilling dance moves.
"Someone told me that Thriller would induce labour," she writes in the video post on YouTube. "Here I am on my due date 40 weeks, February 11, 2015, looking like a fool. I'm so awesome!"
It didn't work for Bonnie, who remained pregnant for another eight days before welcoming her second child.
Bieber fever
https://www.facebook.com/kortni.mcdonald/videos/vb.522844814/10154816787609815/?type=3&theater
However, dancing did work for Aussie mum Kortni McLady, who recorded herself dancing along to Justin Bieber's Sorry while heavily pregnant with her son.
Four hours later, her waters broke. The best part of this video (apart from Kortni's amazingly accurate moves)? When Kortni's cat decides to join the dance party.
Baby Momma dance duo
[youtube https://www.youtube.com/watch?v=4n2WezppxIc?rel=0&showinfo=0]
The Baby Momma Dance by Starrkeisha is a favourite for heavily pregnant mums. And Leah Franklin, along with her partner, bust out their unique rendition on YouTube. Two days after getting down (and needing assistance to get back up), Leah went into labour with her son.
Dance like your waters are breaking
[youtube https://www.youtube.com/watch?v=6bcFhZA2uR0?rel=0&showinfo=0]
Finally, we have Yuki Nishizawa, who literally dances away her contractions while in active labour with her second child. She breaks out some pretty impressive moves as she grooves to the 90s hit Tootsee Roll by the 69 Boyz.
Her husband,  Connell Cloyd, films as Yuki chews on ice chips during her danceathon. And, shortly after Connell stops filming, Yuki gave birth to her son, Coji.
Perhaps dancing is the key to inducing labour. Whether you have moves like Jagger or not, have a look at some of these other labour inducing methods that may or may not work for you.