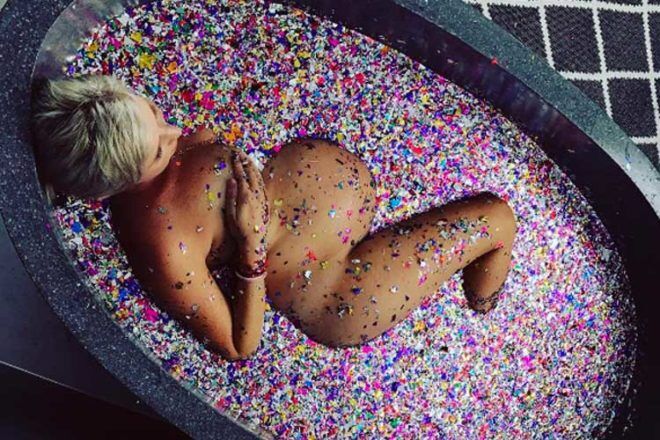 Sorry bath salts, you're out. Gallons of glistening glitter is officially the next best thing to put in your bath, especially if you're pregnant and planning a maternity photo shoot.
But wait – there's more. Because glitter is just the beginning. Have a look at some of the ways you can soak up every ounce of that pregnancy glow with these unique props to add to your bath.
Milky mumma
Milk. It does a body good. And it certainly creates an interesting effect when added to bath water. Milk baths became popular a few years ago and continue to blossom, especially with the addition of various vibrant flowers to your creamy concoction.
The silkiness of the milk on bare skin creates a cloudy effect that certainly highlights your growing baby bump. And, milk is known to be great for the skin, especially if experiencing itchiness or dryness. So it's a double win!
You can even include bubba in the photo shoot with a before-and-after recreation.
Floral and fauna
While milk tends to be the starting ingredient needed to perfect your pregnancy bath, adding an assortment of flora and fauna from nature can brighten up your shoot even more. Anything from nature will do – roses, daisies, posies, carnations, ferns, pine cones, even leaves.
Petal power
Or, you can completely skip the milk and stick to a bath made entirely out of petals. Talk about a blossoming belly!
Lather with lace
What goes best with milk? No, it's not cookies. It's lace. And it seems to be one of the most popular outfits for mummas-to-be to lounge in when taking a maternity bath. The combination of the milky water, the nude flowers and the lacy attire adds a delightful ethereal effect to the image.
Bath of quackers
Not really into lace and flowers? Release your animal instinct with a pregnancy bath shoot complete with everyone's favourite bath mate – the classic yellow rubber duck. Add a bit of blue bath powder, don your best blue lace curtain and jump in!
Glisten with glitter
Release your inner unicorn with a bath so magical you can't help but be transported to a new world. Simply dump a truckload of glitter into the bath and enjoy the most indulgent and prismatic pregnancy bath possible. Of course, you might need a regular bath afterwards to clean off the sparkly bits.
Blissful bubbles
Bubbles may be a bit boring compared to a bath full of glitter, but, hey, there's something to be said for the classic bubble bath. And the cleanup afterwards is definitely a lot easier!
Bulbous baby bump
From bubbles to baubles, here is a festive twist on the classic bubble bath. If you're expecting a Christmas baby, or simply looking for an excuse to pull out all of your Christmas bulbs, then why not draw a bath full of baubles?
Shimmer with stars
Get star-struck with this unique idea, where you can sparkle in a bath filled with navy blue milk and sparkling star ornaments.  Twinkle twinkle.
Tub of treats
Looking to add an element of sweetness to your photo shoot? We found the answer (and it was in the cereal aisle all along). Froot Loops. Sure, the sugary cereal may not usually have a home in your pantry, but you might enjoy adding them to your bath. And, hey, if you happen to get hungry…
Fruit of your loins
The possibilities really are endless when it comes to pregnancy bath photo shoots. Other ideas to consider? How about diving into a tub of different coloured gemstones? Or a bath full of berries?
You may even want to up your sugar intake even more with a Skittles bath. Taste the rainbow, indeed.
Looking for more pregnancy trends to test out? Check out this Disney-inspired maternity shoot.