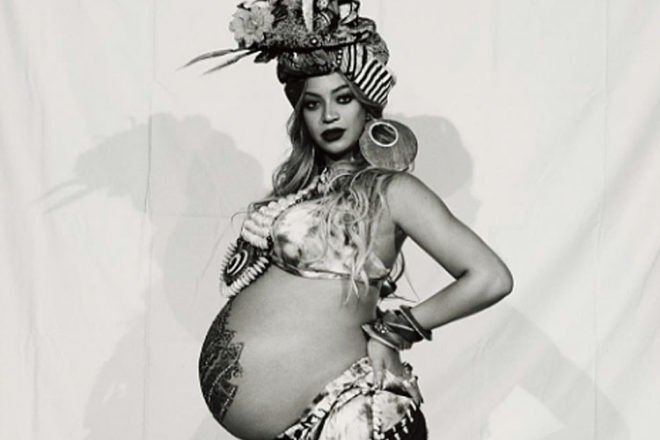 Twinning is winning, especially if you're Beyoncé and Jay-Z, who spent the weekend celebrating the upcoming arrival of their twins with a 'push party'. The Queen of Pop (and Pregnancy) shared a series of photos from the festivities, including a rare glimpse of her bare baby bump.
Beyoncé debuts bare twin baby bump
Since the announcement of the Carter's exciting baby news, Bey has been busy breaking the internet every few weeks with a photo or update on her pregnancy. And this weekend was no exception as the Bey and Z hosted their very own push party.
So what's a push party? It's a party which celebrates the fact that Beyoncé is getting ready to push two infants out of her body. Like a baby shower, but way, way more hip. It's a thing, especially in celebrity land.
So what does a push party look like? For Beyoncé and Jay-Z, the party, held at a private home in Beverly Hills, took on a tribal theme.
A touch of Africa
Beyoncé shared three black and white snaps of the soiree on her social media pages this week, complete with rustic border around each photo and the signature,"The Carter Push Party – May 20 2017″.
Guests, which included former Destiny's Child band mates Kelly Rowland and Michelle Williams, tennis player Serena Williams, Bey's mum Tina Knowles, La La Anthony and Vanessa Bayer, were treated to African dancers, drummers and even a Henna tattoo artist. Come take a peek inside the party!
Complete with a large tent covering the property, gold balloons spelling out the words, 'Carter Push Party' and 'Twinning' as well as colourful floor pillows, rugs and lounge seating areas for guests to relax, the couple clearly spared no expense.
As usual, Beyoncé wowed the crowd with her pregnancy style, this time selecting a gorgeous string bikini and sarong, showcasing her bare belly covered in a large Henna tattoo. She paired the outfit with massive gold earrings and a silk scarf.
While Queen Bey hasn't shared her twins' official due date, it looks like Baby Carter Two and Three are set to join big sister, Blue Ivy, 5, very soon!