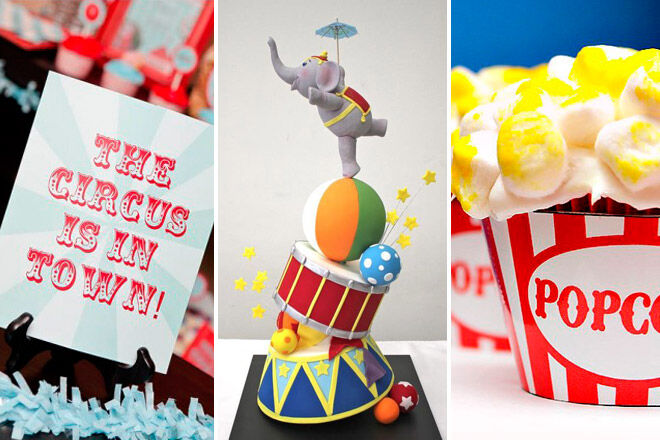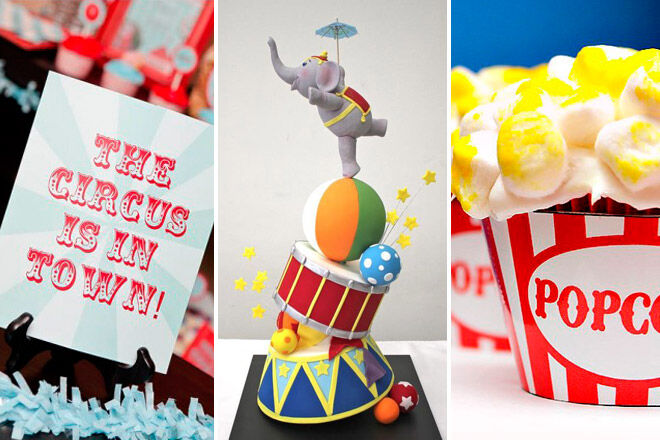 Roll up, roll up for a big top bonanza! Whether you bring the circus to town on a large or smaller scale, hosting a circus party is a great way to include animals, acrobats and clowns on the guest list.
To help you stage the greatest party on Earth (or at least on the street), we've put together the ultimate guide to planning a circus party. With ideas for venues, games, party food and party favours, this planner is the perfect way to limber up your creativity and balance all the elements for a spectacular event.
So, without further ado, let's get this all ages show started!

'Circus' is a big theme, so ask your kiddo what angle they'd like. Whether they choose a big top, animal, clown or carnival focus, this sets the stage for everything else, including invites, decorations and food.
Circuses are bursting with entertainment, so focus on the interactive side of things. This could involve guests dressing up, 'buying' popcorn from a vendor or playing games in your version of sideshow alley.
Circuses aren't just fun, they're funny too, so include props and photo ops that will give your guests a chuckle. Hiring a professional clown can be on the wish list, but a fun-loving family member will work too!
From the moment you get tickets, a circus is exciting, so build suspense before the show even begins. Start with a creative invite and when the big day rolls around, make a thrilling entrance with decorations and an amateur ringmaster!
Circuses are bursting with colour, so create a happy feel with primary colours. Too many balloons are never enough and bunting goes a long way to creating a carnival atmosphere!


Circus party invitations…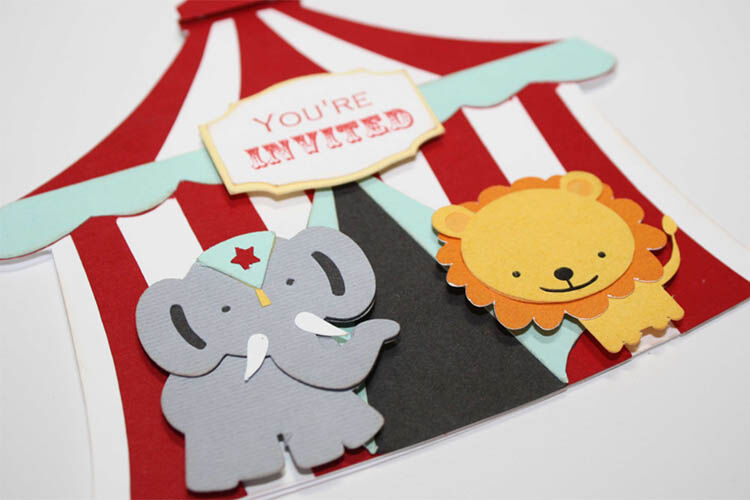 Once you've set the date, send out invites that will see the RSVPs rolling in like jaffas down sideshow alley! Here are some creative ideas for invitations.
One that looks like a vintage circus ticket
A big top card that opens to reveal the party details
A clown nose with an invitation tag attached
Slip your invite into retro popcorn bags with some popcorn kernels
Include a red, white and blue balloon with a striped invite
Circus party decorations…
Circus decor is all about primary colours, striking patterns and balloons; so roll out lots of red, white, blue and yellow. This party theme is gender neutral, so focus on creating a sense of theatre with bold decorations and interactive props.
Carnival signs – Red noses this way!
Striped everything, including tablecloths
Bunting made from popcorn boxes
DIY ticket booth and tickets
DIY ringmaster or lion tamer stand
Stick-on moustaches for kids
Joke jar: Guess how many 100s and 1000s are in there
A big top play tent
Rag tie garlands and paper pom poms
Animal toys, balloons and DIY cut outs
Trampoline with 'Acrobats here' sign
Marquee lights spelling 'roll up'
Stage curtain for performances
Huge, striped boxes with yellow 'popcorn' balloons
 (Image via Sassababy)
Circus party games & entertainment…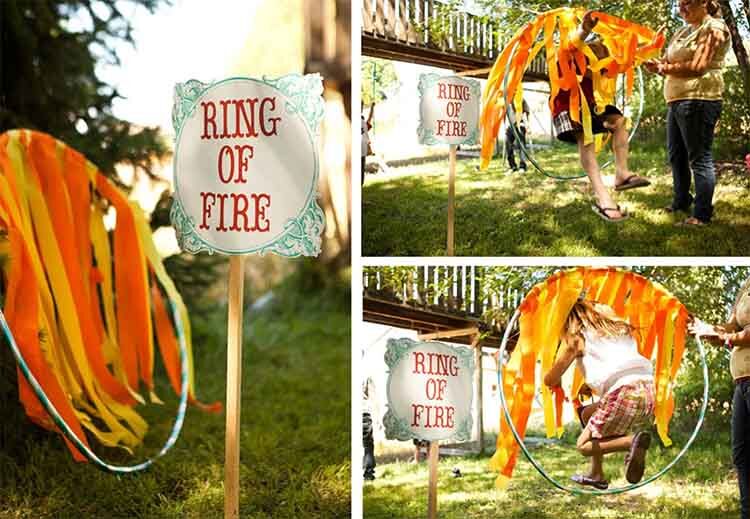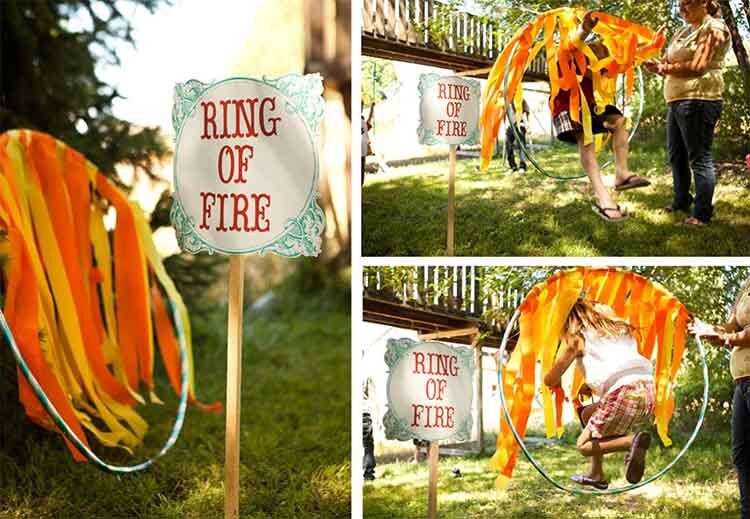 It's all fun and games at the circus, and here are some ways you can recreate the sideshow alley and big top entertainment at your party. It's showtime!
Clown dress ups: There's fun to be had with colourful wigs, clown noses, big shoes, long socks and funny hats, so have a hoot with a dress up box.
Circus cut out: If you're the artistic type, then paint a clown with a hole for guests' faces. And if you're really arty, then do a lion tamer and lion, with room for two.
Strong kid: For a simple photo opportunity, attach a black balloon to each end of a pole and tykes can pretend they're a strongman!
Flaming hoops: Tie orange and red crepe paper strips on the side of hula hoops. Guests then have to make it through the hoops without touch the 'flaming' sides.
Clown hat station: Set up a craft table with cardboard templates, glitter, pom poms and pencils. Guests can decorate their own clown hats then wear them all day.
Tightrope walking: String up two ropes between trees (one for feet and one for hands) and let the balancing act begin (like this). Or else set up a plank, slightly off the ground for smaller kids to walk across.
Sideshow alley duck pond: Set up a paddling pool full of rubber duckies (with hooks attached). Guests try to catch a duck and win a prize.
Carnival bean bag toss: Number some smallish paint tins and give your guests some bean bags to throw inside. The kiddo who bags the most wins. Or if you've got a clown cut out, guests can try to throw bean bags into the face hole.
Circus can/ring toss: See if they can knock stacks of colourful cans over. Alternatively, throw rings onto bottles.
Balloon wall: Older kids will have a blast throwing darts at a wall of balloons. If their balloon contains a slip of paper, they win the prize.
Pin the nose on the clown: Try using a striped blindfold and real clown nose.
Circus animal face painting: Hire a professional or try your hand at lions and tigers and bears. Oh wow.
Special performance: If your budget allows, it's fun to have a clown or juggler showing guests the tricks of their trade. Encore!
(Image via Kory and Amy Anderson blog)
Circus party cakes…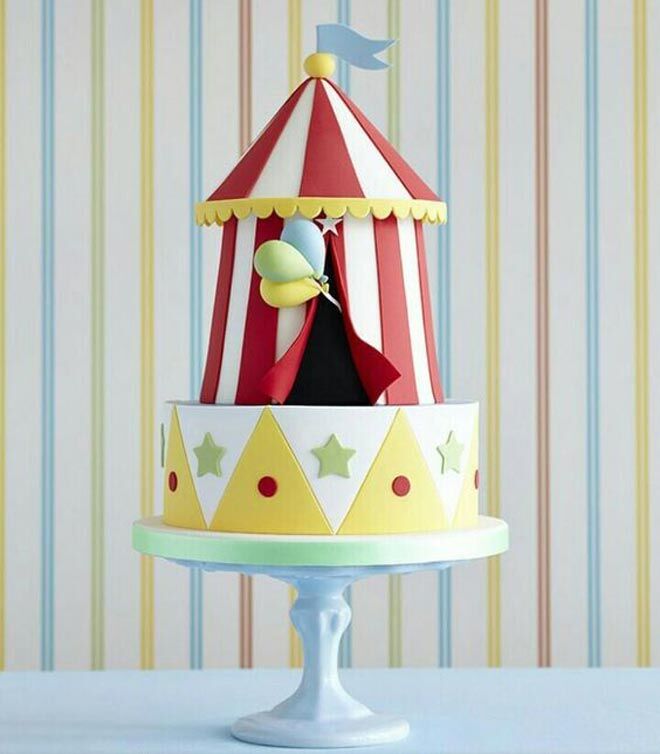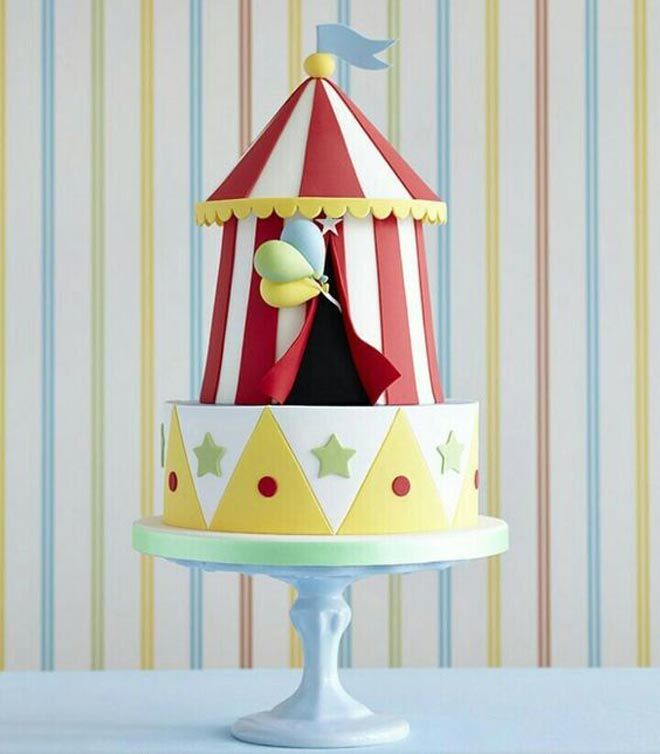 To ensure the birthday cake is a show-stopper, all you need to do is combine colour, creativity and encore-worthy sponge. These ideas are just the ticket for circus cake success!
Like an acrobat, try to get some height with your cake. Tiered cakes, cupcake stands and mini bunting strung between stripy straws are all ways to put the 'big' in your big top cake.
Bring circus animals in on the act, whether you print them out or make cake toppers.
Pile up the patterns – stripes, stars, triangles, polkadots and harlequin are all on theme.
A pastel cake is pretty, but for strong circus style, use bold primary colours.
There's always room for a rainbow cake. White icing and rainbow bunting on the outside, colourful cake layers within.
An easy idea is to make a clown hat cake using cone-shaped sponge and a pom pom.
Or cover a round cake in orange icing, add a lion's face and put cupcakes all around to make its mane.
A cake decorator can make your child's name into a decorative circus sign using vintage font.
Circus party food…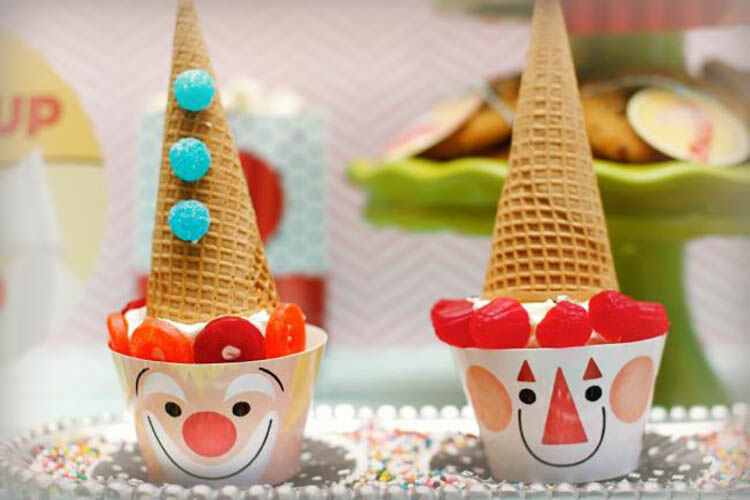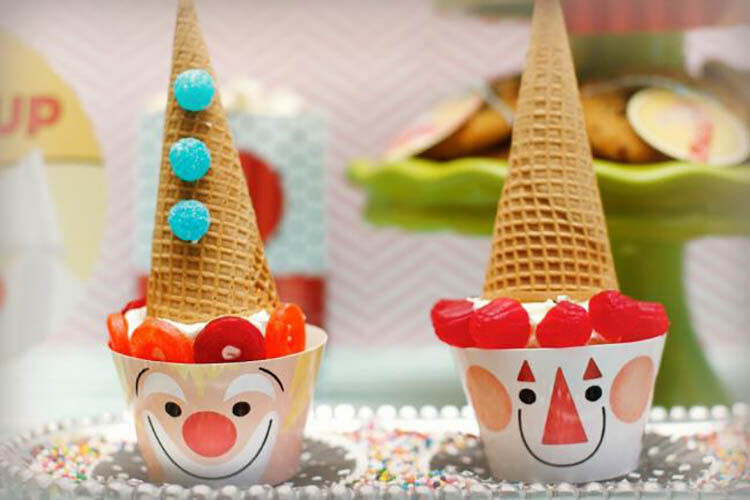 Popcorn and fairy floss are on the menu, and a whole lot more! With these ideas, you can juggle sweet and savoury, then throw in bright ideas for a spectacular display of party food.
'Popcorn' crumbed chicken pieces
Cheese biscuits cut in star shapes
Fairy floss in cones or on lollipop sticks
Small burgers with mini-clown hats
White and wholemeal sandwiches cut into triangles and arranged like bunting
Clown cupcakes with ice-cream cone hats
A lion or clown face made from vegetables and dip
DIY toffee apples, red with white sticks
Swirly lollipops
Strongman dumbbells (straws with choc-coated marshmallows on each end)
Popcorn delivered by a vendor
 (image via Kara's Party Ideas)
Circus party favours…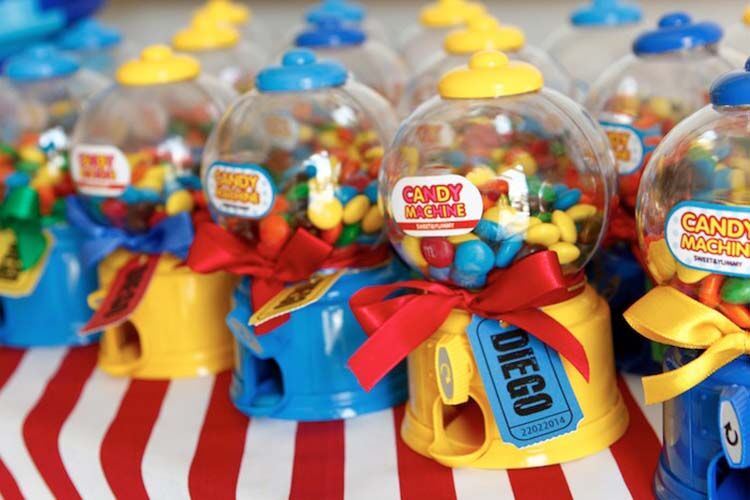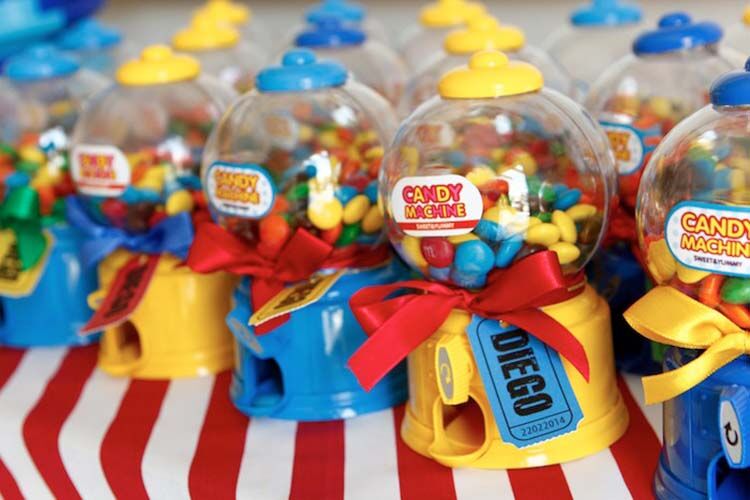 The show must go on! Party favours are a great way to keep the party going, long after guests have returned home. With these simple ideas and more complex projects, there is do-able fun for every mum.
Use popcorn boxes instead of bags
Add circus labels to mini bubble-blowing bottles
DIY pinwheels with polkadots and stripes
Red, white, yellow and blue balloons
(image via Kara's Party Ideas)
Circus party age ranges…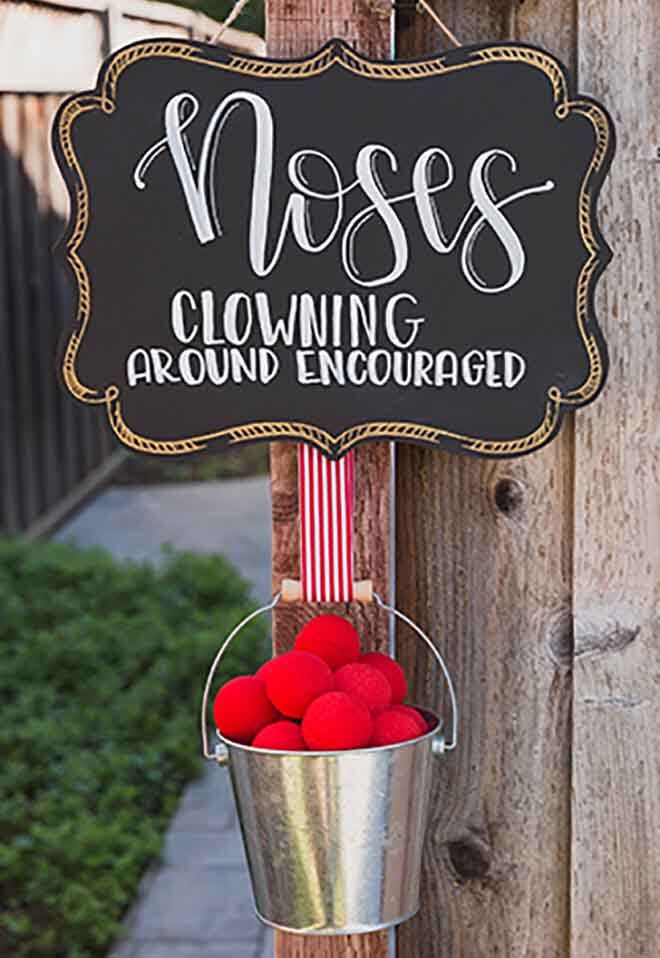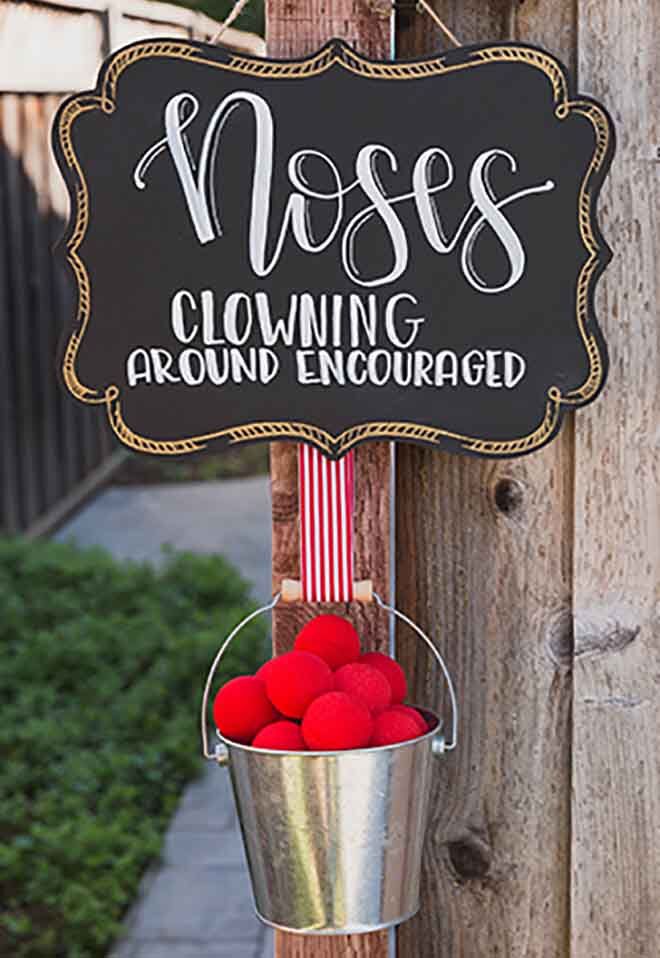 All children great and small love a circus party and here are some ways to tailor your circus party to different age groups – from a first birthday party to an eighth.
First birthday: The circus colours and animals make this a great theme for your bub's party. A big top play tent, mini-ball pit (in a paddling pool) and some plush toy animals will make their day.
Toddlers: Toddlers are on the run, so they'll have a spectacular time chasing balloons. They'll also love pretending to be lions, poking their face through a circus cut-out and popping bubbles blown by a 'real' clown.
Preschoolers: These kids have imaginations as big as a circus tent, so face-painting, dress-ups and DIY clown hats are all great ideas. Get ready for some little performances!
School kids: Older kids will love carnival games (and prizes!). All those interactive elements (like a popcorn vendor) will be a winner and keep your camera ready for the faux strongman photos!
(image via Inspired By This)


(Images via Pizzazzerie, Handi's Cakes and Hostess With The Mostess)