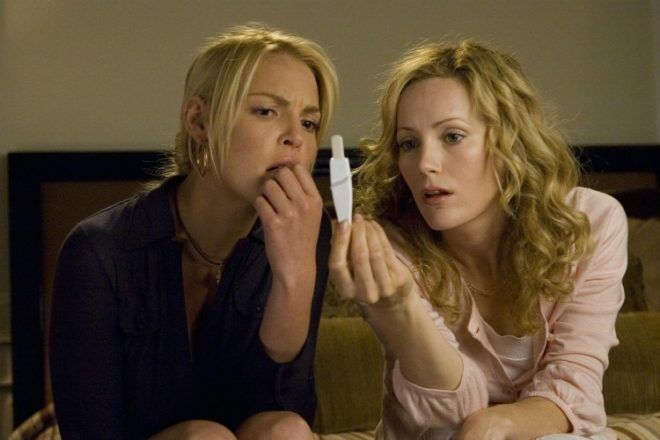 Whether you're on maternity leave and need something to fill in time while you wait for your little one to arrive or you simply want to watch something that's not Friday night footy (sorry dads), these movies about pregnancy are filled with so many relatable and emotional moments that you're sure to tear up in between the giggles.
Here are our 16 all-time favourite movies about pregnancy and birth. Enjoy xo
Knocked Up (2007)
Starring Katherine Heigl and Seth Rogen, this movie is anything but the traditional love story. But it's riddled with witty charm and directed by Judd Apatow. If you're a fan of his other movies (The 40 Year Old Virgin, Trainwreck, Superbad, Bridemaids), then you will certainly appreciate this one.
Nine Months (1995)
It's an oldie but also a goodie. Starring Hugh Grant and Julianne Moore, this 90s rom-com about a fella who freaks out when his long-time girlfriend falls pregnant. It's lighthearted, cute and has the perfect Hollywood ending.
Baby Mama (2008)
Saturday Night Live lovers will enjoy Tina Fey and Amy Poehler in this movie about surrogacy. The two ladies are hilarious on their own, but together, they complement one another perfectly – comedy gold!
Parenthood (1989)
This is another classic that delves into the realm of parenting in all its messy glory and has an excellent cast including Steve Martin and Keanu Reeves. And, although it's from the 80s, it still paints a pretty accurate picture of what life with kids is all about (just ignore the clothing and Keanu's hair).
Home Fries (1998)
Sure, it's a little corny, but Home Fries is also a really charming family comedy drama, starring a pregnant Drew Barrymore and a lovable Luke Wilson.
The Next Best Thing (2000)
Madonna and Rupert Everett are best friends decide to have a baby together. Only problem – one of the best friends is gay.
Due Date (2010)
This one is for the dads as well as the mums as it follows the unexpected adventure of Robert Downey Jr. as he attempts to make it home to his very pregnant wife. But, of course, it doesn't go to plan and he ends up on a hilarious Hangover-style cross-country trip with Zach Galifianakis.
Junior (1994)
Arnold Schwarzenegger is pregnant. That's pretty much all you need to know about this one. And it's pretty much enough reason to watch it.
Father of the Bride Part II (1995)
In the sequel to Father of the Bride, Steve Martin is back as one of the greatest on-screen dads ever. And he's about to become a granddad. As you can imagine, nothing goes to plan and his wife (Diane Keaton) also ends up pregnant at the same time as his daughter. There are lots of funny moments but it's also touching and involves newborns, which means you will probably need tissues.
What to Expect When You're Expecting (2012)
One of the newest ones to the list, this movie offers an incredibly insightful spin on the book of the same name. It follows several couple's journeys to become parents and involves a number of hilarious and heartbreaking bumps along the way. The cast is incredible and the movie is both touching and tear-jerking. Prepare to cry at least once.
Junebug (2005)
Junebug is another comedy drama that revolves around an extended family. But it's Amy Adams character, who is pregnant, that lights up the screen. Again, you will need tissues for this one.
Juno (2007)
Teenage pregnancy is never an easy topic to tackle. Neither is adoption. But this independent film bring these very important situations to life in a way that is quirky and entertaining.
Riding in Cars With Boys (2001)
Another Drew Barrymore classic, Riding in Cars with Boys might not be on most women's radar but it really should. It's a great one about teenage pregnancy that delves deep into how complicated being a parent really is. It's real, dramatic and unpredictable.
Look Who's Talking Too (1990)
The sequel to Look Who's Talking, this movie is all about the babies! Look Who's Talking Too takes us into the wonderful realm of raising two young kids, but through the thoughts of the children. It's still one of my favourites (yes, I'm showing my age here. I don't care).
For Keeps (1988)
For Keeps has everything you'd expect from an 80s film, including Molly Ringwald as the lead character who falls pregnant right after high school and decides to forgo her college plans to raise a baby (because, back in the 80s, doing both was apparently impossible).
She's Having a Baby (1988)
Hello 80s Kevin Bacon. Like pretty much every movie made in the 80s, this one is directed by John Hughes. But She's Having a Baby strays outside the high school and revolves around marriage and infertility
If you're overdue and sick of watching movies, you might also be interested in these ways to natually induce labour (that may or may not work).