Remember the #TreeOfLife breastfeeding selfie crazy that took Instagram by storm? There's a new filter to fancy up your mummy snaps – and this one's for mums-to-be.
The makers of the artistic app that transformed nursing mums and bubs into art are back, with a way to turn your pregnancy pics into a glimpse inside the womb.
In celebration of Mother's Day, PicsArt has revealed how you can create whimsical, almost Avatar-like images from your pregnancy photos – complete with an artist's impression of your bub in utero.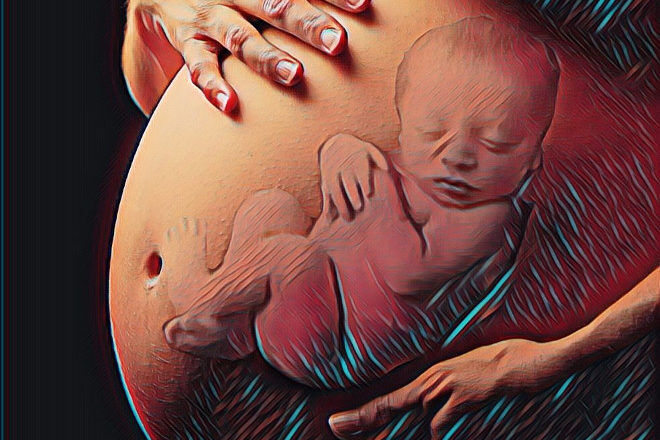 To create your own #BabyInBelly artwork, head to the app store and download PicsArt photo editor and collage maker for iOS, Android, or Windows. Then simply follow these instructions.
Here are PicsArt's instructions on how to create your own:
Download PicsArt photo editor and collage maker for iOS, Android, or Windows.
Tap on the pink plus sign at the bottom of the screen, select 'Edit' and open one of your pregnancy pictures in the photo editor.
Tap on 'Add Photo' and choose a picture of a baby or your ultrasound. Adjust the size and place it over your belly. Use the slider to adjust the opacity.
Tap on the eraser icon at the top of the screen and erase the edges of the added picture. Tap on the check mark to confirm, then tap on 'Apply'.
Tap on 'Magic' and choose the 'Midnight' photo effect (you can also use the Rainbow photo effect). If you want to customise the photo effect, tap on the effect icon a second time to open the settings panel and play with the settings. Tap on 'Apply' when you're done.
Tap on the arrow in the top right corner to finish. Save your edit and share it on PicsArt with the hashtag #BabyInBelly!
We'd love to see your #BabyInBelly image – feel free to share it with us on Facebook!
And if you're in the mood for some gorgeous photography, take a look at these emotion-charged images of siblings meeting for the first time.