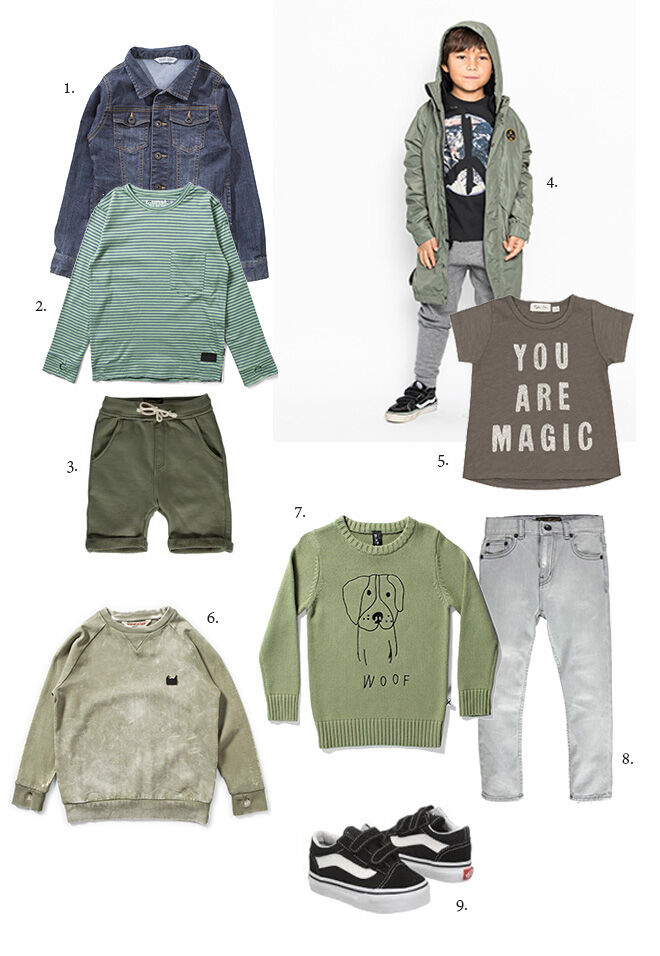 One of our all time favourite colours, green, is Pantone's colour trend of the year for 2017. Along with its suggested colour pairings of blues and greys, green has passed through to a huge variety of interior and fashion trends.
From bright tropical greens and blues to soft olives and greys, once you start looking, you'll see these colours everywhere – all in versatile shades that can easily be mixed and matched together.
Here are a few of our favourite winter wardrobe picks for easy to wear boys' clothing in shades of green, blue and grey.
1.  Munster Kids Denim Jacket – from My Messy Room ($100)
2.  Munster Kids Green Striped Top – from My Messy Room ($50)
3.  Finger In The Nose Fleece Bermudas – from Kido Store ($79)
4.  Munster Kids Drainer Jacket – from Kido Store ($149.95)
.    Munster Kids Peace Tee –  from My Messy Room ($45)
.    Munster Kids Snake Pit Pant – from Munster Kids ($69.95)
5.  Rylee & Cru Magic Tee – from Kido Store ($58.95)
6.  Munster Kids Olive Jumper – from Little Styles ($69.95)
7.  Minti Woof Jumper – from My Messy Room ($70)
8.  Finger In The Nose Bleached Jeans – from Kido Store ($125)
9.  Vans Youth Old Skool Shoes – from Kido Store ($79.95)