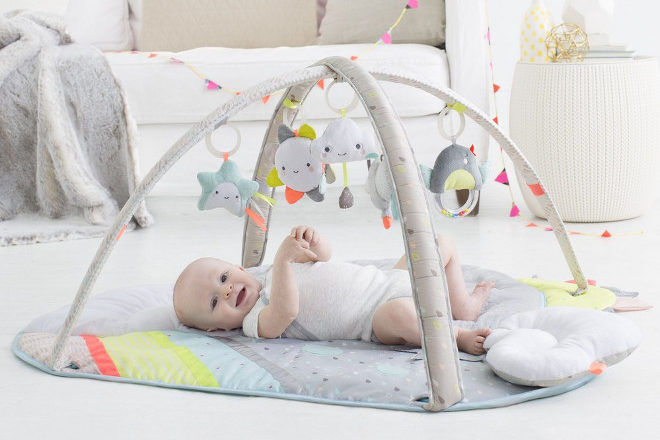 This beautifully crafted baby activity gym is a bit of a tummy time secret weapon, but that's not the only reason to love it.
The Skip Hop Silver Lining Cloud Activity Gym just happens to have quite a few tricks up its delightfully plush sleeve.
1. It's a sensory wonder
If you've ever spoken to your baby in a high-pitched, sing-song voice you'll know just how much they love that silliness! It's the same with this Silver Lining play gym.
The adorable sheep that hang from the arches of the baby gym is a musical little fellow, and plays  'You Are My Sunshine'.
But he's not the only sensory delight enticing little hands from above – the star lights up, the cloud squeaks and the sun hides a playful mirror.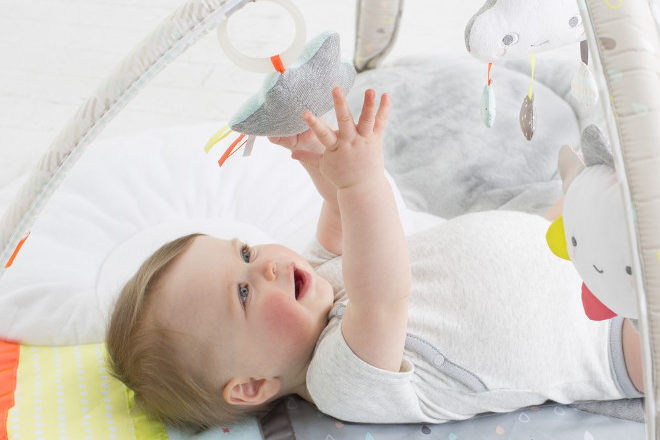 2. The mat does double duty
This comfy, cuddly mat will become your bub's safe place when you need a free hand – with or without the activity gym attached.
It's cushy enough that you can pop it onto a hard floor and know that baby is supremely serene atop a cloud of comfort. Perfect for quick nappy changes, or a place to settle, it will do its duty as a play mat well beyond your baby's back and tummy time days.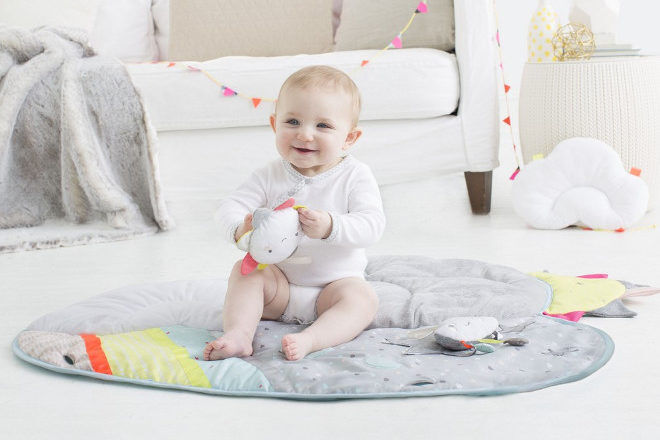 3. The toys are take-along
The super cute developmental toys are way too cute to just hang around all day, so it's fabulous to know that they detach.
So if your bub gets a little enamoured with one particular toy, you can unclip it from the gym and attach it to their pram, the high chair, car seat or even your nappy bag – bonus!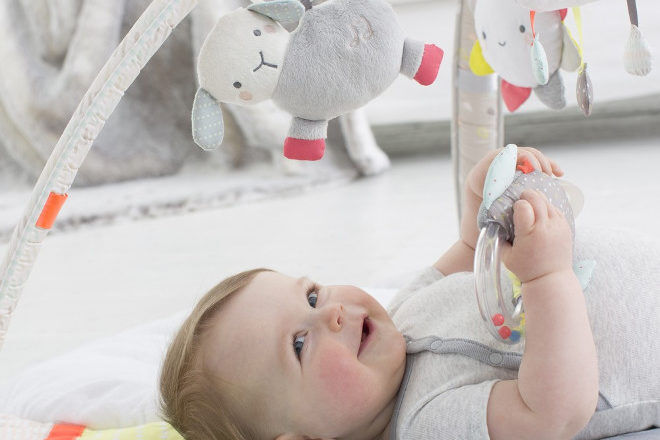 4. There's a tummy time secret weapon
Not all babies like tummy time, but all babies need it. There's a little helping hand that comes with this clever creation that might just be the difference between a tummy time meltdown and a couple of minutes of belly bliss.
The cloud-shaped tummy time pillow that comes with the gym is perfect for helping prop bub up, and the deliciously plush mink on one side is a luxe touch.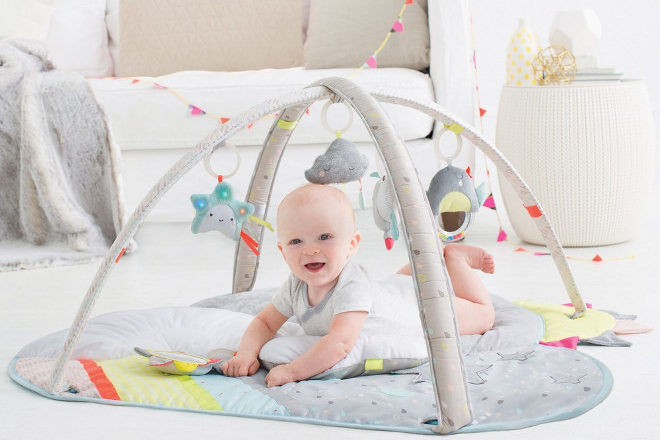 5. The colours aren't just beautiful, they're clever
The beautifully muted colours aren't just a nod to the understated palette that's bang on trend in interiors.
When that subtle grey plays background to pops of colour, it means there's another layer of engagement for your baby's eyesight.
In their first couple of months of life, babies' eyes are learning to take in colours and shapes, so unexpected flashes of colour are particularly appealing – very clever!
Want to take a closer look? Watch the video below:
Available online from KJ Essentials ($199.95).
This article is sponsored.