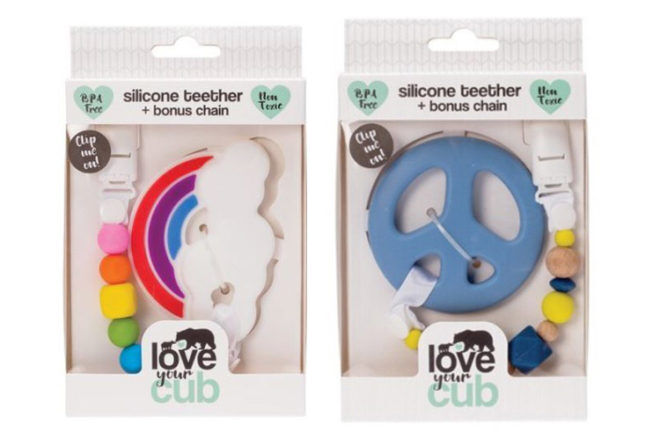 Silicone teethers with unsafe chains attached are being recalled across Australia, with concerns they pose a choking hazard to babies.
Why is it being recalled?
The ACCC has issued a recall on Love Your Cub —- silicone teether & bonus chain, because they don't comply with the ban on unsafe decorations for baby dummy chains. The teethers come in four designs – peace sign mint, peace sign blue, rainbow and ship's wheel.
The authority says the chain is too long and shouldn't be attached to the teether, and it has small parts which can come loose and become a choking hazard.
Where were they sold?
The teethers were sold throughout Australia at health food and health product stores, chemists/pharmacies, independent grocery and organics stores and naturopathy centres between 1 May 2017 and 8 June 2017.
What should you do?

If you have one of these teethers, you should stop using it immediately and return it to the place of purchase for a refund.
If you no longer have the teether and pacifier clip, you should contact Love Your Cub or the distributor:
Love Your Cub
Unique Health Products : 1800 787 904
Never miss an urgent safety recall, subscribe to our weekly newsletter here.