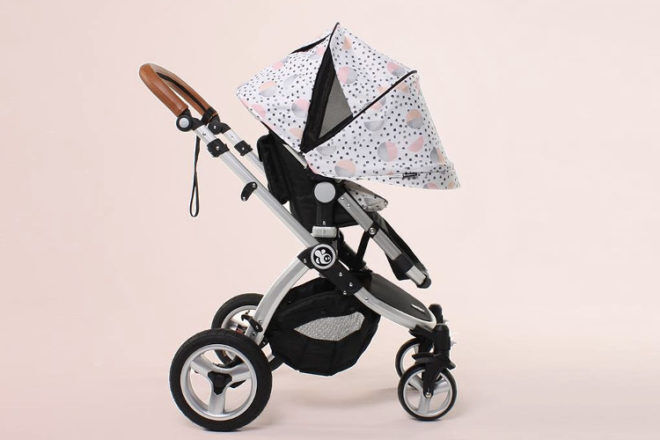 Be still our pram-loving hearts – one of our favourite prams has been revamped to include everything parents are lusting after. And we have one to give away!
The Babybee Comet plus 2 in 1 is everything we love about the original Comet, now reimagined to include a raft of luxe upgrades. From the tan leatherette handlebar to the three new designer colours and plush fabrics – it's not just a head-turner, the Comet plus is the ultimate indulgent ride for baby. All for $599, which includes $170 worth of free accessories!
Here's everything you need to know about the all-new Babybee Comet Plus travel system.
A designer pram without the price tag
The Comet plus is as opulent as it is functional, with each carefully crafted new feature aimed at giving both mum and bub a luxuriously comfortable ride.
There's an extra large, extendable canopy with side air vents to keep bub out of the sun and block the glare from little eyes. The tyres are air filled at the rear and rubber at the front to give the Babybee Comet plus a supremely smooth ride, while splashes of tan leatherette on the handlebar, belly bar and harness covers bring the sophistication modern mamas want.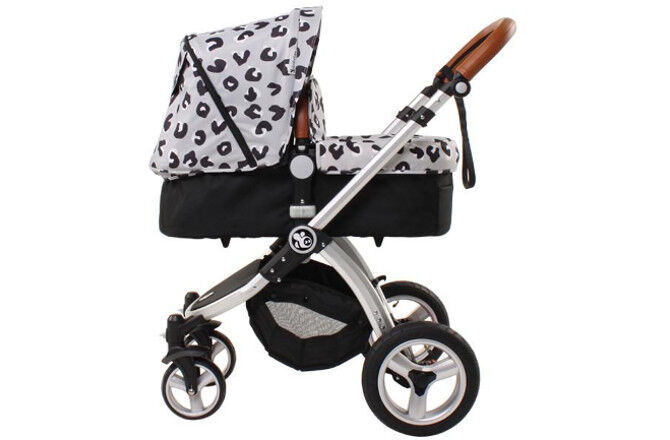 Babes will be resting in cosy comfort on the quilted bassinet fabric in the early days and then the summer/winter seat liners as they grow – all in a supple plush fabric and included in the affordable price.
The designers upped the luxe factor with the Comet plus, upgrading the bassinet and foot covers, and adding a removable plush bassinet mattress protector.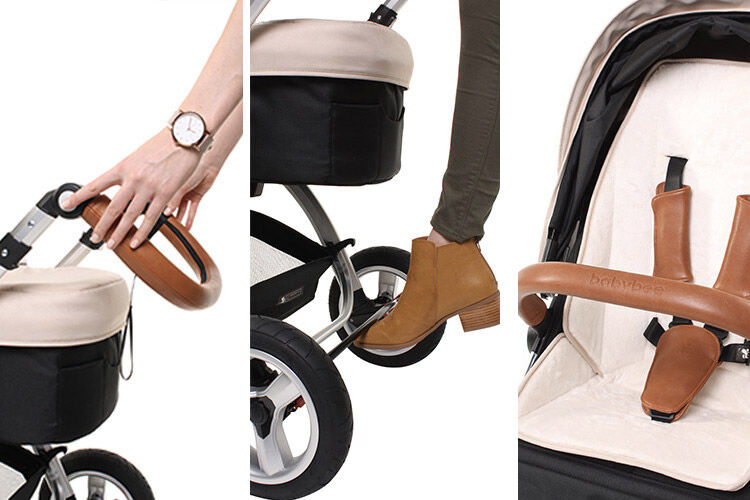 And then there are the colours – three new beauties: classic Navy, the customer-created Grey Leopard and the delicious collaboration with Toucan, Peach Fizz.
If you're a fan of the original colours, the five best-sellers: Charcoal, Vanilla, Blush, Grey Cross, and Milk & Cookies are back with the new model. Paired with your choice of silver or black frame, pimping up your pram has never been so easy!
Exclusive Toucan collaboration
Babybee's exclusive collaboration with design duo Toucan has resulted in the limited edition Peach Fizz Comet plus – a pram that's dressed to thrill.
Toucan is a sister team, which turns everything it touches into bright and beautiful bliss  – everything from home and children's décor, to the new Babybee Comet plus. The playful Peach Fizz design isn't just visually stunning, like everything in the Toucan range it's made to stimulate and inspire young minds.
Falling head over heels for this pram is to be expected because the Babybee Comet plus will take your baby from newborn up to 36 months, courtesy of the 2 in 1 system bassinet and seat.
Available online from Babybee Prams ($599 including $170 worth of extras). Australia-wide free shipping.

This competition is now closed.
Will R. Lee (WA) please stand up. You're our lucky winner. Enjoy xx
One incredibly lucky Mum's Grapevine reader will win a Babybee Comet plus 2 in 1 pram, worth $599, and entry is a cinch! You must be an Australian Mum's Grapevine newsletter subscriber to enter.
HOW TO ENTER
Fill out your details below and in the entry form, visit the Babybee Prams website and tell us which is your favourite canopy colour and frame combination.
Competition ends July 14, 2017. Read our full Terms and Conditions.