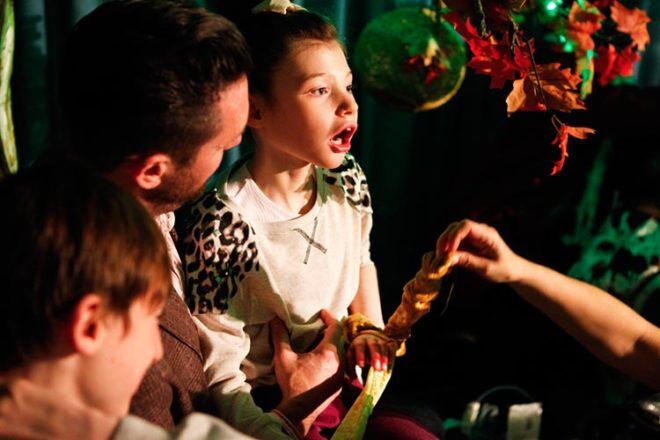 Every child should experience the wonder that comes from theatre. The Bamboozle Theatre Company is making that happen. It's bringing a special show to Melbourne that's made especially for children with profound disabilities.
The intimate multi-sensory production, that adapts to suit the capabilities of the children in the audience, debuts at the Melbourne Arts Centre on 10 and 11 June, 2017.
Here's a little peek at what to expect.
Made for children with complex disabilities
During the 45-minute performance, children travel to a magical forest where shadows slide across the floor and wildlife rushes through the trees. Down to Earth draws inspiration from the Land Army girls of World War II and each performance is tailored to the audiences' needs.
The interactive show encourages children to feel the veggie patch, dance in their chairs with the Land Army girls and engage with the Bamboozle performers.
The performance is suitable for children aged 6 and older with complex disabilities, but is not recommended for children on the autism spectrum. Each performance accommodates up to six kids, plus parents or carers.

Bamboozle Theatre Company's Down to Earth
Date: 10 and 11 June, 2017
Time: 10am, 11.15am, 1pm and 2.30pm
Ages: 6 – 14
Venue: Arts Centre Melbourne, The Pavilion
Cost: $22 (accompanying carer or family member free)
Contact: (03) 9281 8784 or [email protected]