Man buns, pompadours and skinny jeans, oh my! You have got to see the new crop of Ken dolls from toy makers Mattel. The company behind Barbie, made an epic move this week, announcing the release of 15 dashing new boy toys for Barbie to mingle with.
This new fleet of Ken dolls is a little like the toy box equivalent of The Bachelorette (but without Osher). And yes, one of the spunky plastic studs even sports a man bun, for your Barbie-collecting pleasure.
Meet New Gen Ken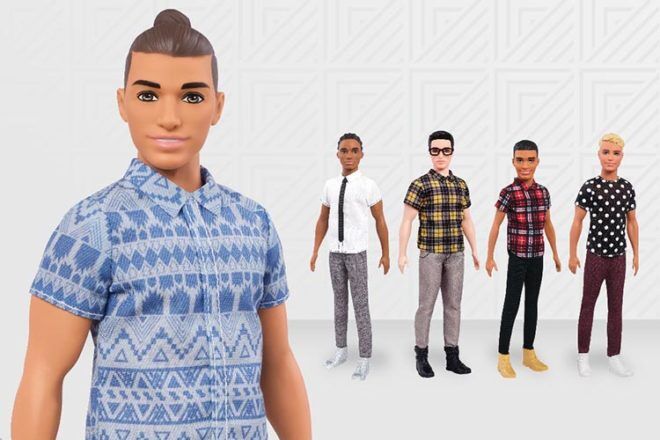 Just when you thought we'd hit peak man bun, Man Bun Ken arrives on the scene. And he is only one of the 15 new Ken doll bachelors to parade into Plasticville.
Known as New Gen Ken, the group of gentlemen come in three different body types, seven skin tones and with nine different hairstyles. Even their smiles and facial expressions are different. The bold move is a clear nod in the right direction as Mattel continues to diversify their Barbie Doll range.
"Evolving Ken was a natural evolution for the brand and allows girls to further personalise the role they want him to play in Barbie's world," says Lisa McKnight, Barbie's senior vice president and general manager. "We are redefining what a Barbie or Ken doll looks like to this generation."
Rise of the new Ken and Barbie
A lot has changed since Barbie and Ken first made their toy store debut over 50 years ago. And Man Bun Ken and his fresh-faced crew are certainly making a splash in the toy industry. But we have just one question for Mattel. Where's Tradie Ken?
Ten of the latest Ken dolls are already available online and five more will be released in US stores within the next few months.
Want to pair new hipster Ken with a Barbie gal pal? Take another look at our article about the new, improved Barbie with a more realistic body shape.