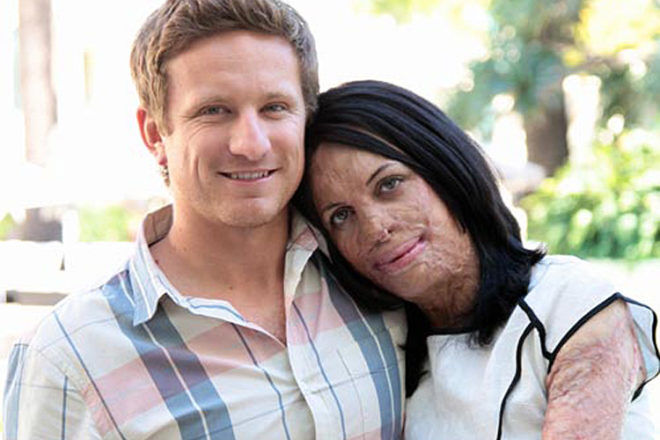 Turia Pitt has already proved herself a superwoman following her incredible recovery from horrific burns, now this amazing Aussie has revealed she's adding 'mum' to her list of achievements.
The 29-year-old suffered burns to 65 per cent of her body and had several fingers amputated after becoming caught in a grassfire during a 100km ultramarathon in Western Australia in 2011. She's since turned her tragedy into positivity, becoming a motivational speaker and inspiring tens of thousands of people along the way.
And now Turia says she's 'happiest she's ever been', as she prepares to tackle her hardest marathon – motherhood.
'All I wanted was a back rub'
Turia's pregnancy announcement was typical of her wicked sense of humour – quipping that all she wanted 'was a back rub', under a photo of her and fiancé Michael Hoskin on Instagram.
The ultra-fit athlete told 60 Minutes how she was forced to pull out of a Mount Everest trek after finding out she was pregnant just three days before the expedition began. "I wanted to do the walk … it's not just myself I have to think about now," she says.
Turia, who is now 15 weeks pregnant, says she's not taking her pregnancy for granted. Doctors expect she will have no difficulty carrying the baby, despite the trauma to her body from the accident.
"It makes me stoked I'm still here. Not every woman in the world gets to experience this and I get to with my best friend, my partner," she says. And she reveals that she thinks her fiance Michael will nail the whole dad thing. "He had to look after me for years, and he was so patient, so caring," she says. "I think those qualities, especially in a parent, are really desirable."
Michael says he can't wait for this next chapter in their lives. "Turia told me she's the happiest she's ever been." "We've been through something pretty traumatic, and we're past that stage now. I reckon this will be more fun."
The couple's baby is due in December, 2017. From the bottom of our hearts, we wish them the very best.
Don't miss any celebrity baby and pregnancy news, sign up to our weekly newsletter.