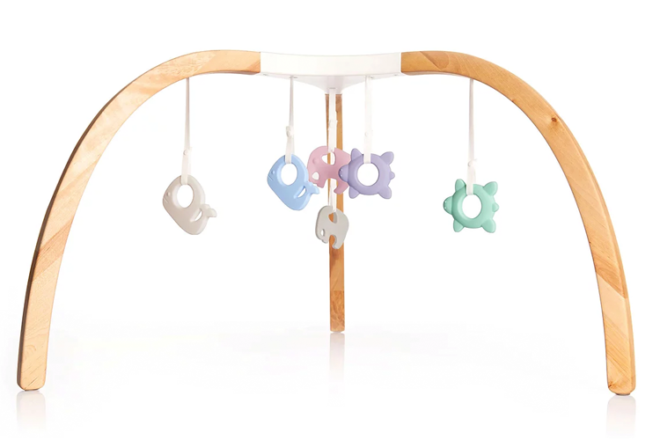 Welcome to the future of baby toys – a carefully crafted interactive mobile that delivers the best of both worlds. Designer good looks that modern parents crave, wrapped in a learning tool for little ones from their very first days.
The MioPlay Interactive Mobile has a generous serve of substance with style, all directed at encouraging and stimulating early learning of four key developmental milestones during the first months of baby's life: visual stimulation, motor skills, teething and cognition.
Designed in Australia in conjunction with a behavioural neuroscientist, the MioPlay Interactive Mobile ticks all the boxes for a well designed, educational and quality investment.
Visual stimulation (0-3 months)

During the first three months of life, newborns demonstrate involuntary arm movements and reflexes, and the low hanging toys on the MioPlay mobile are set at the right height to be gently swayed by those adorably chubby little arms.
The colours of the hanging toys are deliberately muted, avoiding overstimulation and creating the perfect calming zone for peaceful play.
Build motor skills (2-4 months)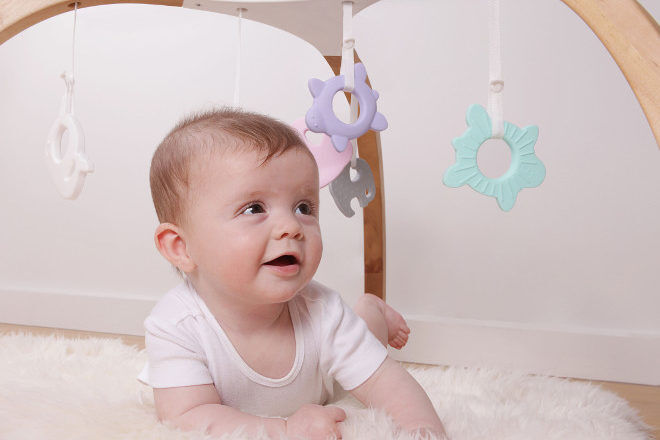 Between the ages of two and four months, babies' hand-eye coordination takes a giant leap, and the MioPlay mobile provides plenty of opportunities to build and practice finger dexterity as they grab at what they see and want.
Teething (4-6 months)

At four and six months of ages, babies typically begin mouthing everything within reach – and that's where the MioPlay mobile opens a whole new world of sensory exploration.
The silicone toys have plenty of bumps and grooves to stimulate the newly formed nerve endings in the mouth, while at the same time soothing any sore gums. And if bub happens to take a liking to one of the six adorable characters – they're easily unclipped for play on the run.
Cognition

The free-swinging toys are not only a visual feast, they're an early introduction to cause and effect – if you push the toy it will swing. Consider it baby's first lesson in physics!
Made from the highest grade solid birch wood and non-toxic food grade silicone, the mobile and all its parts are free from BPA, PVC and Phthalates. Easily assembled and flat packed for storage when not in use.
Available online from MioPlay ($265), and take advantage of the free shipping offer (limited time only).