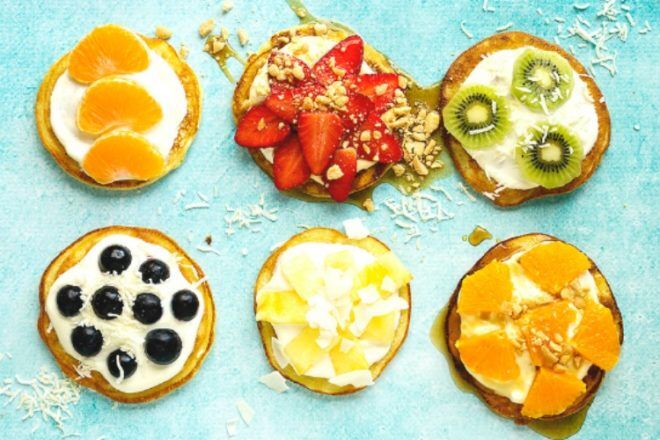 Fun, fruity and filling, these easy pancakes are always a hit with kids both big and small (okay … and adults too). Whip up a healthy brekkie in minutes with this simple pancake method from Kids Eat by Shanai, that won't have you rushing to the shops for ingredients. Everything you need is most likely already in your pantry and fridge, ready to go!
The recipe makes 12 pancakes but you can easily double it and freeze some pancakes for another day.
Ingredients
1 cup flour (plain for thin, self-raising for fluffy)
1 cup milk (cow's, almond, soy all work)
1 egg
Natural yoghurt for topping
A selection of fruit for topping (some of our favourites are mandarins, strawberries, kiwi fruit and oranges)
Method
1. Whisk together the flour, milk and egg.  You can use a food processor or whisk by hand.
2. If you're not in a rush, let the mixture sit in the fridge for 30 minutes. If you have hungry kids, skip this step.
3. Add a little oil or butter to a frypan over med-high heat and add tbsp of mixture, then flip pancake when the top starts to bubble. Cook for a further minute on the other side, then it's done.
4. Top pancakes with a spoonful of yoghurt, sliced fruit, maple syrup, granola, coconut or whatever you have on hand!
1 egg + 1 cup of flour + 1 cup of milk = easy pancakes that are a yummy way to start the day. Try them and send the kiddies off to school with a belly full of goodness!
---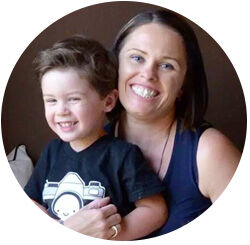 Kids Eat by Shanai
Mum of two beautiful kids, Shanai is a whizz at whipping up fun, fabulously tasty and quick-as-a-flash meals for babies, toddlers and young kids, with a flair for pleasing fussy eaters.
Visit Kids Eat by Shanai for more healthy recipes.