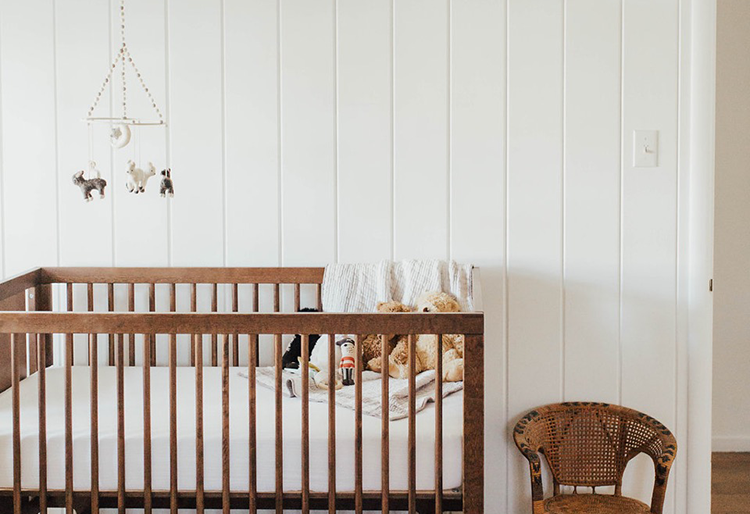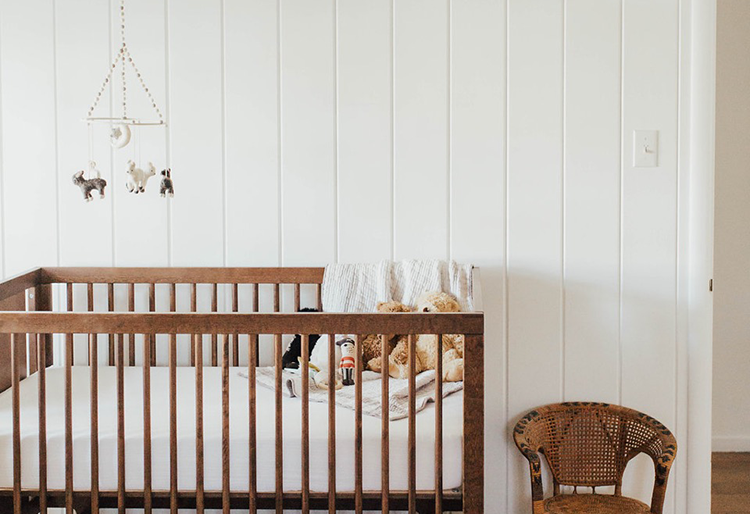 Natural, simple, pared back. It's a decorating style that's catching on as an antidote to our super-busy lives and one that's made for the nursery. If you want to create a nursery with a sense of calm for baby, keep it simple with a range of natural materials.
Nursery furniture and decor items crafted from wood, wool, and rattan are all widely available in the shops. When mixed with a neutral colour pallet of whites, browns and soft grays it creates a wonderfully calming space, perfect for settling tired little bubs.
Here are some beautiful natural nursery rooms to inspire you, along with some suggestions if you'd like to create a similar feel.
Shop the natural look …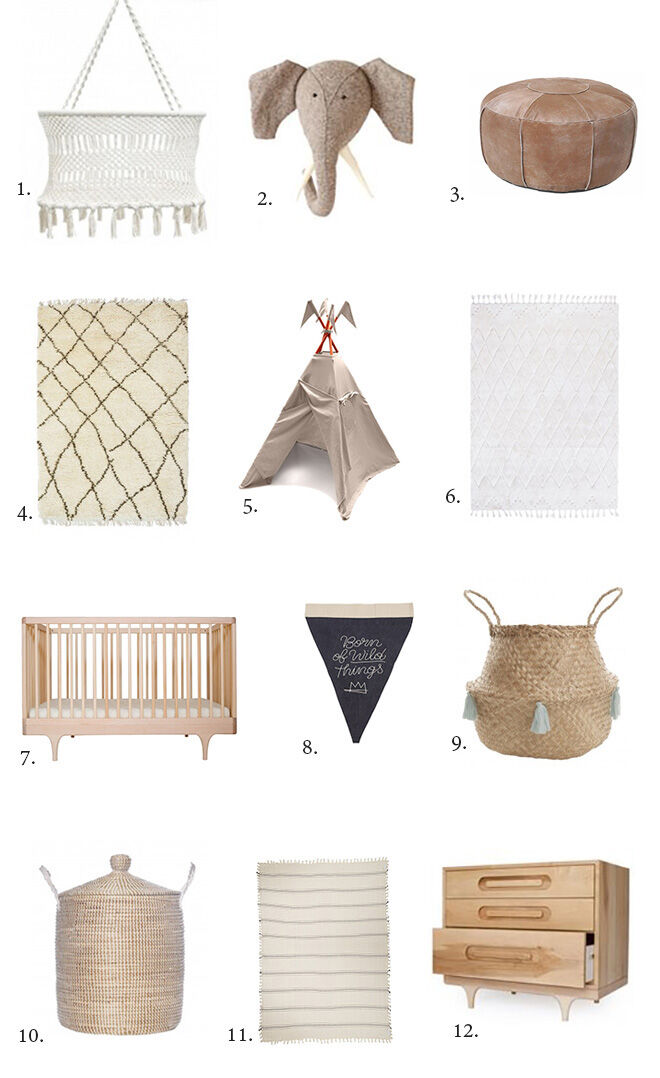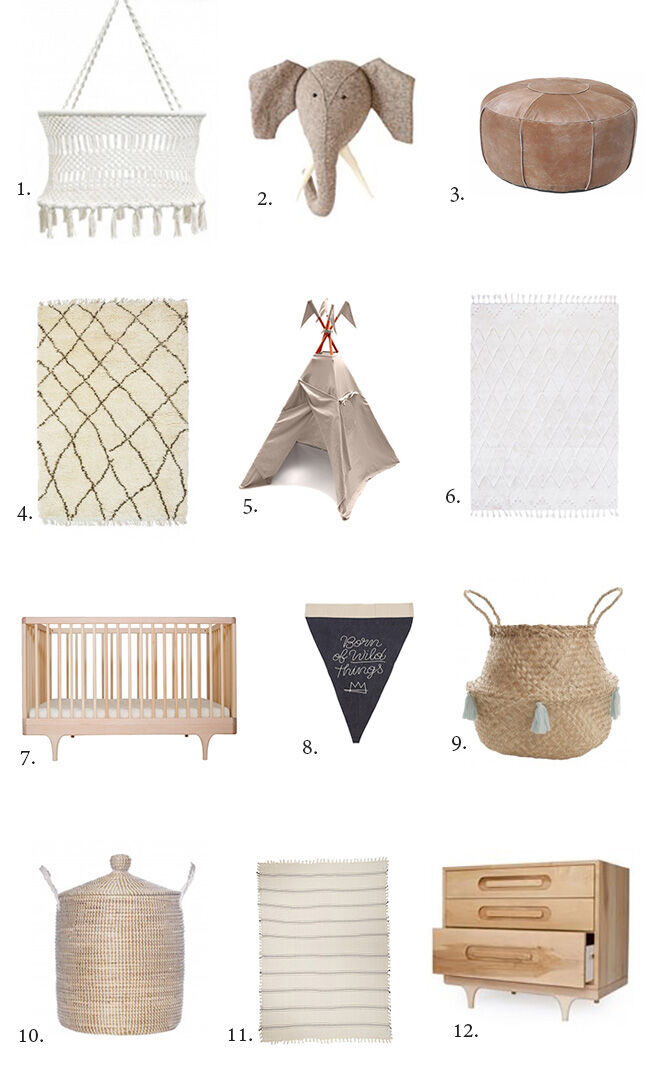 1.   Olli Ella Macrame hanging bassinet – from Nursery Design ($445.50)
2.  Fiona Walker Felt elephant head  – from Leo & Bella ($190)
3.  HK Living Brown rustic leather pouf – from Twig and Moss – Was $425 Now $250
4.  Olli Ella Beni Moroccan rug – from Olli Ella ($699)
5.  Numero 74 Teepee – from Leo & Bella ($308)
6.  Olli Ella Etched Berber rug – from Olli Ella ($699)
7.  Kalon Studios Caravan cot– from Kido Store ($1495)
8. Pony Rider Born of Wild Things flag – Pony Rider ($119)
9. Olli Ella Grey tasselled belly basket – from Olli Ella ($55)
10. Olli Ella Large Neutra basket – from Olli Ella ($160)
11.  Pony Rider The Craftsman throw – from Pony Rider ($149)
12. Kalon Studios Caravan dresser – from Kido Store ($2295)
---
Natural nursery inspiration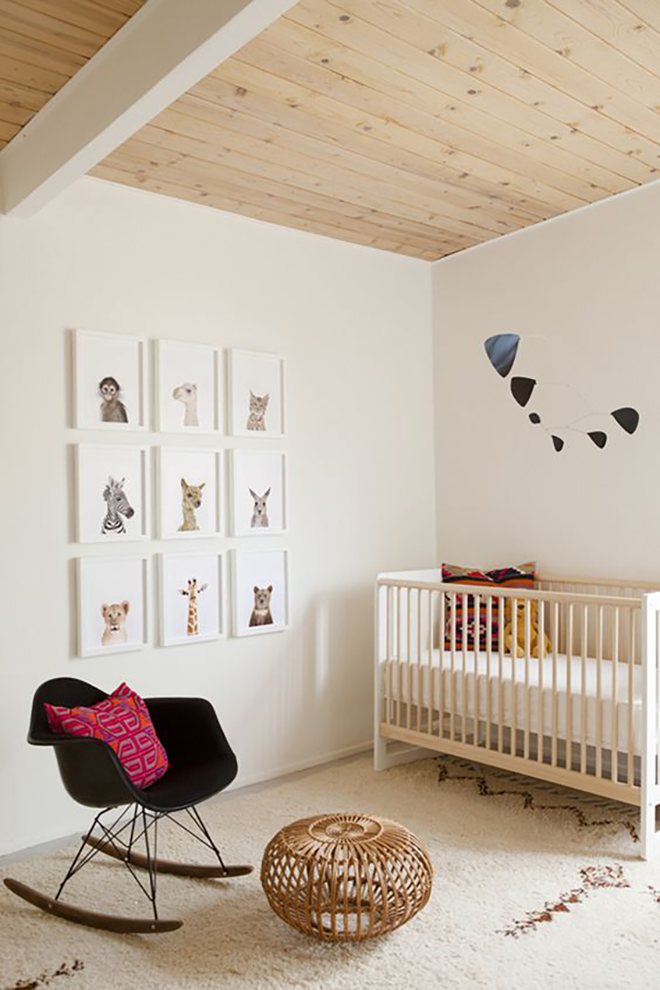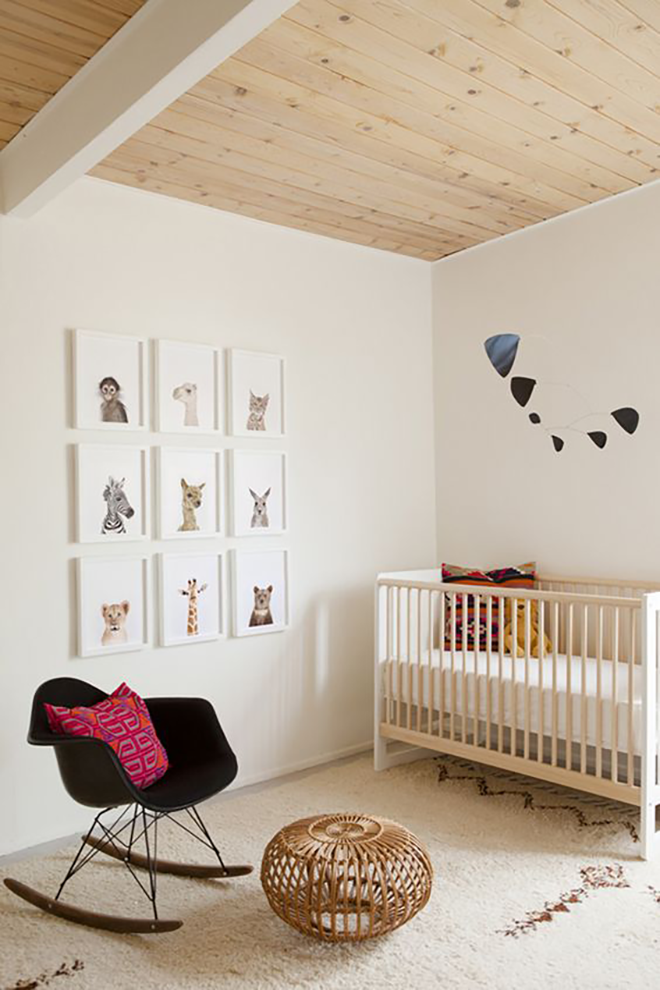 As your baby grows, introduce pops of colour easily into the natural nursery with accessories. The image above from The Animal Print Shop shows how adding just a few bright cushions and a coloured mobile can subtly change the feel of the room.
Layered textures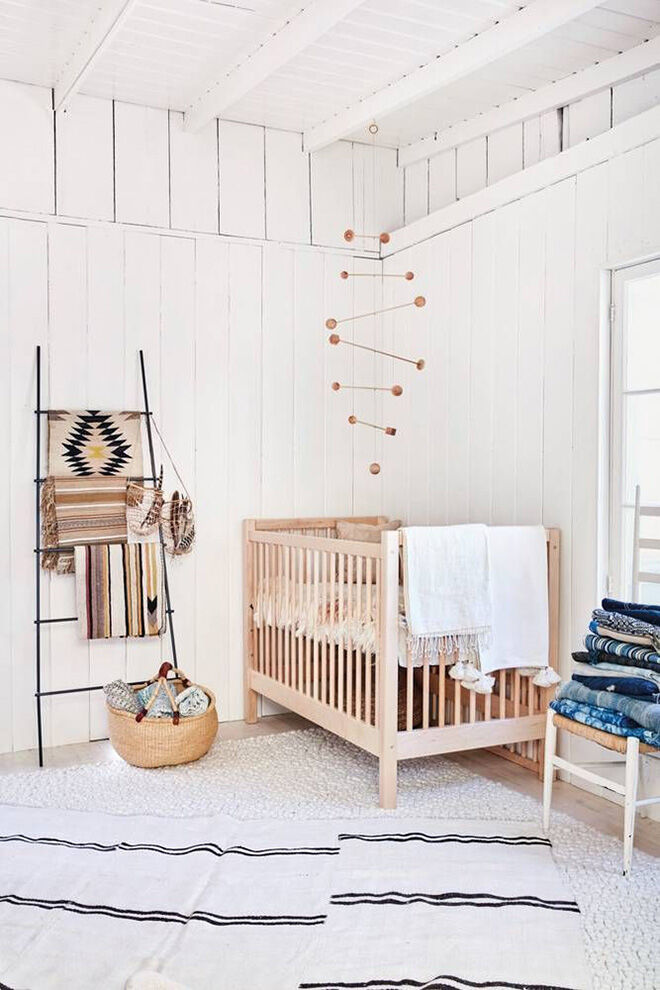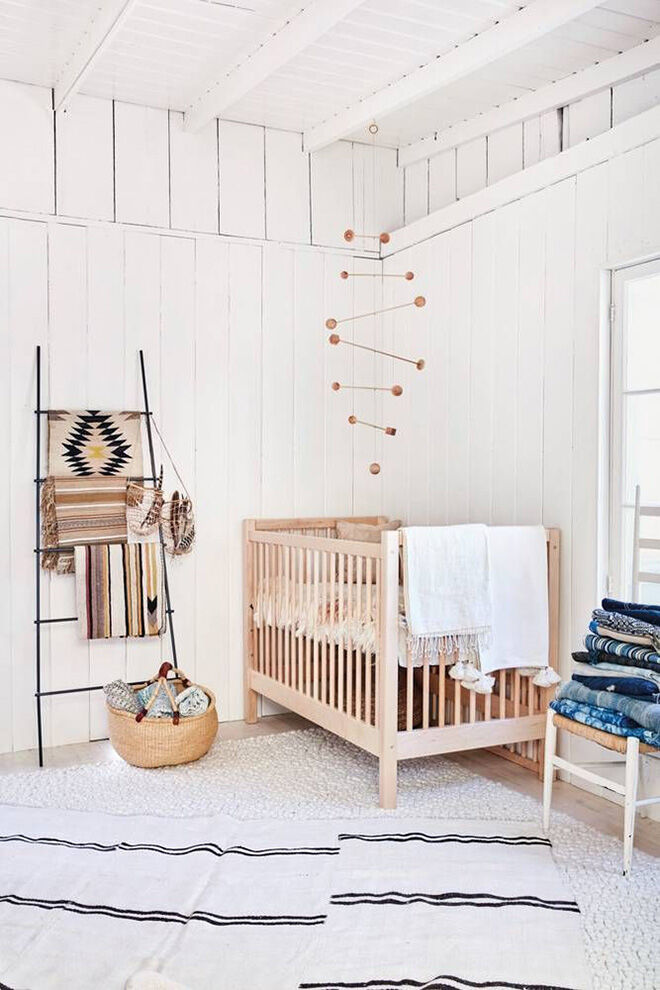 Layering textures make a room look comforting and warm and this lovely natural nursery featured on Domino is a good example of how that works.
Mixing natural shades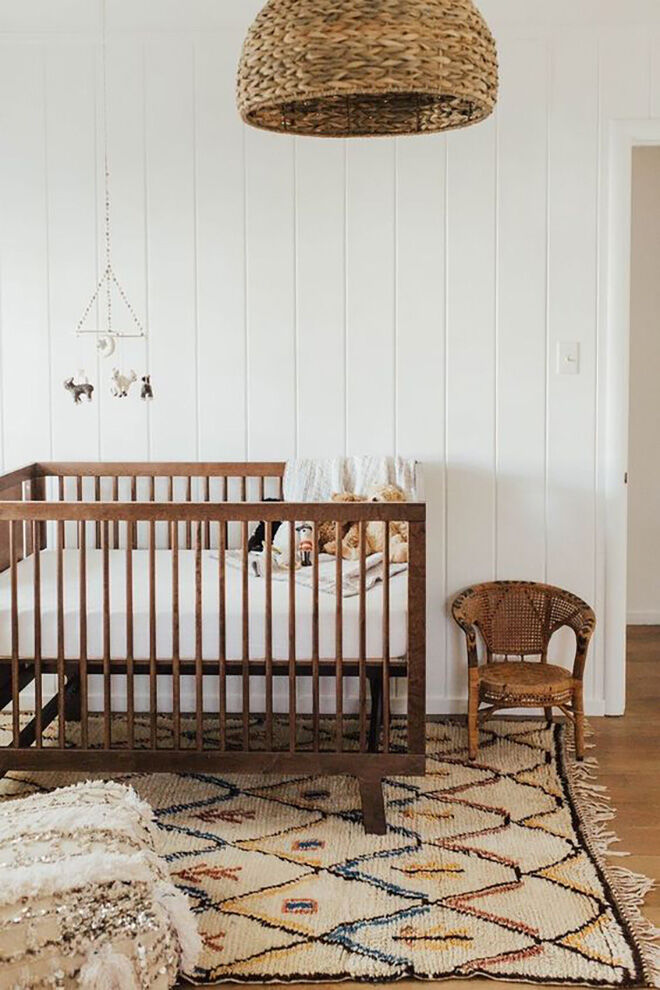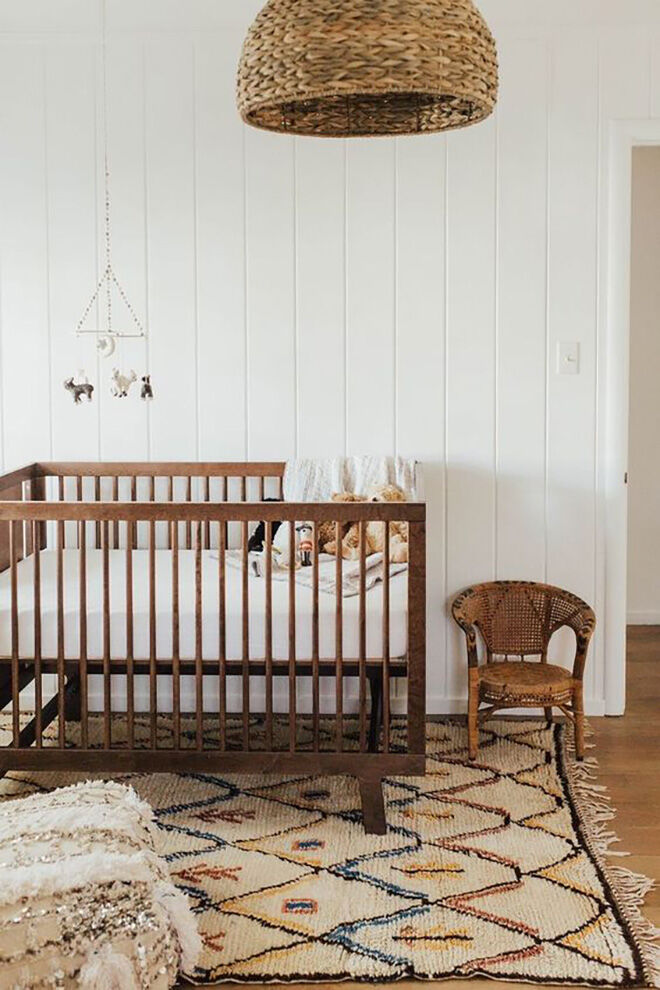 Mixing different shades of natural materials in a room lends a warm, inviting feel to the space. This nursery from Cheetah Is The New Black shows how to make it work.
A bassinet is the perfect starting point for a nursery design, and we've found a stunning selection of rattan bassinets that will add the requisite earthy feel to baby's space.