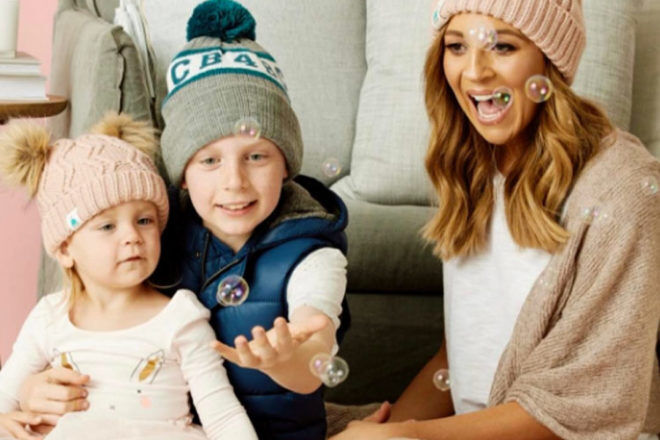 Sweet snaps of baby bumps, adorable little ones and blissful family time – if you're a celebrity stalker on Insta, then these are the images that are probably glittering up your newsfeed.
If you're not one to follow the famous (it's easy to lose track), never fear – we've rounded up a list of the latest adventures of our fave celebrity parents for you to zone out to. Enjoy some much deserved celebrity gossip with these candid photos of pregnant mums, proud celebrity parents and celebrity children that are too cute not to share.
Megan Gale
Let's start the list with an Aussie mumma who is rocking her baby bump – Megan Gale. Just chillin' in her undies, Megan may look cool and comfortable as she bakes her second bubba, a sibling for River. But don't be fooled, even supermodel mamas get water retention and heartburn. Plus, if you need another reason to love this down-to-earth Aussie chick, she tells us she snores!
Zoe Foster Blake
Donning the ultimate pregnancy outfit – bare feet and overalls – Zoe looks pretty content basking in the final trimester glow with her cat by her side. Clearly the cat is over the moon too – just look at that expression! Zoe and Hamish are set to welcome their second baby, a sibling for three-year-old Sonny, in the upcoming weeks.
Jules Sebastian
Stylist extraordinaire Jules snapped this ever-so-sweet pic of her singer husband Guy with their two boys Hudson and Archer . The humble morning stroll never looked so hip.
Lauren Brant
Proving that you're never too young to strut the red carpet, ex-High 5er Lauren and newborn bubba Miller joined beau Barry Hall in Melbourne as the former footballer was inducted into the AFL's Hall of Fame. That itty-bitty tux!
Snezana Markoski
Need proof that pregnant mamas can glow? Here it is in this expectant mama shot from so-loved-up Batchelor couple Sam and Snez. The personal trainer posted this shot of his stunning fiancee – complete with I-adore-you-girl caption – and women everywhere melt.
Laura Prepon
The Orange is the New Black star opted for navy as she showcased her baby belly at a premiere event in New York City. Laura and partner, Ben Foster are expecting their first baby very, very soon!
Serena Williams
The tennis great shared a generational photo with her mum and her baby bump (she's expecting a girl!). The beautiful duo are getting in some mother-daughter time before bubba steals the show.
Jaime Pressly
US actress Jaime is set to welcome twins later this year with partner Hamzi Hijazi and recently shared the news on Instagram. Jaime also has a ten-year-old son named Dezi and will be adding two more boys to the household, revealing the gender of her twins in a recent interview.
Bec Judd
Bec and hubby Chris Judd have a problem shared by parents of twins everywhere, it can be hard to tell her Tom and Darcy apart. But she assures us this cutie is Tom.
Jessica Simpson
Jessica Simpson shared a pic of her two blonde cuties and fair to say they look every inch like their glamorous mother, right down to the pout!
Michelle Bridges
Michelle showed off her son's big blue eyes in a cute photo with the caption, "I'm crushed with just one look". Apparently both Axel and Axel's dad (Michelle's partner, Steve Commando Willis) have Mich wrapped around their little fingers. We can't really blame her.
Carrie Bickmore
Carrie's kiddoes are busy helping spread the word about their mum's Beanies for Brain Cancer project. How adorable are Evie and Ollie in these cosy beanies. I want one (a beanie, not a Bickmore child. That would be weird).
Katherine Heigl
Blessed with two beautiful daughters and one cheeky son, Katherine shared a cute video of her littlest, Joshua Jr. trying to steal his dad, musician Josh Kelley's drink. Vodka cranberries all around!
Jamie Oliver
Jamie took some time away from the kitchen to snuggle with his littlest Oliver – River Rocket. River has four older siblings including Daisy Boo, Petal Blossom, Poppy Honey and Buddy Bear.
Chrissy Teigen
It's not a celebrity round-up with outlining the antics of little Luna Legend. Last week Chrissy and John took their budding baseball fan to a Seattle Mariners game (my parents were at this game, but they DID NOT get to meet the players and stand on the field. Of course, they are not as cute as Luna).
That's all the sweet celebrity shots we have for this week but stay tuned as more news is bound to come any day now. We are waiting with bated breath for the first pictures of Beyonce and Jay-Z's twins and will bring them to you as soon as they land.