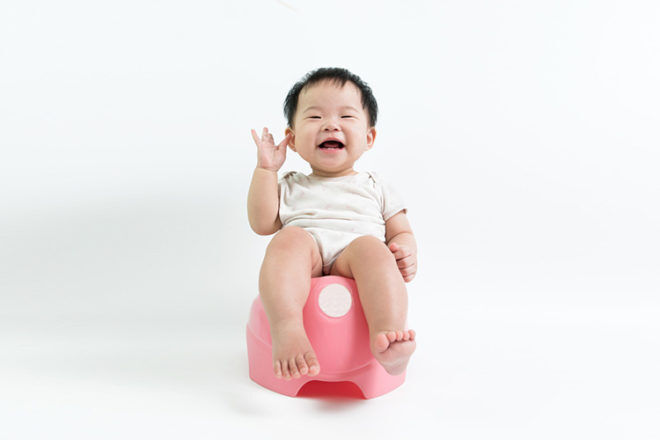 You've got the jumbo pack of toddler underwear (and cleaning supplies), you've informed your child's daycare that yes, toilet training is happening and you've prayed to the potty gods for success. You're officially ready to start the toilet training journey with your toddler.
And what a journey it is! Sure, there will be plenty of bumps and puddles (of wee) along the way, but it's all part of the fun.
Whether you are knee deep in toilet training or are planning to pull out the potty soon, our A to Z guide to starting toilet training will provide you with everything you need to master this messy milestone and flush your way into a nappy-free future.
Let's get ready to POTTY!
A is for accidents
They're going to happen. A lot. You may be one of the lucky mums who will only spend a few days on her hands and knees cleaning up wee. Or you may return to the shops 15 times to buy more underwear after months of accident-cleaning. You never know until you start.
B is for Brolly Sheets
Brolly Sheets (from $24.95) mattress protectors fit over your sheets and are pretty much your nap and nighttime saviour when going nappy-free. Grab two so you always have a dry one ready in case of middle-of-the-night accidents.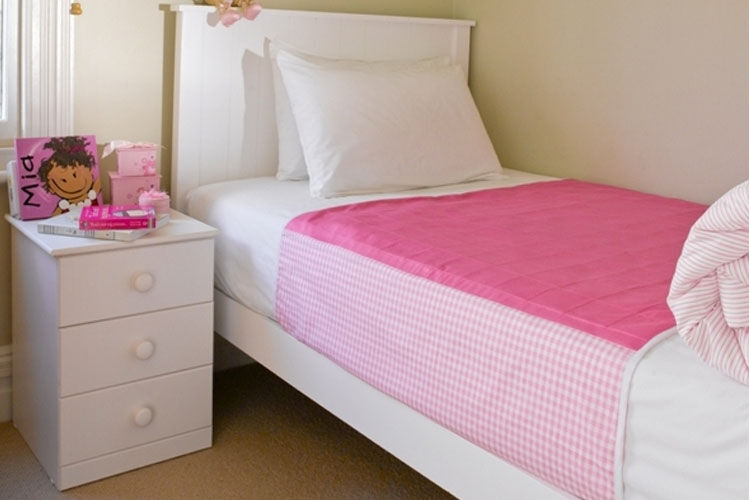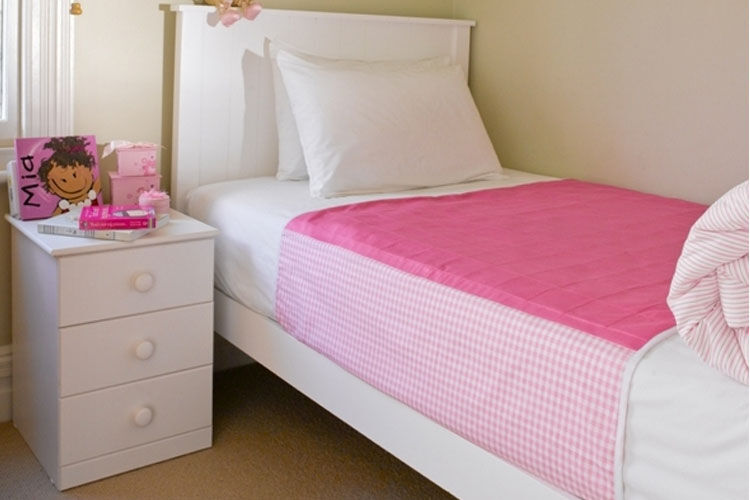 C is for comfort and confidence
Your little one needs to feel confident with your decision to say goodbye to nappies and to step out of their mini comfort zone. Choose a potty seat that is comfortable to sit on (for hours on end) and that they can feel confident using.
D is for decisions, decisions, decisions
Portable potties can make the transition from nappy to toilet a lot easier because they are pint-sized and perfect for little bums.
There are countless potties on the market including ones you can carry, ones that sing, ones that chat and even ones that come with a crown. Have a look at our round-up of personal potties, from cheap options to royal thrones fit for a pooping prince or princess.
E is for Everybody Poops
One of the many books you will probably read and re-read in hopes that literature holds the key to potty training success. Check out these other page turning potty books to lure your little one to the loo.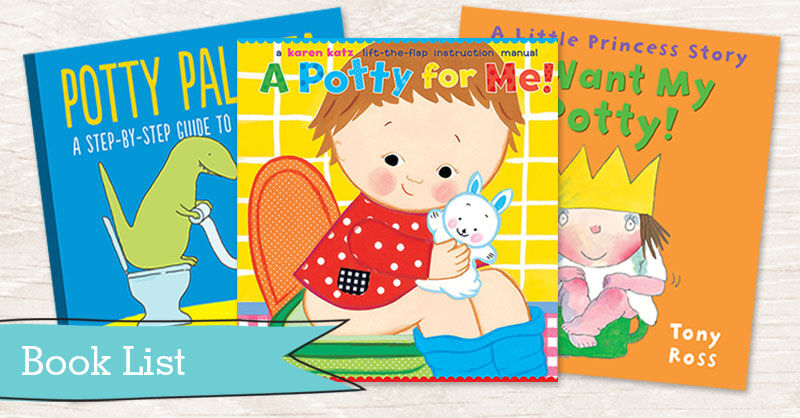 F is for fire truck
Okay, it's not. It's for another word that starts with F and ends in UCK. And it's probably a word you will be muttering under your breath many times.
G is for glorify
Never will you be more excited, more proud and more ready to break out in song and dance (and break out the champers) than when your child does their first wee on the potty. Shower them in praise. Give them a prize. Share the feat on social media. It's a big deal!
H is for hide
Many toddlers will actively seek out a hidden area in the house when they need to have a poop. If you notice your little one does this, then suggest he 'hides' in the toilet the next time he needs to poo. Then at least he's in the right area.
I is for "I peed"
It's a phrase you will be hearing a lot, usually followed by "in my pants", "on the floor" or "in my bed". Once they've mastered going to the toilet, you can expect the follow-up phrase to be something like, "I'm finished. Come and wipe my bum". We mums get all the lucky jobs.
J is for jitters
Some children are terrified of the toilet. Why? Because toilets swallow up our excrement like poo-eating porcelain monsters. Squash these concerns with plenty of assurance, praise and hours spent sitting by his side, promising him the toilet won't eat him up.
K is for knickers
Buy cheap. Buy bulk. Buy on sale. You can also opt for training pants, which act as the middle man between nappies and big boy or girl undies. They are especially perfect for kiddies who are nappy-free but not ready for public outings or car rides without a bit of protection.
L is for learning
Using a potty is a learning experience for both of you. But you can make it fun through different toilet training aids. Things like stickers, reward charts and potty punch-cards (below)  should do the trick!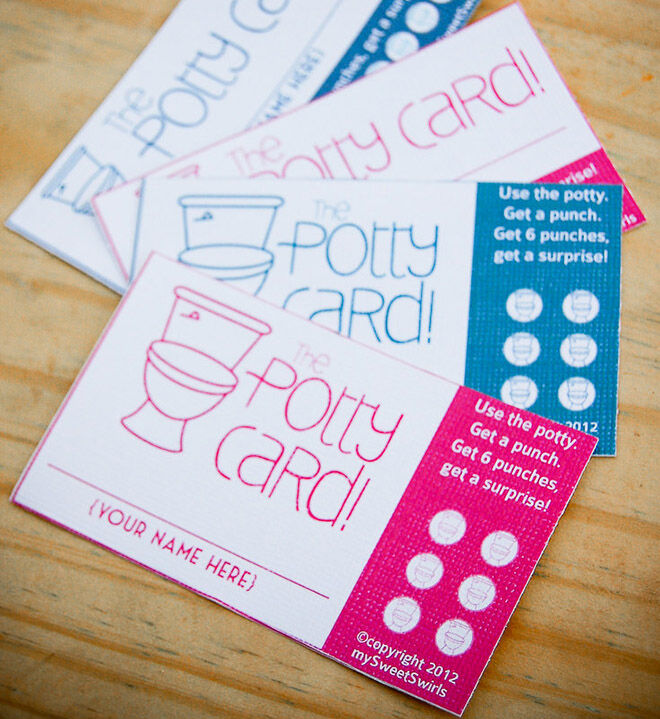 M is for mop
Your new best friend.  It's also a good idea to get to know disinfectant and Chux as well. These three things will pretty much be your potty training posse. And you will be spending A LOT of time together.
N is for nappies
The end is nigh for nappies … but you may want to keep a few on hand, just in case. While you're in the baby aisle, it's a good idea to also grab some more wipes. A package of wipes in your bag can make potty training on the go (and clean-ups that arise) so much quicker and easier.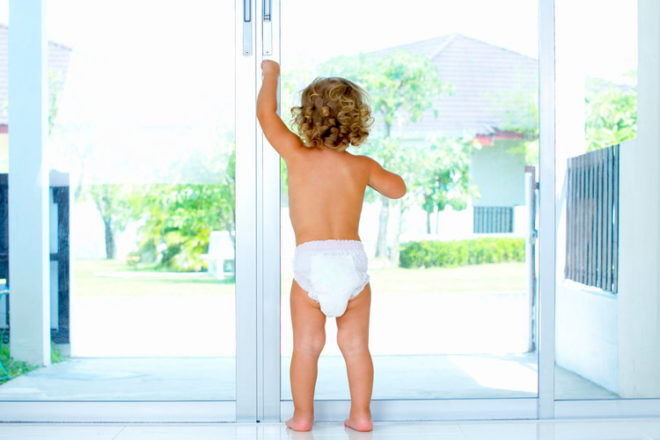 O is for outing
Prepare for accidents on the road by always carrying extra clothes and a bag to hold wet garments. Or, skip the possibility of a cleanup in aisle two and buy online this week.
P is for patience
You're going to need A LOT of it. In addition to patience, your little one will require plenty of practice and you can expect to dish out a lot of praise. And, while you're dishing out the goods, you might as well pour yourself a glass of pinot grigio too. You know, for positive reinforcement.
Q is for question
Repeat after me: Do you have to wee? It's a question you will probably ask A LOT. We're talking like 30 times a day at the start. You may want to switch it up a bit – Is it time to pee? Are you ready to sit on the toilet? Want to poo on the loo? The list goes on.
R is for reward
Get the bribe right and you're halfway there. Some parents opt for stickers, others for money. We stuck to chocolate. One piece of chocolate for him. Seventeen pieces for me.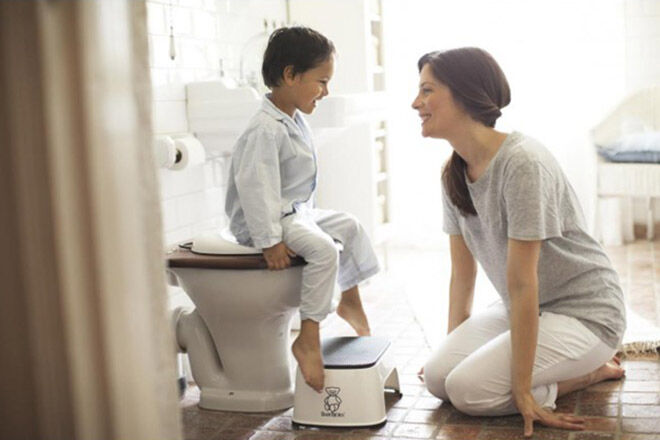 S is for stool
No, not that kind of stool! We're talking about a little step stool (or a step ladder) that can make getting up and down from the toilet easier for little ones.
T is for timing
Your child needs to be ready. If it's been a few months and she is still not getting it, take a step back and try again in a few weeks. Pushing the potty too soon can lead to a lot of unwanted stress on both your ends.
U is for urinal practice
Boys get plenty of it. But actually managing to hit the target is something most boys (and men) cannot seem to master. EVER. Urine pretty much becomes your new decoration theme, all over the walls, the floors, even the ceiling if you have boys.
V is for vehicle protection
Kids have a thing about peeing while on the go. Protect and prepare with Bambella Designs car seat protectors ($35) which catch the mess and keep the car seat stain-free.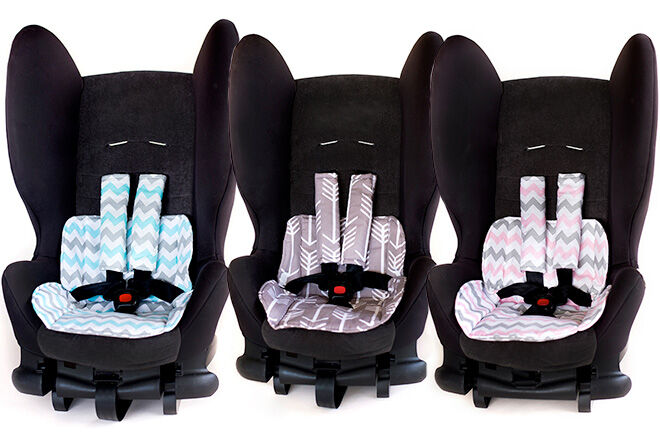 W is for wet feet
Put the socks and sneakers away. They are simply another two items that you will have to wash when accidents happen. Swap to crocs for the training process. They are easy to slip off, clean and return to their feet.
X is for x-ray vision
This is essential for all parents who are starting to potty train. Why? Because it's pretty much the only reliable thing that will tell you if a toddlr-sized bladder is full. Relying on your child to tell you is pretty iffy.
Y is for yuck
Let's be honest for a minute – there will be a lot of yucky clean-ups when you first start to toilet train your toddler. You are going to need an iron stomach and probably a strong sense of humour (and perhaps a strong drink) to get through those nappy-free poo-explosion days.
Z is for zeal
You need determination and gusto to make it through potty training without buckling. Some days, you may feel like you're the only mum struggling, that everyone else's child can wee on command, that you should just give up and give into a lifetime of changing nappies.
Trust me, we've all been there. We've all done it. And we've all binned a few pairs of cheap bulk undies along the way. Keep your chin up, your head down and your eye on the prize – a toddler that can wee by themselves and a bag that does not contain a single nappy!
Have a look at our other toilet training articles.