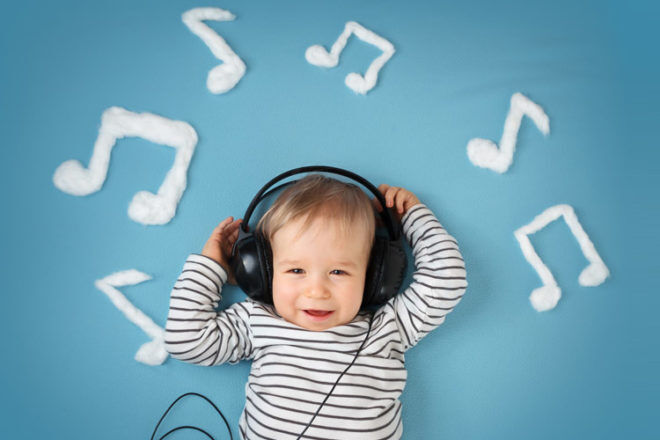 Looking for a baby name that beats to the sound of its own drum? These musical baby names inspired by modern hits and recent chart-toppers bring a whole new tune to the baby name game.
Since the beginning of music, great musicians have immortalised names in songs. The Beatles, The Rolling Stones, Eric Clapton, The Kinks, Michael Jackson and others gave us Jude, Jack, Sally, Lucy, Ruby, Eleanor, Susie, Angie, Johnny, Layla, Lola, Maggie, Rhiannon and Billie.
But what about some more modern favourites – the songs that get stuck your head as you drive to the delivery suite, the ones we Shazam for later? Let us introduce you to a whole new generation of edgy and adorable song inspired baby names.
Pop goes the baby name
Ronan: Who doesn't love a good TSwift tune? 'Ronan' is one of her many hits and the name, Ronan, is an Irish classic.
Lukas: Torn on what to call your little man? Take a page out of Natalie Imbruglia's playlist with "Lukas", the title of one of her lesser-known songs.
Olivia:  One Direction's "Olivia" comes with the traditional Beatles' flavour. It may just be one of the reasons why Olivia reigns so popular for today's generation.
Delilah: The name that launched a million iTunes downloads, Plain White T's, "Hey There Delilah" is still a beautiful song to inspire your baby's name.
Alice: – What's old is new again, like the name, Alice, which comes with that vintage edge to it. Moby liked it so much, he used it for a song title.
Arabella:  – The quirky Arctic Monkeys have topped the charts with a number of hits. While Arabella remains one of their less-likely songs, the name Arabella certainly tops the charts for sweetness. It also happens to mean "beautiful, loveable, graceful" – what more can you ask for in a name?
Taylor: – A more mellow tune, "Taylor" is a beautiful ballad from the ocean-loving Jack Johnson. You can almost hear the waves in the background when rolling this musical baby name off your tongue.
Jeremy: Pay homage to 90s legends, Pearl Jam with Jeremy, a name that's not only a popular Pearl Jam song, but one with strong biblical connotations.
Cleopatra: – From biblical to historical, Cleo is not only cool, quirky and deep in historical roots, but it also inspired the catchy tune, "Cleopatra" from The Lumineers.
Ophelia:– Ophelia is another sweet musical baby name from a Lumineers tune and the perfect choice for all musically inclined literary buffs out there. After all, before The Lumineers used Ophelia for a song title, Shakespeare selected the Greek name for the heroine in his play Hamlet.
Georgia: Who doesn't love a good Vance Joy song? His song, "Georgia" is one of the best. The "elegant and bold" name is proving equally as popular, currently sitting at #28 on the top baby names of 2017.
Mykel: Sure, "Buddy Holly" is one of Weezer's best, but don't forget "Mykel", another one of their hits that doubles as a cute song inspired baby name.
Nina: Ed Sheeran's song, "Nina", oozes with that spunky Sheeran sound. The name, which means "pretty eyes", maybe the "Perfect" name for the newest addition to your "A Team". (We're just "Thinking out Loud" here).
Stevie: Kasabian's "Stevie" is original, to say the least. And the name, Stevie is edgy and etched in rock-n-roll history thanks to Stevie Nicks.
Alfie: Lily Allen fans will be familiar with her quirky tune, "Alfie" named for her brother, Game of Thrones actor Alfie Allen (who plays Theon Greyjoy for any GoT fans out there).
Charlie: Lighting up the stage (and our hearts) with their original sound, Coldplay is the band behind "Charlie Brown". Sure, Charlie Brown may conjure images of The Peanuts gang, but the name Charlie, on its own, is a definite hit.
Elias: If you're a fan of Dispatch, then this musical baby name may strike a chord with you. It's also the name Canadian crooner Michael Buble selected for his second son.
Edie: The Cult's classic, "Edie (Caio Baby)" may also instil some baby name inspiration. Edie is proving more and more popular, currently #11 in Australia.
Isabel: Just like the name, The Wombats' song, "Isabel" has a soulful and sweet ring to it.