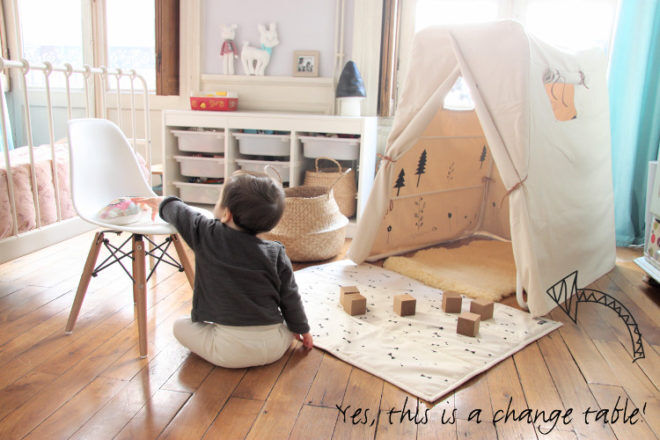 A change table that morphs into a blackboard? What about a changing station that transforms into a play tent or a desk? Prepare for the world's most ingenious, shape shifting convertible change tables to wow you.
These cleverly crafted tables are so much more than just a place to change little bums. Each of these brilliant pieces of nursery furniture has been created to become something you'd never imagine. And they look spectacular in all their guises.
If you love a great double duty built into your kid's furniture, these five convertible change tables will get your creative juices flowing.
BZBX Changing Tower & Tent

If you're going to drop $900 on a changing table, it better be something special! And the BZBX Changing Tower ($899.95) is as unique as they come.  This BudtzBendix creation is everything you expect from a piece of nursery furniture designed by two Danish architects: minimalist, beautiful and with a hint of leather.
Once its baby changing days are over, the addition of the BZBX Tower Tent ($359.95) gives it a whimsical makeover. It's anything but a sheet draped over a structure – this stunner is adorned with the artwork of French illustrator Audrey Jeanne. Breathtaking.
Hugs Factory Kensington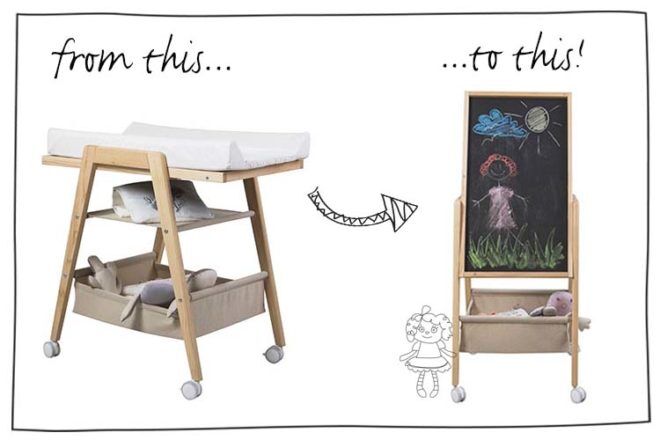 A simple stunner, the Hugs Factory Kensington ($735) isn't just a pretty face. The ultimate change station, with oodles of storage and wheels, it will become a much-loved addition to the play room later on. It transforms into a blackboard (which is included in the price), and that storage will continue to come in handy!
Stokke Care Changing Table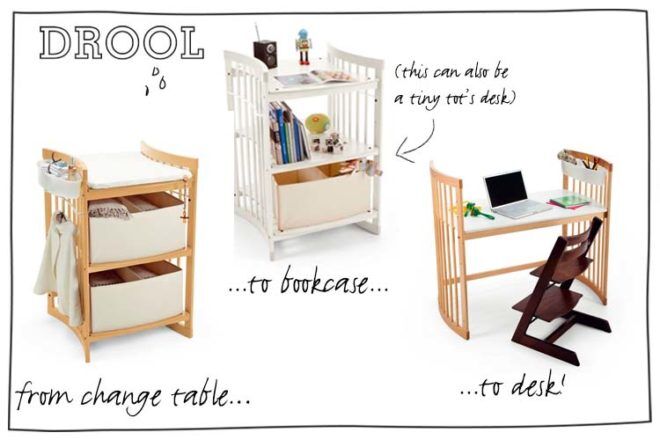 The ultimate transformer, the Stokke Care Changing Table ($1079) converts into a bookcase and a desk – amazing! As a change table, it's a back saver thanks to the height. Then just remove the pad and it's a sublime bookcase. Add the Desk Kit ($329) and your toddler has their first desk. Very clever.
Hugs Factory Broadway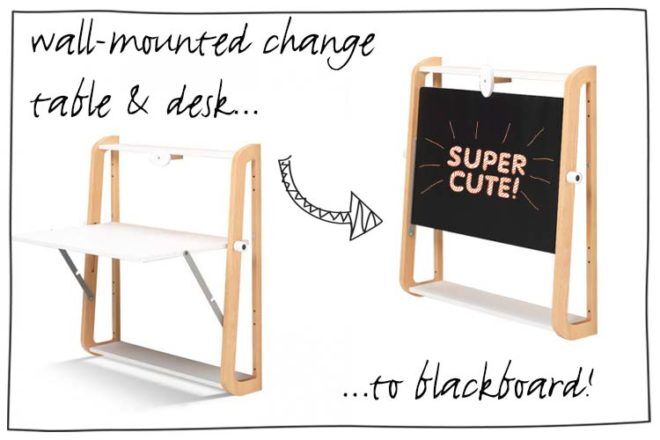 The beautiful changer doesn't just earn its keep from being doubly useful, it also happens to be a space saver. The Hugs Factory Broadway ($900) is a wall-mountable change table, perfect for tight nurseries. Later, mount it lower on the wall to make a nifty first desk for little ones. Finally, it converts into a blackboard – we're in love!
Leander Change Table
This Leander Change Table ($1099) is so smart it makes our heads spin! It's one of the most beautifully crafted curved changers you're likely to see, and it happens to convert into something adults can use as well. Just remove the shelf, set the desk height and you're good to go. It even has discreet cutouts to hide computer cords. The perfect compact, minimalist first desk for a child, or a handy laptop hub for parents.
Want to make sure you have everything you need for these fabulous convertible change tables? Make sure you get a hold of our handy printable change table checklist for all the essentials.