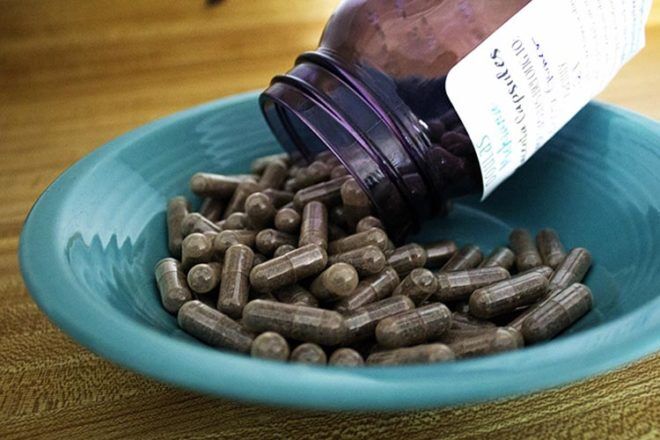 Kim Kardashian did it, so did her sister Kourtney and fellow celeb-mums Alicia Silverstone and Mayim Bialik too. While placenta consumption may be the latest post-birth trend, there's a very good reason you should reconsider.
Popping a placenta pill or downing an afterbirth smoothie promises everything from reducing postnatal depression to boosting breastmilk supply. It's aimed at replenishing a mother's body after the trauma of labour.
But one of the world's leading health protection agencies is warning it could make your baby very sick.
Infected breastmilk
The placenta pill warning comes after a healthy newborn in the US began showing signs of respiratory distress. The baby was rushed to hospital and doctors discovered a potentially deadly blood infection – late-onset group B Streptococcus agalactiae (GBS) bacteremia. The baby spent almost two weeks in hospital, but returned with similar symptoms a week later.
It was eventually discovered that the mother, who was breastfeeding, had been consuming placenta capsules, which tested positive for GBS. She was told to stop, and the baby spent another two weeks on antibiotics.
The US Centres for Disease Control and Prevention (CDC) has since issued an urgent placenta pill warning to new mums, saying the process of placenta encapsulation doesn't "eradicate infectious pathogens; thus, placenta capsule ingestion should be avoided".
"Placenta ingestion has recently been promoted to postpartum women for its physical and psychological benefits, although scientific evidence to support this is lacking," the centre's experts warn.
Placenta encapsulation in Australia
There are no regulations on how a placenta has to be stored and prepared for consumption. Birth Doula and Placenta Specialist Felicity Meisel previously told Mum's Grapevine that women should choose a specialist with experience if they're considering placenta encapsulation.
For more information, check out our comprehensive article on placenta encapsulation.