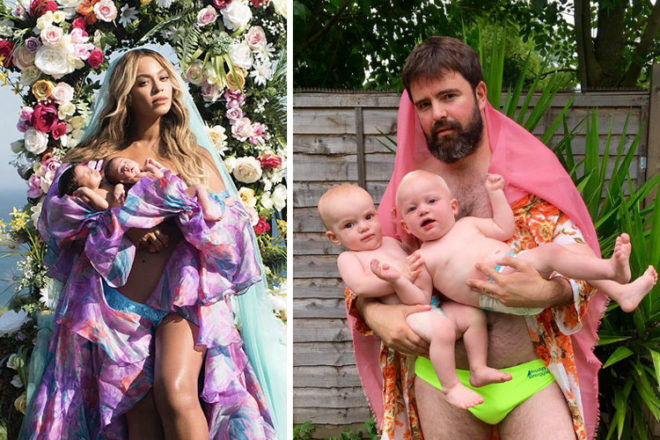 Apparently, having twins isn't all flower arches, designer ruffled robes and really good lighting as parents of multiples all over the world are hilariously revealing.
Ordinary parents are recreating Queen Bey's now-famous first official photo of her twins Sir and Rumi and the results are hilarious. Presenting our favourite Beyonce twin photo parodies.
Keeping it in the family …
Irish mum-of-four Sharon Kellaway wrapped herself in a fleecy owl blanket, donned a veil and awkwardly juggled her five-month-old twins asked her daughter to snap some images.
"I wonder how many photos Beyoncé had to get through to get the right one," Sharon muses on her Facebook post. "My six-year-old took the photos … no qualifications and still did a mighty job." Amen to that.
Elegant twin photo shoot with preschoolers? Gold.
Loving the #Beyoncetwins photo, not so easy when they are 4! #twins #beyonce #SirCarterAndRumi #Rumi #sircarter #myboys #identical #tooheavy pic.twitter.com/4ayH59nsu6

— photopholio (@webpholio) July 15, 2017
Babies are so much easier to work with than preschoolers. Just saying.
How about a double dose of reality?
Very lovely picture of Beyonce and her twins. Here's mine when twins were about same age. Think I nailed it! Haha #Beyoncetwins #twinmummies pic.twitter.com/3i0gMy3yz9

— Lynsey Little (@LynseyLittle4) July 15, 2017
Because #twinlife.
Anything you can do…
Channelling @beyonce Finlay and Murray 1 year old #fabulous #beyoncetwins #daddyisalegend @BudgySmuggler pic.twitter.com/qs3KDW5rh6

— TwentyToes (@20toesuk) July 16, 2017
Budgie smugglers are just as classy as ruffled robes. Totally.
We love these photo parodies, and we also love seeing how the other half (of mums) live! If you want to keep up to date with everything family-related in Tinsel Town, subscribe to our newsletter.