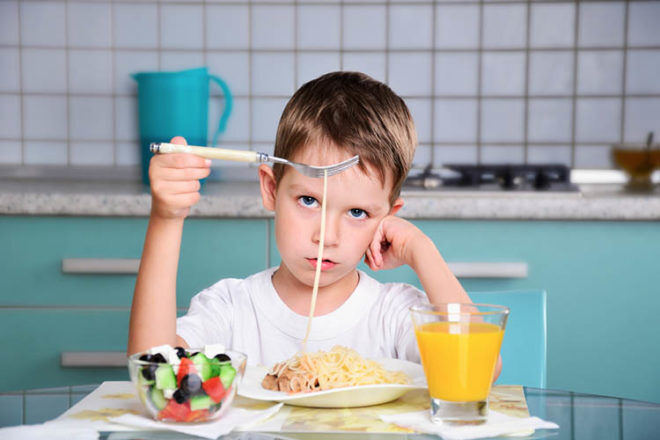 Have a fussy eater at your place? You're in good company. One in five kiddos are fussy eaters at some point. That's one in five parents who know the frustration of making a meal only to have the kids turn up their noses and secretly feed it to the dog.
Here's one solution you don't need to adapt your meal plan, stick to bland cuisine or take classes in Masterchef for Mini Consumers. All you need to do to beat a fussy eater is beef up your branding.
It's in the name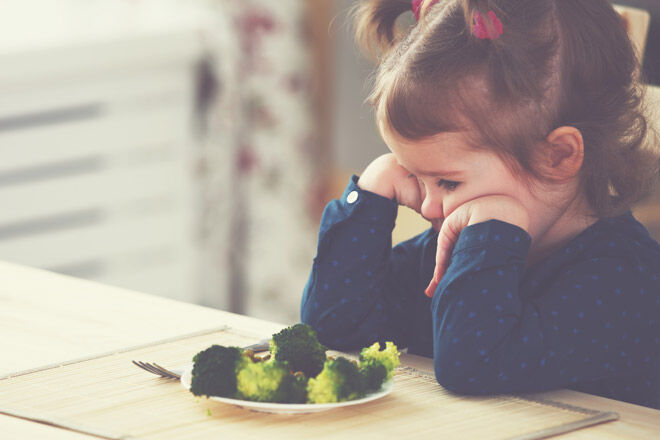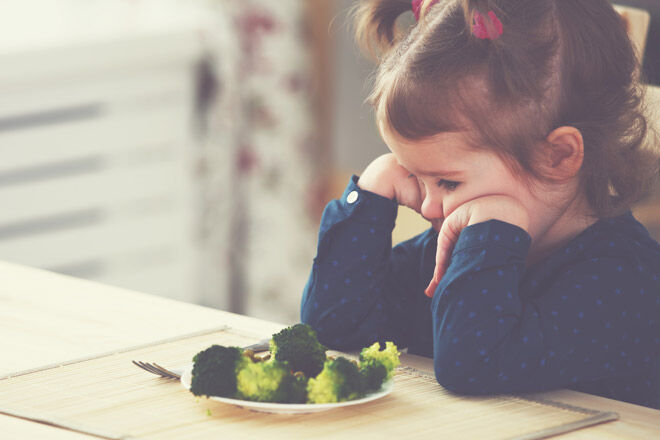 Professional chefs have been doing it for years – spicing up the menu by slapping extra fancy labels on normal foods. A "roast eye fillet on a bed of rosemary and garlic sautéed Dutch Cream potatoes, served with prosciutto-specked baby peas and an onion reduction" sounds  A LOT more appetising than "meat and three veg."
It's time to take this and adapt it for the kids. Rebrand the menu and give regular foods fun names. Naming their dinner something exciting, personal or relatable might just be the key to getting fuss-puss eaters to give new foods a go.
Researchers at Cornell University found that preschoolers ate twice as many carrots when they were called "X-ray vision carrots". Go figure!


Will it work for your fussy eater? Test it out and see!  Here are a few to get you started, including some ideas from our own Mum's Grapevine community:
Little trees (broccoli)
Superhero drink (soup)
Turtle slime (spinach)
Snow puffs (cauliflower)
Monster mash (potato)
Power pellets (peas)
Sally's super sandbo (sandwich)
Dad's Dinner (anything dad-made)
Monster balls (rissoles)
Princess patties (burgers)
Children's Dip (anything mushy)
Rainbow rice (fried rice)
Koala snacks (sultanas)
 Mermaid purses (agnolotti)
Fairy dust (any seasoning)
Fairy dust pasta (cous cous)
Hulk chicken (chicken Kiev)
Baby lettuce (Brussel sprouts)
Dragon fingers (green beans)
Beef Strong (beef stroganoff)
Gruffalo Pie (shepherd's pie)
Dino bones (lamb chops)
Present pasta (ravioli)
Green butter (avocado)
Magic ham (corned beef)
Rain juice (water)
Bangle fish (onion rings)
Zombie dogs (hot dogs)
Cowboy stew (chilli con carne)
Optimus Oats (porridge)
So there you go – adding a fancy name to food or personalising the dish may just hold the secret to empty plates and full bellies at every meal.
Of course, changing the names of popular foods may pose a problem later in life when your child goes out for dinner and looks for little trees and turtle slime on the menu. But, that's an issue for another day…
Take a look on Facebook for more fun food names from our Grapevine community and make sure to add your comments if you have any more to add to the list.