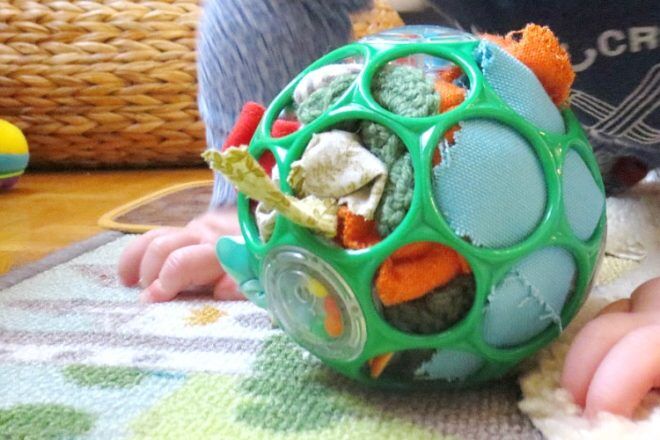 Non-toys make the best toys, especially to a toddler. Pots and pans? Good. Toilet paper rolls? Great. Random bits of fabric and toys stuffed into a ball? Best!
Meet Oball – it's the latest ball to join your baby's treasure chest of toys. OBall is a durable, plastic, easy-to-clean, bendy ball that babies can roll, chase, chew on and bounce. It's a great first toy for infants but also captures the attention of toddlers and even preschoolers.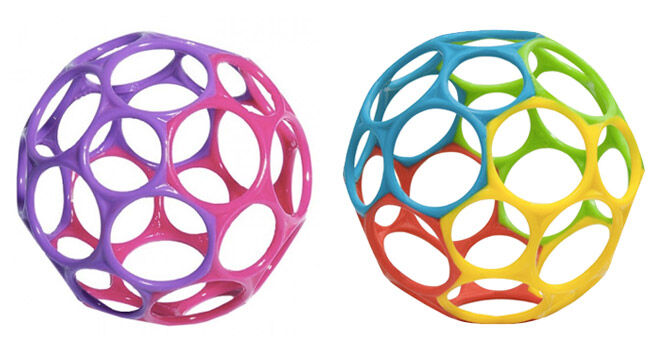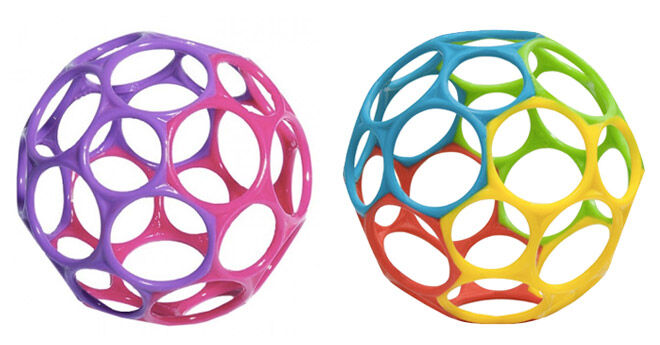 Stuff the Oball
What makes Oball extra awesome is that Oball can be stuffed with a number of different items around the house, providing hours of heuristic play (that's play using every day, non-toy items) for your curious tot. You can even make a game out of it – appropriately called, Stuff the Oball.
All you need to do is stuff the ball with toddler-safe items from around the house – that's things that aren't a choking hazard – and let your wee one attempt to pull each item out of the ball. Genius!
Have a look at the video below to see how it's done.
Oball stuffing ideas
So what do I put inside? We are so glad you asked. Here are a few (of the countless) things you can stuff into your toddler's Oball:
ribbons
scarves
assorted toys
plastic toy cutlery
play food
bath toys
stuffed animals
Duplo people
Matchbox cars
socks
beanbags
dolls' clothing
fabric
hankies
pipe cleaners
teething toys
dummies
Just be sure to choose items that are not considered choking hazards and are suitable for children under the age of three. And always supervise!
If your kids are fans of heuristic play (my kids used to spend HOURS playing with my tampons, of all things), then Stuff the Oball may be the perfect activity to improve their fine motor skills and give you 15 minutes to get those dishes washed (and perhaps even enjoy a cup of tea while it's still semi-warm).
Don't have an Oball? You can pick one up online from Amazon ($24.95).
If you're looking for more activities for toddlers take a peek at our other article with 34 games to tune toddler's fine motor skills.
Image via Little Worlds, Creative Play Ideas