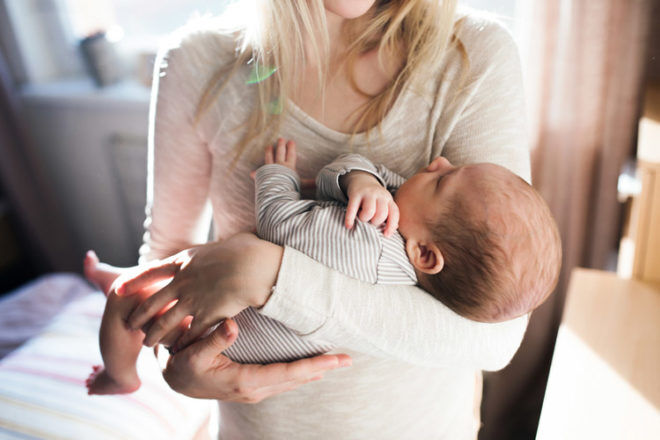 Singing has been used for centuries to help soothe restless babies off to sleep, but that doesn't mean your bedtime songs have to come from ye olden days. It's time to mix it up and rock your baby with some modern tunes.
We asked our Mum's Grapevine community what chart-toppers and classic songs make their bedtime hit lists. Although lullabies like You Are My Sunshine and Baa Baa Black Sheep still get an outing, many children are falling asleep to the sounds of parents channelling Ed, Adele, Fergie and The Beatles instead.
Even if you don't have a voice like an angel or the moves like Jagger, the soothing melody and calming lyrics of rock, reggae and pop hits are sure to help lull your little dreamer to sleep. Whether you are rocking a newborn, cradling a toddler or calming a preschooler, here are the top 25 songs our Mum's Grapeviners use to bring on sleep.


Rock, roll and reggae the kids to sleep
Blackbird – The Beatles
Moonshadow – Cat Stevens
Hallelujah – Jeff Buckley
Here Comes the Sun – The Beatles
Don't Funk With My Heart – Black Eyed Peas
Can't Take My Eyes Off of You – Lauryn Hill
Who Let The Dogs Out – Baha Men
She Will Be Loved – Maroon 5
All My Loving – The Beatles
Don't Want to Miss a Thing – Aerosmith
Isn't She Lovely – Stevie Wonder
Smoke on the Water – Deep Purple
Hello – Adele
Three Little Birds – Bob Marley
Hey Ho – The Lumineers
Tiny Dancer – Elton John
Stay With Me – Sam Smith
Thinking Out Loud – Ed Sheeran
Ob La Di Ob La Da – The Beatles
Nothing Else Matters – Metallica
Georgia – Vance Joy
Rocket Man –  Elton John
Someone Like You – Adele
Fresh Eyes – Andy Grammer
Fast Car – Tracey Chapman
The best thing about straying away from nursery rhymes and into new age music when you're looking for bedtime songs to help babies sleep? You're not only helping to soothe your kids to sleep with sound, but you are also giving them a musical education.
Because every child should know the lyrics to at least one Beatles song! And preferably by the age of three…
Join the conversation
Do you have a favourite pop song that you sing to put your bub to sleep? Let us know about it on Facebook. Click below.
Baby still won't settle? Then take a look at our previous article for more helpful ways to soothe a crying baby.