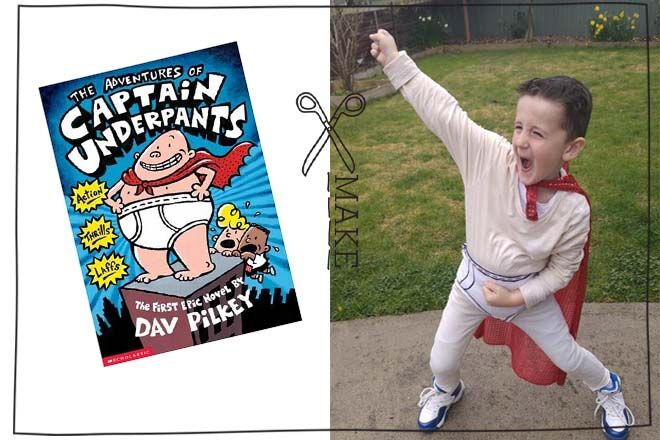 Ah, Book Week – that beautiful time where we celebrate the amazing literary works our children love. It's also a time when many mums are left a quivering mess as they make a last minute dash to Spotlight for Book Week costumes.
Sound like you? Fear not, we're sharing some last-minute, DIY costume magic that you can whip up, mostly with things raided from the kids' craft cupboard.
There are also some great book week costume ideas here if your child has sensory issues or hates dressing up or wearing uncomfortable clothing. Let's get crafty, fellow non-crafty mums!
1. Cotton Tail from Peter Rabbit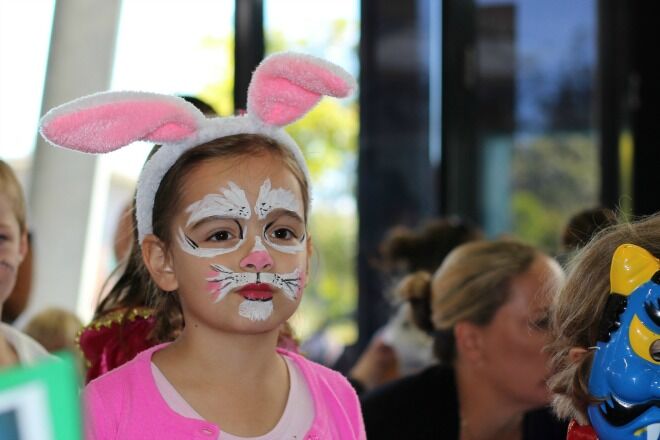 This little beauty is a lot easier than it looks. What really makes this costume is the face paint. Simply Google 'face paint kid's rabbit face' images and you'll find heaps of options. Another reason it's easy is that you can use your own make-up and do your best to copy it.
Just add some tights, a gym or ballet outfit and bunny ears and a basket with carrots with green tops and you're done. And because it's an old classic from Beatrix Potter, your child might score points for originality.
Tip: You'll probably find carrots with green tops in the organic section or a farmer's market.
2. Puff the Magic Dragon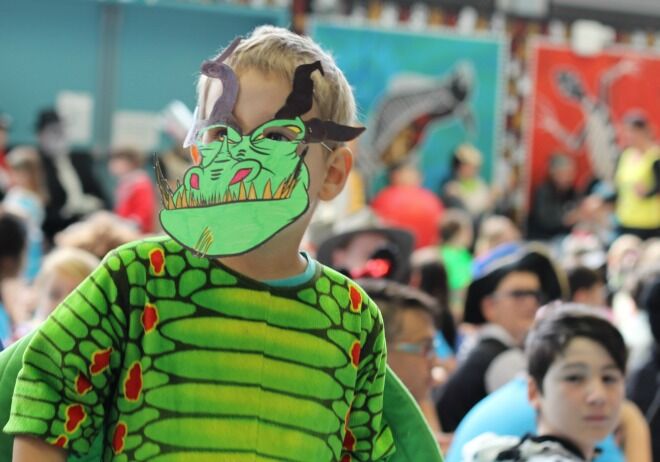 If you've got a dragon or dinosaur dress-up costume tucked away, just add a paper face mask and you're done. You'll find heaps on the web and just print out, stick to a piece of cardboard and colour in. Use elastic to keep it in place. Just adding a mask or hat can work with any dress-up costume you already have at home. Got a princess costume and a tiara? And just like that, you're sorted.
3. Stick Man from Stick Man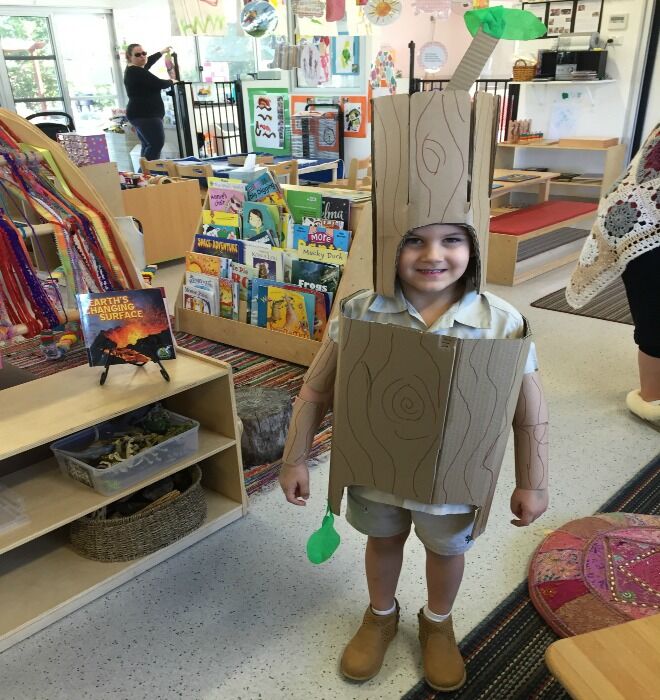 For this just find some cardboard boxes, or buy a packing one from your hardware store, and transform your child into Stick Man. If you've got paper towel or toilet rolls, cut them for arm cuffs and use a marker pen to add lines to the tree. Furthermore, for the leaves use green felt or if you don't want to leave the house cut up a green bag!
Remember: It's probably unlikely your child will be able to sit in this costume because of the stiff cardboard.
4. The Cat in the Hat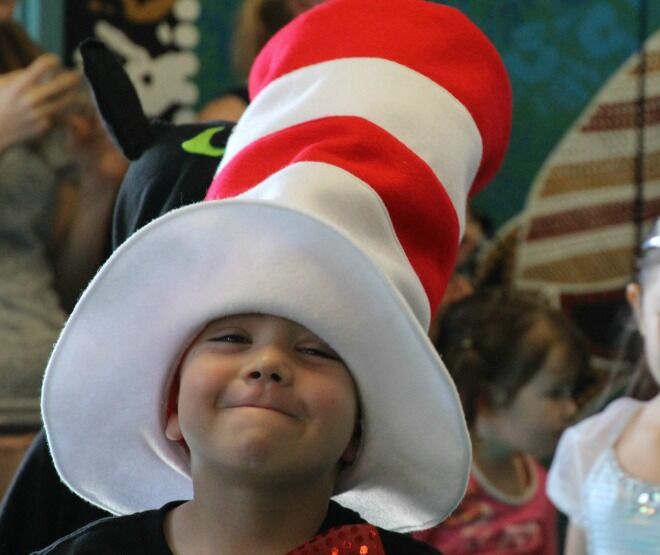 One of the most iconic book week characters is always popular because of its simplicity. The hat makes this costume. If you can't find one to buy, make one out of cardboard and colour it in. For the tail, stuff a pair of black tights or pantyhose and get a big red bow from the cheap shop. Finally, don't forget a big smile!
5. Caption Hook from Peter Pan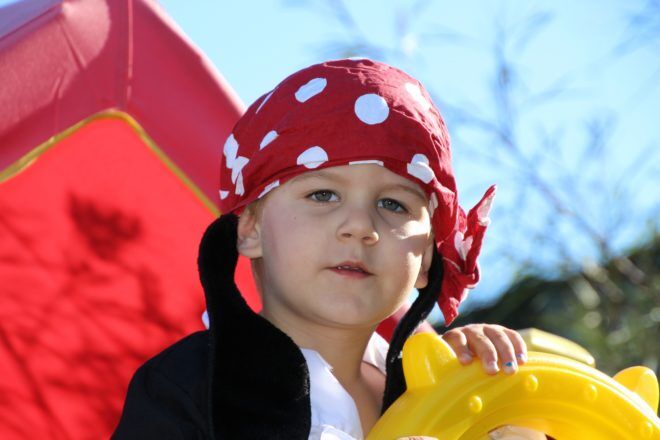 Most cheap shops will have a pirate hat, a bandana and a plastic hook, then simply add a white T-shirt and black shorts and voila. You could probably add a sword but it might get used too much and annoy other kids (and teachers). The best thing about this costume is it's not restrictive and won't cost you a fortune.
Hint: Avoid an eye patch because they're uncomfortable and creates poor visibility for your child.
6. The Rainbow Serpent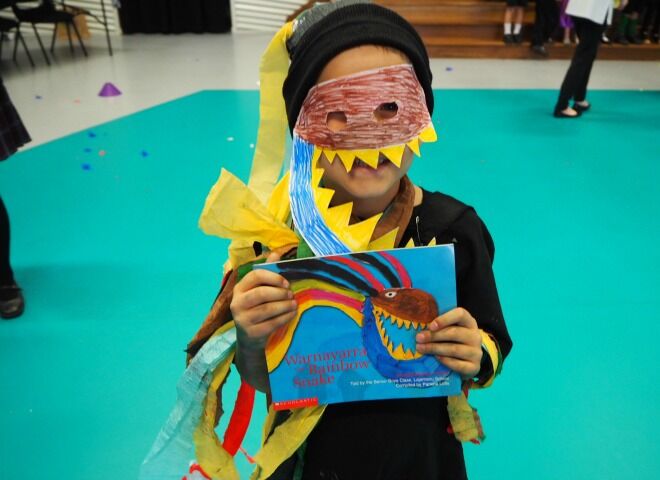 Pick up some crepe paper in a variety of colours and cut into strips and get a stapler or some safety pins and attach them to the back of a black shirt. Make your own mask out of cardboard and get your child to colour it in.
If you've got a black hat or beanie then attach some more crepe paper strips to it. Just be warned that if the crepe paper is too long it might get trodden on or destroyed. Regardless, this costume is cheap and cheerful and made for one-time use only.
7. Captain Underpants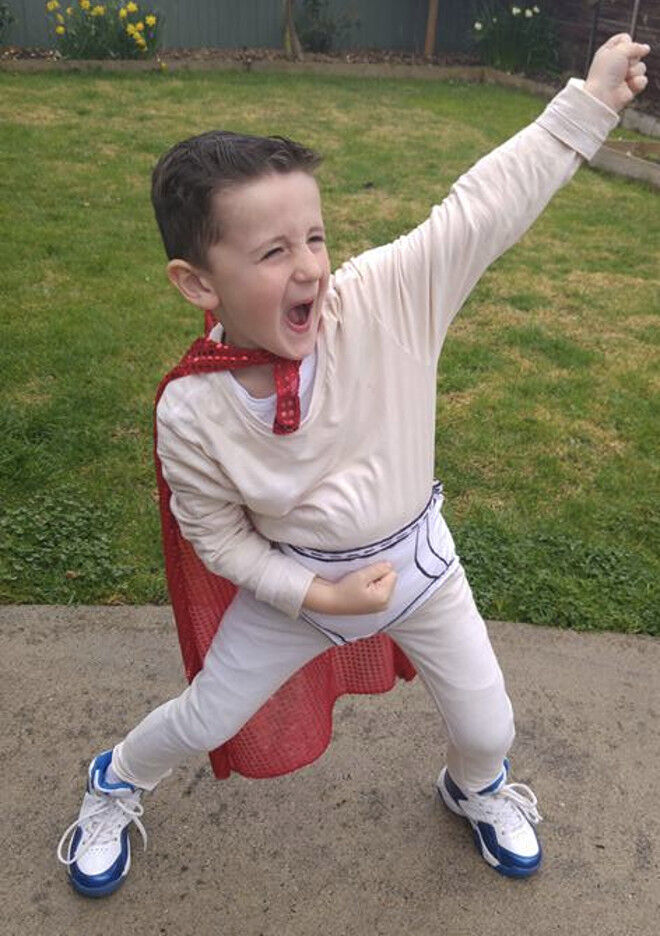 It's unfortunate that we don't celebrate Book Week in summer, but if you're in the northern parts of Australia you may get away with sending your kid to school dressed in their undies and cape and call them Captain Underpants.
However, school policy (and common decency) will usually dictate that your child needs to wear more than underwear to school. So this costume is made a little less revealing by adding some thermals over your child's clothes. These ones were dyed with a little tan coloured dye, and then a pair of undies were hot glued over the top. A black permanent marker to add an outline and a Superman cape complete the look!
8. Mr Shark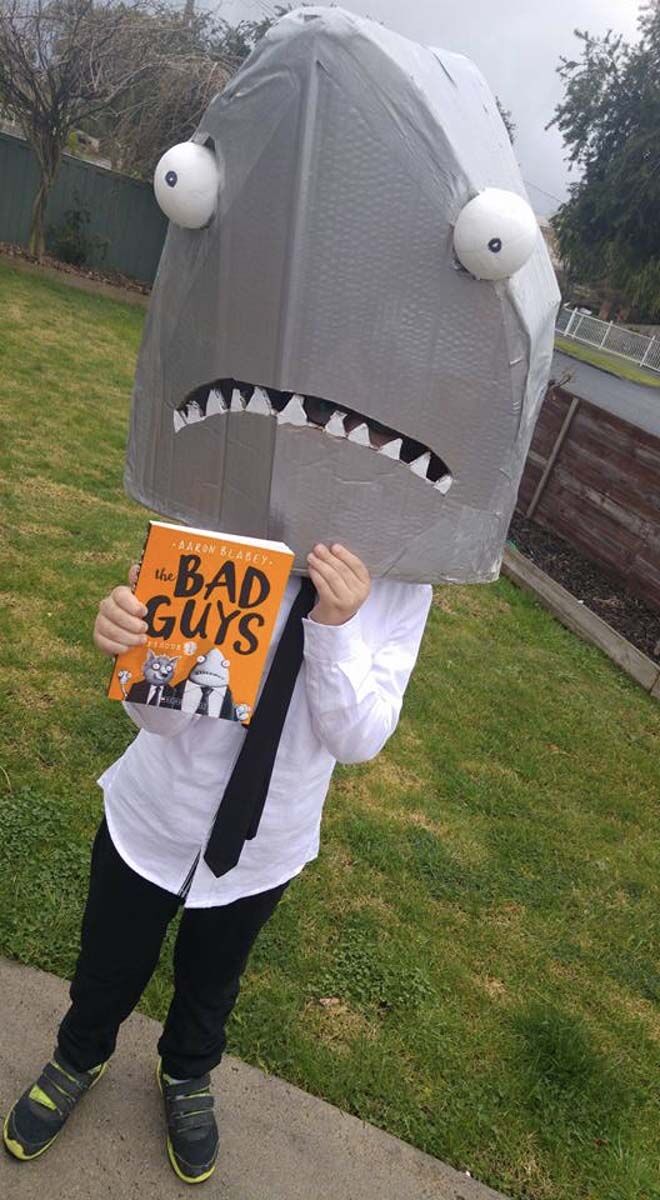 If The Bad Guys are a favourite in your house and your child is begging to go as one of the characters, here's a hot tip – go for Mr Shark.
Grab a largish box and cut a couple of shark head shapes out, then use some more card and a heck of a lot of strong tape to join them together. Cut out some teeth, add some polystyrene ball eyes, a splash of paint and you're good to go!
Secret to Book Week success
Don't forget for each of these Book Week characters make sure your child knows who they are; just in case they're asked. In addition, maybe read them the story a few times. If you haven't got a copy yourself see if your local library has an online version or physically borrow it.
Finally, the most important thing for a non-crafty mum to remember is that it's not about showing off your sewing skills, but making sure your child is happy in their costume. And remember, it's not a competition to see who spent the most money or time on a costume!
Most importantly, you've got this!
Read next …
Need a little more creative inspiration? Check out our other book week costume articles …
• Best DIY book week costumes (2018)
• Best DIY book week costumes (2015)
• Best DIY book week costumes (2016)
• Best DIY book week costumes (2014)