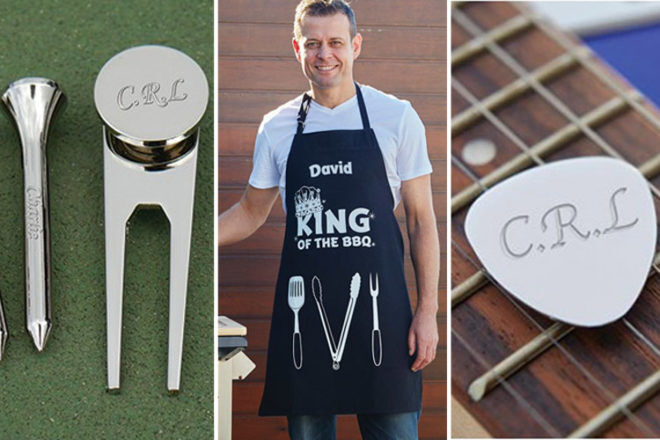 Who doesn't love stuff with their name on it? Kids adore it, and even better they love giving personalised gifts – so we teamed up with Identity Direct and found some of the best personalised dad gifts to make Father's Day extra special.
There's something here for dads who love to cook and play sport, plus a couple of finds for dads fond of cracking the odd dad-joke. But you'll have to get your skates on if you want one of these personalised pressies, last orders must be in before August 20, 2017. Plus we've got an exclusive free shipping promo below too.
Know a dad who loves whipping up delicious dishes? Let him know how much you love his culinary prowess with some personalised kitchen goodies – they're totally scrumptious!
Personalised Apron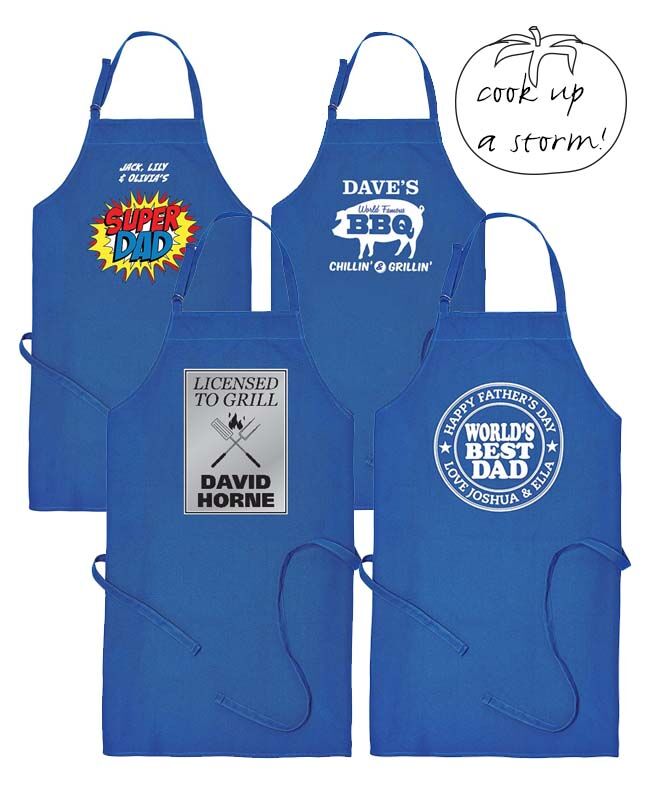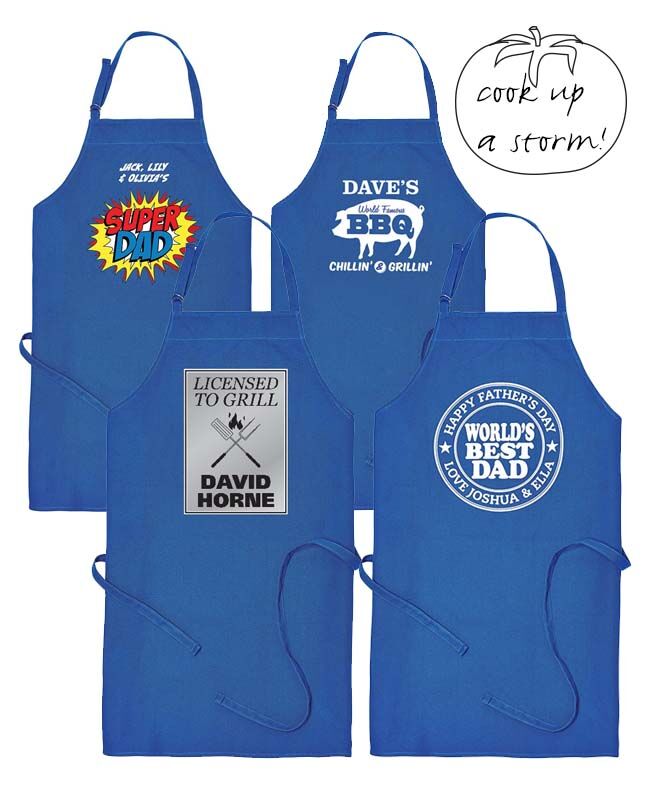 Every awesome cook needs an equally awesome apron. Even more awesome is having your name on your apron, so personalise one of these Super Dad, BBQ, Licensed to Grill or World's Best Dad Aprons ($29.99) and you've ticked every box!
---
Personalised mug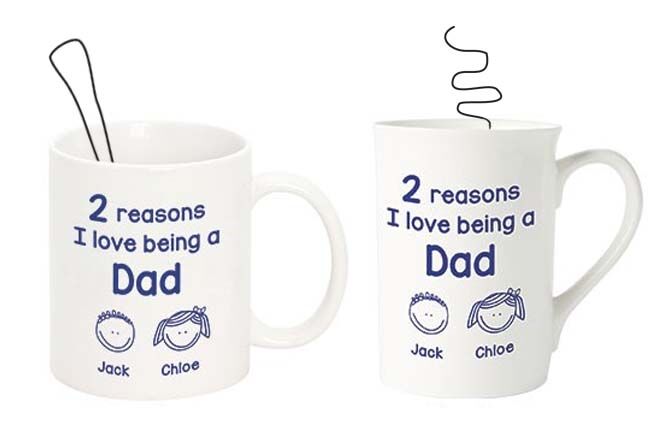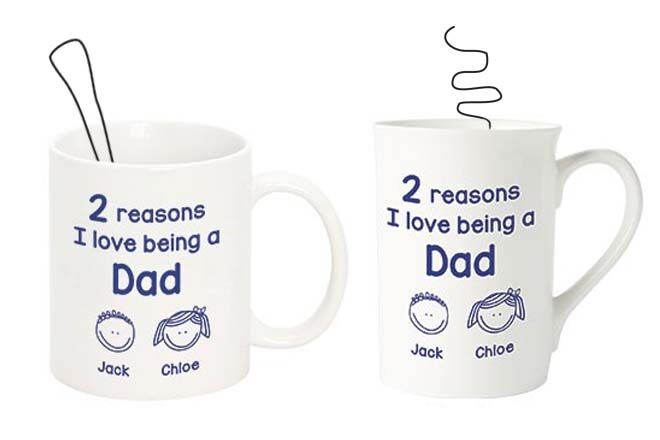 Give dad a smile with his morning coffee by reminding him just why it's so brilliant being him! Personalised Reasons Why Mugs ($19.99) come in bone china or ceramic versions.
---
Personalised chopping board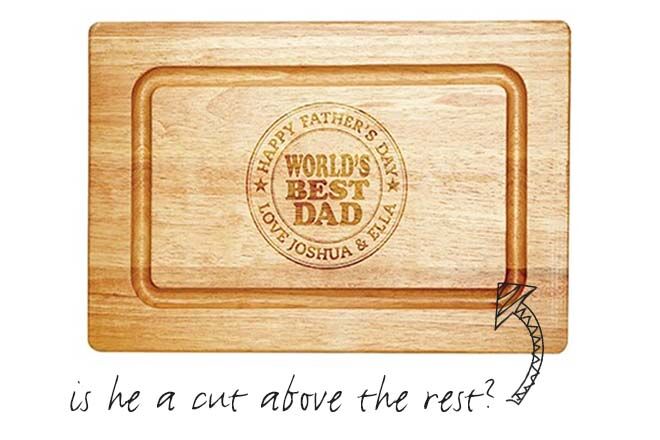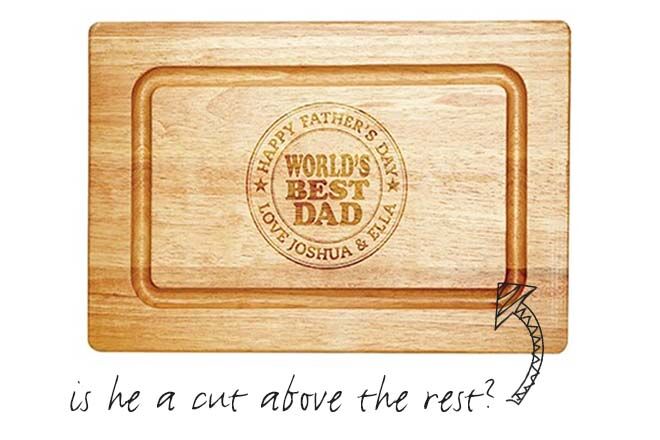 Every time he's taking a steak to task he'll be thinking of the time the kids gave him the world's best chopping board for Father's Day. This brilliant little beast is the Personalised Chopping Board ($49.99).
---
Personalised Socks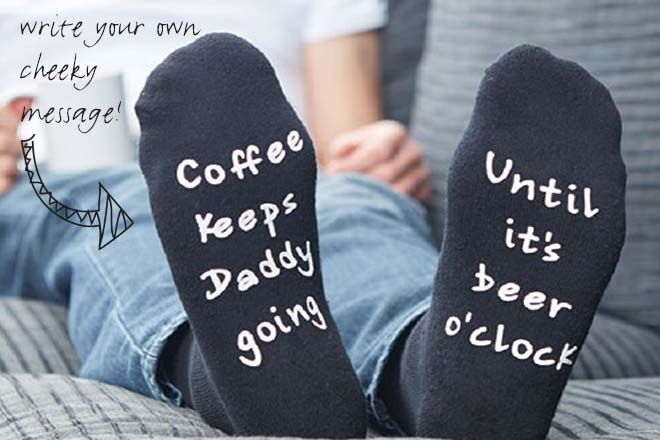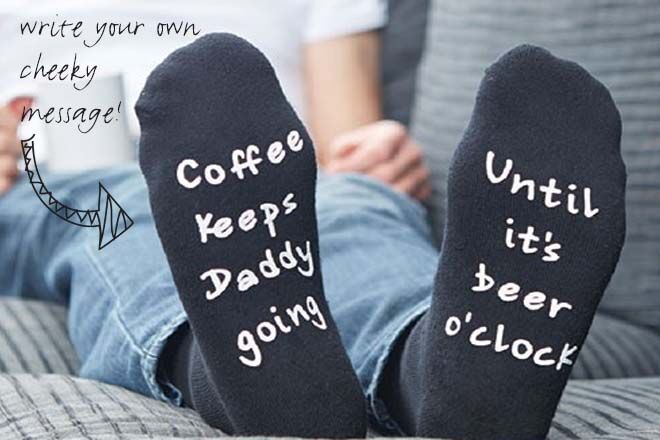 Jazz up the usual Father's Day footwear gift with a pair of personalised socks! Get the kids to think up a message and it'll take pride of place on his Personalised Socks ($19.99) in non-slip print.
---
Personalised tea-towels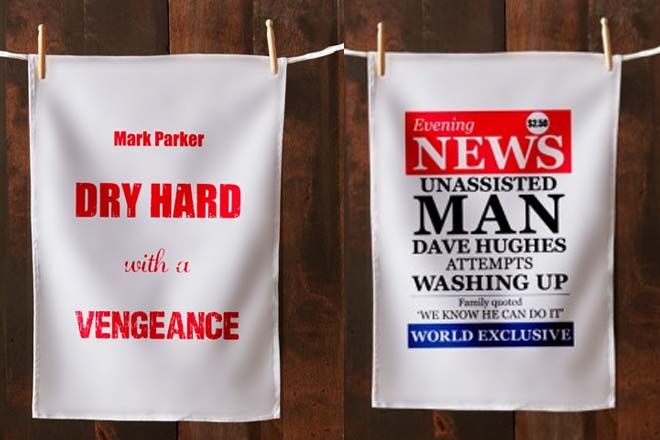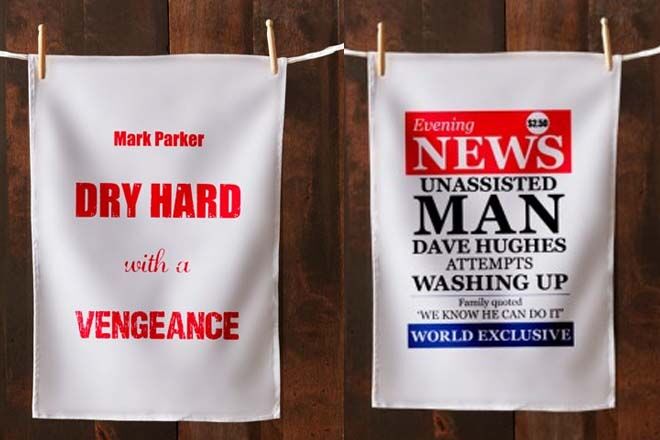 The joke's on dad with these cheeky tea towels – especially if he always finds somewhere else to be when the washing up needs drying. These Personalised Tea Towels ($19.99) can be finished off perfectly with dad's name – so there's no mistaking who needs to do the dishes!
---
Personalised stuff bags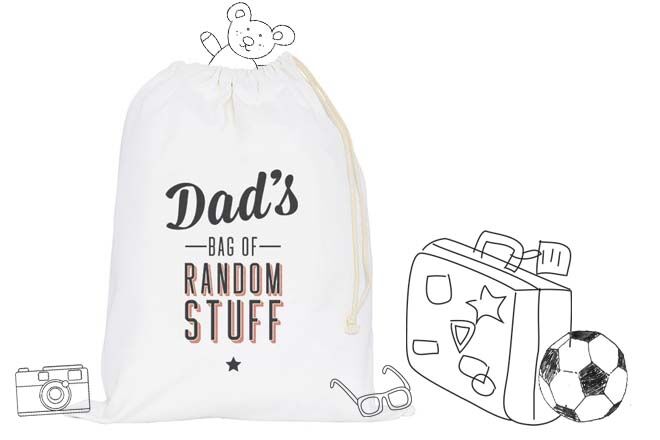 Have the last laugh on dad with a fab bag for him to keep all his crap really important stuff. The Personalised Storage Sack ($14.99) is a tongue-in-cheek alternative to those piles of random stuff around the house. Hopefully.
---
Personalised golf set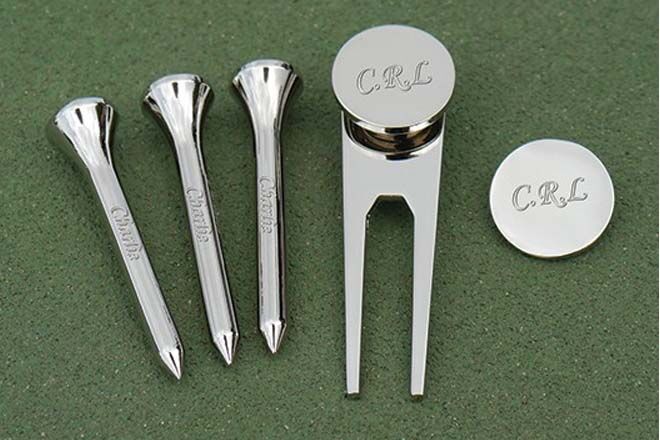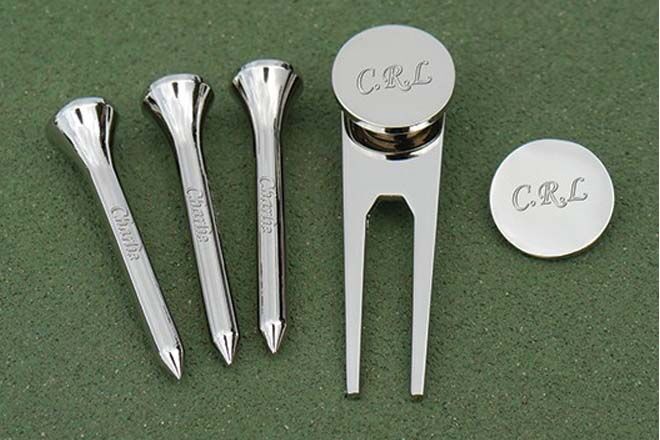 Fore! This stunning silver-plated Personalised Engraved Set of Golf Accessories ($39.99) will hopefully have dad heading straight to the hole.
---
Personalised footballs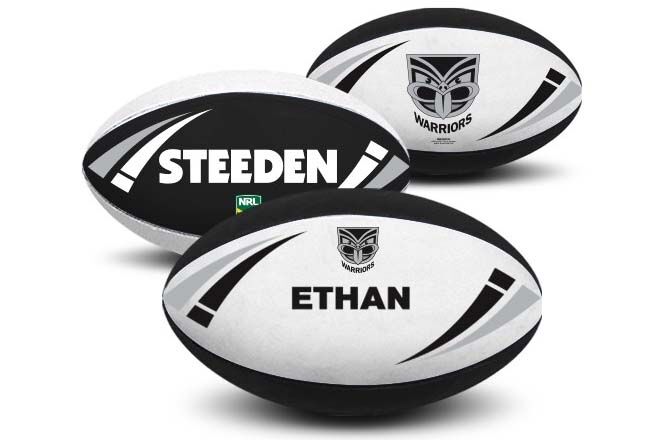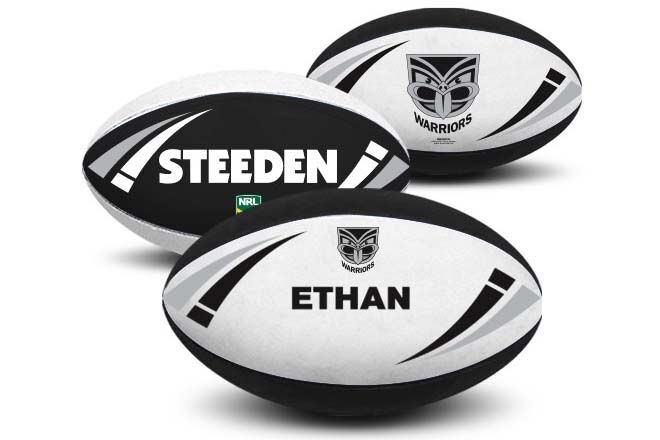 Playing ball is never quite as sweet as when you're doing it with a Personalised Football ($69.99). Choose dad's favourite team, then emblazon his name across the officially licensed footy (there are AFL teams available too).
---
Personalised basketballs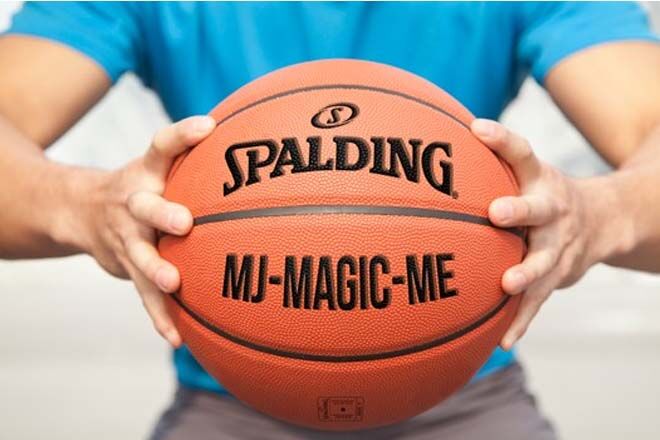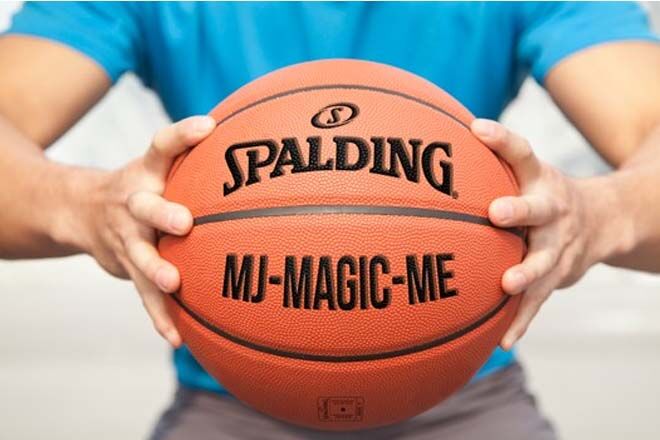 If the round ball is more dad's thing – hook him up with a Personalised Basketball ($79.99). Because let's face it, nothing is cooler than shooting hoops with your very own basketball.
---
Remember, you need to get in quick to order these personalised Father's Day items from Identity Direct. There's loads more personalised stuff so take a virtual stroll through Identity Direct's Father's Day Shop.