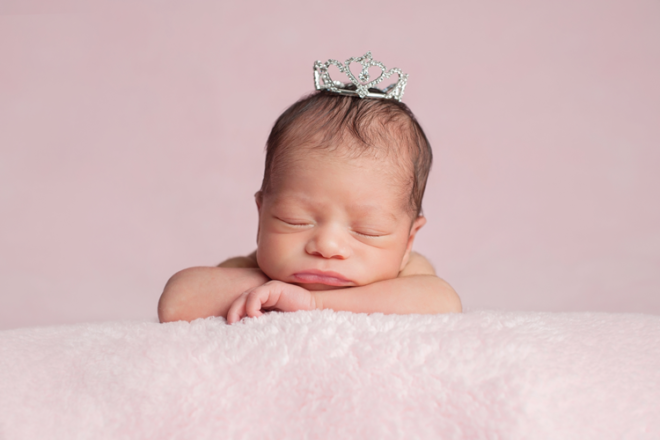 Fancy a name that is as precious as your new bundle of joy? Head deep into the earth's surface to dig up a delightfully adorable name rich in geographical roots.
From common minerals to hidden gems, we've uncovered 28 gemstone baby names that sparkle with sweetness.
Baby names that rock
Crystal: Incredibly popular in the 80s, the name Crystal has flown under the radar lately which is perfect for parents looking for a name that is somewhat unique.
Bijou: French for 'jewel', Bijou certainly has that 'je ne sais pas' thing going on. Etched with European flair, this is a moniker not to be messed with.
Dia: Short for diamond, Dia is both a Greek and a Hindi baby name. In Hindi, Dia means 'holy lamp', which is certainly appropriate for your bright new addition.
Amber: Fierce and fiery, Amber is a great choice for your spirit sweetheart.
Olivine: Love Olivia but worried it's too popular? Olivine to the rescue! Olivine is another name for peridot and is a funky alternative to Olivia.
Sterling: Posh and powerful, Sterling is a suitable name for all gemstone lovers who are looking for a name that is as bold as it is bright.
Slater: A derivative of slate, Slater is pretty much the epitome of edgy cool. Hipsters, NRL footy fans and Saved by the Bell watchers, this is one to add to the list!
Soraya: Meaning 'jewel' in the Arabic language, Soraya is a beautiful name that oozes with international flair and elegance.
Iolite: Iolite is a blue gemstone that is similar in sound to Violet. Soft and understated, this might be one of our favourites on the list.
Pearl: We can't have a gem stone baby name list and not mention Pearl! The name literally means 'precious' and is as pretty as they come.
Sapphire: Meaning 'gem' in Hebrew, Sapphire shines with elegance. Sapphire is also the gemstone for the month of September… in case you're preparing for a September bub.
Coral: Although technically not a gemstone (it's actually classified as an animal), Coral is often considered a gemstone of the sea. If you're a lover of the ocean, then Coral may be the perfect name for your tropical tot.
Flint: Mostly grey or black in colour, Flint is another stone that often goes under the radar. If you're looking for a short and strong name, then Flint would make an excellent choice.
Jett: A name which exudes confidence and charm, Jett has catapulted into the cool category over the past years. Named after a black, semi-precious stone, this is a great moniker for your little tough guy.
Mica: Another short and strong option, Mica is often used as a healing crystal, considered to emit a calming and clarifying energy.
Tourmaline: The most colourful gemstone of them all, Tourmaline sparkles and shines with charm. If you love names that step outside the baby name boundary, then Tourmaline certainly fits the mould!
Morgan: Short for Morganite, a mineral comprised of aquamarine and emerald, Morgan is a great option for geography lovers.
Marit: Another sweet M name is Marit, which is the Aramaic word for 'pearl'. Marit it also a royal name in Norway and comes with sassy Scandinavian connotations.
Onyx: Often overlooked when discussing gemstone names, Onyx is a precious black gemstone that also doubles as an adorably unique baby name. It's the name Alanis Morissette choose for her daughter, born in 2016.
Peri: Short for peridot, the birth stone for August babies, Peri also comes with a joyful meaning – 'strong, happy, graceful'. You can't go wrong with that!
Ruby: Rich, red and radiant, Ruby is a name that continues to brighten the baby name charts.
Opal: Considered the good luck gem, Opal is also the birth stone for October and a glittering choice for your lucky lady or lass.
Topaz: Glistening with golden hues, the topaz is a rare yet radiant gemstone and would make an equally glamorous name for your golden child.
Jade: Vibrant and versatile, Jade is a precious green gemstone and a semi-popular gorgeous baby name.
Jewel: A name made popular by the singer, Jewel isn't exactly a gemstone, but close enough. It sparkles with sweetness and that's good enough for us.
Jasper: Another sauve option, Jasper is the name of an ornamental stone and comes from the Persian word meaning 'lord of the treasure'.
Emera: Short for Emerald (which also works as a name), Emera has a lovely ring to it and may suit if you're looking for something a little different.
Gemma: For the ultimate geo-buff, why not consider a name that pays homage to all gems, such as Gemma?
Still digging for that perfect baby name? Have a look at these colourful baby names as well as these animal-inspired names.